5 Bedroom Villa with Pool in Baska Voda nr Brela, sleeps 8
Southern Dalmatia inc Peljesac & Korcula
Code: BR014
Seaside Villa with Pool in Baska Voda near Brela, sleeps 8

This seaside villa, draped in magenta bougainvillea, is located in Baska Voda near Brela on the Makarska Riviera. With the Biokovo Mountain forming a stunning backdrop and the beautiful Adriatic in front, the villa offers stunning poolside sea views whilst being within walking distance of the clubs and bars situated on Baska Voda's beachfront. The villa would suit a family or group of friends.

A steep slope from the main road leads to the garden gate. A short path then leads to the main entrance which opens directly into the colourful open plan kitchen / diner with six steps down to the sunken living area and a door leading out to the lower terrace. To the rear of the T- shaped breakfast bar that separates off the kitchen area, a corridor leads to a double bedroom and separate bathroom. Opposite the main entrance, French doors open out onto a covered outside dining and pool area offering superb sea views with Brac Island in the distance. On entering the landing of the 1st floor, there is a bathroom with half bath adjacent to the first double bedroom, then two single bedrooms are followed by the master double bedroom with en-suite shower room and covered balcony. All bedrooms have sea views.

Baska Voda has an excellent Blue Flag beach which offers great swimming as well a range of water sports. Within walking distance, neighbouring Brela is another popular town also with a great beach and a selection of bars and restaurants along the waterfront. There is no parking available at the property.

£1,470.00

23 January 2018 - 30 January 2018

7 nights

Location

Distance to beach

60 m

Nearest airport

Split

Distance to airport

62km to Split airport

Nearest town

Brela

Distance to town

1.5km

Distance to bus stop

300m

-

Details on nearest shops

Supermarket

Distance to nearest shops

300 m

Distance to nearest restaurant

300m

Facilities:

General

Sleeps in bedrooms: 8
Sleeps total (includes sleeping capacity on sofa/extra beds): 8
Minimum stay: 7 nights for early June-early September, 3 nights for all other dates.
Arrival days: Saturday for early June-early September, any day for all other dates.
Check-in: 16:00
Check-out: 10:00
Last renovated: 2010

Amenities

Area: 290m2
Frequency of linen/towel change: Weekly
Sea view
Whole house air-conditioned
Sun deck
Heating
Smoking
Children
Cot/crib (available on request)
Pool size: 24m2
Pool private to the property
Fire place

Appliances

Stove
Oven
Microwave
Stereo
Freezer
Toaster
Washing machine
BBQ
Satellite TV
Internet access

Rooms

Kitchen
Dining room
Balcony with sea view
Kitchen table
Terrace with sea view
Balcony
Terrace
Lounge/living room

Bedroom details

Number of double bedrooms: 3
Total number of bedrooms: 5
Number of single bedrooms: 2

Bathroom details

All bathrooms have toilets
Number of bathrooms with shower: 1
Number of bathrooms with bathtub: 2
Total number of bathrooms: 4
Number of toilet only rooms: 1

Information on Location

Distance to beach: 60 m
Nearest airport: Split
Distance to airport: 62km to Split airport
Nearest town: Brela
Distance to town: 1.5km
Distance to bus stop: 300m
Details on nearest shops: Supermarket
Distance to nearest shops: 300 m
Restaurant within walking distance
Distance to nearest restaurant: 300m
In suburb
On the seaside
Bus available
Car recommended
Information on transfers: Available on request.

Charges

Price includes

Electricity
Gas
Water
Provision of linen/towels
Heating

Security deposit

The following must be produced on arrival: €500

Price bands

Property per night

01 Jan.

-

05 May

05 May

-

19 May

19 May

-

09 June

09 June

-

30 June

30 June

-

25 Aug.

25 Aug.

-

01 Sept.

01 Sept.

-

08 Sept.

08 Sept.

-

15 Sept.

15 Sept.

-

01 Jan.

Prices are in UK Pounds (£)
*Rental prices do not include Residence Tax: £ 0.92 (per person per night)

Pricing and booking information

Pricing Information

Pricing is calculated per property per night in GBP Sterling. Many destinations also require tourist tax to be paid. Tourist tax starts from £0.92 per adult per night, and £0.46 per night per child aged 12-17 at time of travel. If tourist tax is applicable to the destination you are travelling to, this will be shown in the booking process. For tourist tax payable at time of booking, the cost will be added to your subtotal. For tourist tax payable locally, the cost will be shown at time of booking and on documentation.

All bookings subject to a £25 booking fee.

Booking Information

A 30% deposit is required at time of booking. Full balance is due 10 weeks prior to arrival.

If booking within 10 weeks of arrival, the full cost of the villa must be paid at the time of booking.

Holding an Option on a villa

Please Contact Us should you wish to place an option on a property for 24 hours whilst you book your flights and/or make other arrangements.

Payment Information

For online bookings, payment can be made by credit or debit card. Credit card payments (Visa or Mastercard) incur a credit card fee of 2% of the total amount of your booking. There is no surcharge for Debit card payments. All major currencies are accepted when paying online by credit card.

Payment by bank transfer (In sterling or Euros), UK online banking or cheque in Euros or sterling can be accepted. Please Contact Us if you wish to make a payment in this way.

Our full terms and conditions can be read here:

Cancellation policy

Cancellation Conditions

Standard cancellation conditions apply for all cancellations received by Croatian Villas/Authentic Villa Holidays Ltd up to 40 days prior to arrival.

Cancellations received within 40 days of arrival incur a 100% cancellation charge.
Guest services
The following additional services can be arranged at the villa.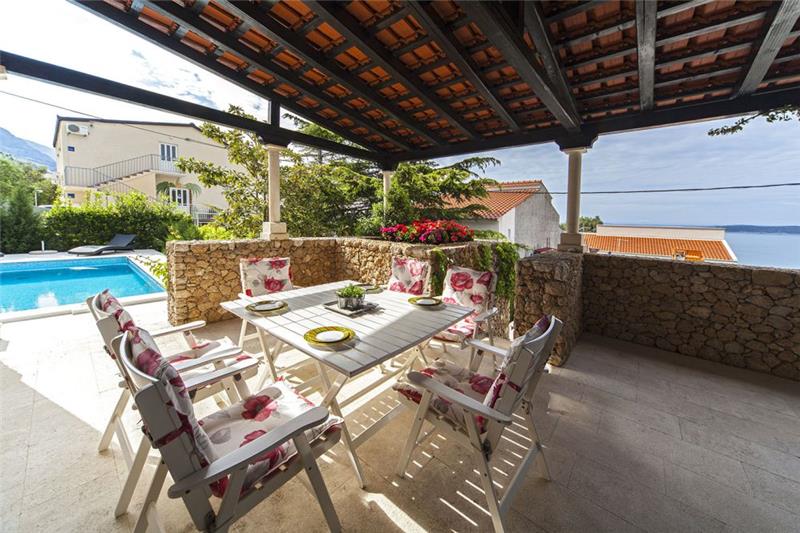 Housekeeping

Extra cleaning of the accommodation can be arranged on request at a cost of €80 (payable locally).