7 Bedroom Villa with Heated Infinity Pool and Sea Views near Hvar Town, sleeps 14
7 Bedroom Villa with Heated Infinity Pool, Walk to Hvar Town - sleeps 14

​Holiday Highlights: Walking distance to the beach and Hvar Town ~ Beautiful sea views from the terraces ~ Peaceful location ~


This spacious 7 bedroom villa lies within landscaped grounds on a hillside, with spectacular sea views from the terrace and benefits from heated infinity pool and concierge on site. Guests will be assured of a relaxing holiday in a peaceful location, yet within easy walking distance of the boutiques and bars of vibrant Hvar Town.

Set on a hillside near Hvar Town, the villa itself is spans three floors. The ground floor comprises four double bedrooms, three with direct access to the stunning sea view terraces. Each bedroom benefits from en-suite shower room. Spiral stairs lead to the two double bedrooms on the first floor, each with terrace or balcony. One double bedroom has en-suite shower room, while the second, larger, double bedroom benefits from en-suite bathroom with shower and bathtub. A spacious living-dining area with dining table for 12 plus a fully fitted kitchen are also located on the first floor, and lead to a shaded sea view terrace with BBQ. The second floor (eaves) comprises the master double bedroom, complete with its own dressing room, living area, en-suite bathroom with bathtub and shower, and private balcony with sun loungers and parasols.

The grounds of the villa are landscaped, set out over 6 levels. Guests enter the grounds from the first floor terrace, leading down via external stairs to an outdoor dining area with table and chairs. Stairs lead down to various decked terraces with sun loungers and parasols, then down to the heated infinity pool with sea views.

Set just 15 minutes' on foot outside of Hvar town centre, this villa is ideally located. The town itself, with its Old Town located on the seafront and wide range of cafes, restaurants and wine bars, is considered one of the most attractive and vibrant cities in Croatia. Excursions can be taken from the town harbour to nearby islands.

Additional information
A daily maid service/ catering and chef options are available at this property on request, at additional supplement. Please speak with one of our consultants for prices. The villa manager lives on site in a separate building in the grounds, and acts as a concierge for guests during their stay.

As this villa is situated in a residential area, please note that there are noise restrictions in place after 11pm prohibiting any loud music, parties etc. in the outdoor areas of the villa after this time.

£7,777.00

25 April 2017 - 02 May 2017

7 nights

Location

-

Nearest airport

Split

Distance to airport

3 hours including ferry crossing

Nearest town

Hvar Town

Distance to town

1.3km

-

-

Details on nearest shops

Variety of shops and boutiques in Hvar Town

Distance to nearest shops

1.3 km

Distance to nearest restaurant

1.3km

Facilities:

General

Sleeps in bedrooms: 14
Sleeps total (includes sleeping capacity on sofa/extra beds): 14
Minimum stay: 7 nights for all dates.
Arrival days: Any day for all dates.
Check-in: 17:00
Check-out: 10:00

Amenities

Area: 2000m2
Pool closed every day at 23:00.
Outdoor pool shower and WC.
Frequency of linen/towel change: Weekly, more frequently on request.
House pets allowed (on request)
Sea view
Whole house air-conditioned
Garden
Sun deck
Heating
Parking
Children
Cot/crib (available on request)
Pool private to the property
Heated pool
Fire place
Safe
Wifi
Infinity pool

Appliances

Stove
Dishwasher
TV
Oven
Refrigerator
Microwave
Stereo
Freezer
Toaster
Washing machine
BBQ
Satellite TV
DVD player
Hair dryer
Coffeemaker
Kettle

Rooms

Additional professional kitchen for catered dining.
Furniture in terrace/balcony/garden: Sun loungers and parasols, tables, dining tables and chairs.
Kitchen
Dining room
Balcony with sea view
Terrace with sea view
Lounge/living room

Bedroom details

Information on bedrooms: All with en-suite bathrooms.
Number of double bedrooms: 7
Total number of bedrooms: 7

Bathroom details

All bathrooms have toilets
Number of bathrooms with shower: 5
Number of bathrooms with bathtub: 2
Total number of bathrooms: 7
Additional information on bathrooms: Bathrooms with bathtub also feature separate shower cubicle.

Staff on site /available

Maid
Caretaker
Cook
Gardener
Caretaker lives nest door to the property.
Daily gardening and maid service.

Information on Location

Nearest airport: Split
Distance to airport: 3 hours including ferry crossing
Nearest town: Hvar Town
Distance to town: 1.3km
Details on nearest shops: Variety of shops and boutiques in Hvar Town
Distance to nearest shops: 1.3 km
Restaurant within walking distance
Distance to nearest restaurant: 1.3km
On the seaside
Bus stop: 1.5 km
Distance from the sea: 200 m
Distance from the center: 1.3 km
Bus available
In city

Charges

Price includes

Electricity
Gas
Water
Provision of linen/towels
Internet

Separate charges

Final cleaning charge
Chef Service: Request at time of booking. Chef service within 2 months of arrival is on request

Security deposit

The following must be produced on arrival: €2000 - held by credit card imprint on arrival.

Price bands

Property per night

22 Apr.

-

03 June

03 June

-

01 July

01 July

-

09 Sept.

09 Sept.

-

07 Oct.

07 Oct.

-

01 Nov.

Prices are in UK Pounds (£)
*Rental prices do not include Residence Tax: £ 0.92 (per person per night)

Pricing and booking information

Pricing Information

Pricing is calculated per property per night in GBP Sterling. Many destinations also require tourist tax to be paid. Tourist tax starts from £0.92 per adult per night, and £0.46 per night per child aged 12-17 at time of travel. If tourist tax is applicable to the destination you are travelling to, this will be shown in the booking process. For tourist tax payable at time of booking, the cost will be added to your subtotal. For tourist tax payable locally, the cost will be shown at time of booking and on documentation.

All bookings subject to a £25 booking fee.

Booking Information

A 30% deposit is required at time of booking. Full balance is due 10 weeks prior to arrival.

If booking within 10 weeks of arrival, the full cost of the villa must be paid at the time of booking.

Holding an Option on a villa

Please Contact Us should you wish to place an option on a property for 24 hours whilst you book your flights and/or make other arrangements.

Payment Information

For online bookings, payment can be made by credit or debit card. Credit card payments (Visa or Mastercard) incur a credit card fee of 2% of the total amount of your booking. There is no surcharge for Debit card payments. All major currencies are accepted when paying online by credit card.

Payment by bank transfer (In sterling or Euros), UK online banking or cheque in Euros or sterling can be accepted. Please Contact Us if you wish to make a payment in this way.

Our full terms and conditions can be read here:

Cancellation policy

IMPORTANT - PLEASE NOTE THE FOLLOWING CANCELLATION CONDITIONS FOR PROPERTY HV068. ONCE FULL PAYMENT HAS BEEN RECEIVED NO PARTIAL REFUND CAN BE OFFERED SHOULD YOU WISH TO CANCEL WITHIN 10 WEEKS.
Guest services
The following additional services can be arranged at the villa.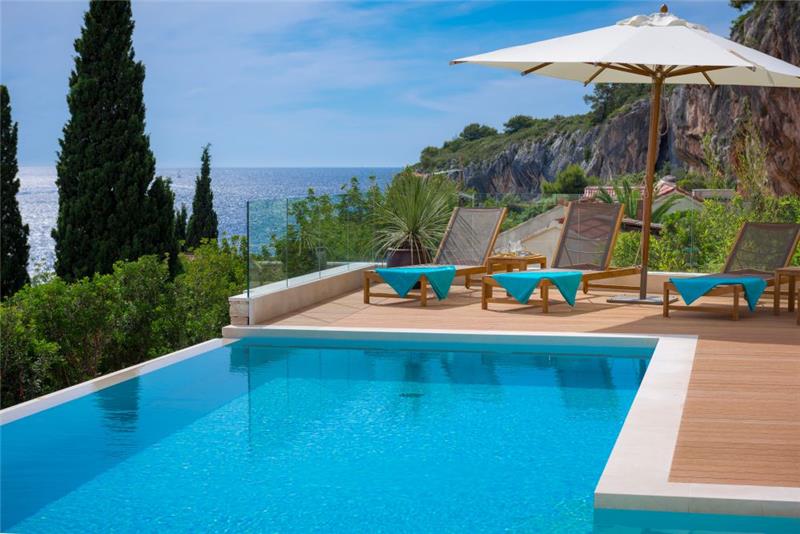 Chef Service

Chef service is available at this villa. The chef will be with guests for a full day, for breakfast, lunch and dinner. Food and beverage is payable locally.

Cuisine: Local specialities, fresh fish.

Price per day = GBP 295 per day, payable at time of booking.

Chef service must be ordered 2 months before travel. Within 2 months of travel chef service is on request.