5 bedroom Villa with Pool in Split City, Sleeps 10
Northern & Central Dalmatia
Code: SP015
WINTER OFFER: 4 nights for the price of 3 - travel between 01.11.16 - 31.03.17, WINTER OFFER: 7 nights for the price of 5 - travel between 01.11.16 - 31.03.17
5 bedroom villa with pool in Split city sleeps 10

A spacious town house located in Split's smart Marijan Forest Park which features promenades, vista points and the city's urban marina. This attractive setting offers a calm oasis in which to enjoy a relaxing Croatian holiday whilst being within easy access of a vibrant city centre.

The villa is approached along a residential street where steps down lead to the main entrance which opens into a spacious hallway and corridor. From the hallway guests enter into an 'L' shaped lounge with study area overlooking the pool. Double doors from the lounge lead into the dining room which also features doors leading back out into the corridor as well as French doors opening onto a covered terrace with table and chairs. Stairs to the side of this terrace lead down to the pool. The pool can also be accessed via steps down from the main entrance. The kitchen sits on the other side of the ground floor corridor and there is also a separate shower room on this level. The first floor features a twin bedroom with city and harbour views, a double bedroom with en-suite bathroom, a double bedroom with city and harbour view balcony, and another double bedroom. There is also a separate family bathroom on this level. The basement contains a sauna, a kitchenette and a shower and double bedroom. The outside of the house is surrounded by a shady garden to the rear of which there is a gate leading out onto Marijan's famous setaliste (pedestrian walkway) where you can ascend to the top of Marijan hill via a stepped walkway.

As well as the numerous restaurants, bars, wine cellars, clubs and shopping opportunities, Split also hosts a number of cultural events such as the Split Summer Festival (from mid-July to mid-August), Split film festival as well as various exhibitions and concerts. The gallery of Croatia's most famous sculptor, Ivan Mestrovic is located 200m away from the villa.

The villa makes an excellent to explore areas beyond Split. The islands of Brac, Hvar and Vis can be explored by boat whilst on the mainland the waterfalls at Krka and the canyon at Omis which offers white water rafting are popular excursions.

WINTER OFFER: 4 nights for the price of 3 - travel between 01.11.16 - 31.03.17, WINTER OFFER: 7 nights for the price of 5 - travel between 01.11.16 - 31.03.17

£2,135.00

22 February 2017 - 01 March 2017

7 nights

Facilities:

General

Sleeps in bedrooms: 10
Sleeps total (includes sleeping capacity on sofa/extra beds): 10
Minimum stay: 3 nights for all dates
Arrival days: Any day for all dates
Check-in: 16:00
Check-out: 10:00
Built: 1928
Last renovated: 2007

Amenities

Area: 360m2
Pool open from 15th April – 31st October. Exact start and end date subject to weather conditions. Please check at time of booking.
Car park: Off street free parking available on first come first served basis.
Sea view
Whole house air-conditioned
Garden
Sun deck
Heating
Parking
Children
Cot/crib (available on request)
Pool size: 7.0m x 4.0m
Pool private to the property
Alarm
Safe
Sauna
Wifi

Appliances

Stove
Dishwasher
Oven
Refrigerator
Microwave
Stereo
Freezer
Toaster
Washing machine
BBQ
Satellite TV
DVD player
Hair dryer
Iron
Ironing board
Internet access

Rooms

Furniture in terrace/balcony/garden: Sun recliners, table and chairs for 8
Kitchen
Dining room
Balcony with sea view
Kitchen table
Terrace with sea view
Lounge/living room
Study

Bedroom details

Number of double bedrooms: 3
Total number of bedrooms: 5
Number of twin bedrooms: 2

Bathroom details

All bathrooms have toilets
Number of bathrooms with shower: 1
Number of bathrooms with bathtub: 2
Total number of bathrooms: 4
Number of toilet only rooms: 2

Information on Location

Distance to beach: 1.5 km
Driving time to nearest beach: 7 minutes
Nearest airport: Split Airport
Distance to airport: 25km
Nearest town: Split
Distance to bus stop: 5 minutes walk
Details on nearest shops: Supermarket
Distance to nearest shops: 500 m
Restaurant within walking distance
Distance to nearest restaurant: 500m to Zrno Soli
Distance from the center: 1.5 km
Bus available
Frequency of buses: Frequent
Information on transfers: A taxi pick up from Split airport can be arranged on request. Price approximately Euros 35- 40 payable locally. Please speak with one of our consultants to book.
In city

Charges

Price includes

Electricity
Gas
Water
Provision of linen/towels
Heating
Cot linen

Separate charges

Daily maid service included in the price every morning for general tidy up/make beds. Maid can also bring breakfast in the morning, to be arranged and confirmed locally. Additional charge applies for breakfast which is payable locally in advance
Additional cleaning fee: €150 (paid locally)

Security deposit

The following must be produced on arrival: €500

Price bands

Property per night

01 Jan.

-

01 Apr.

01 Apr.

-

13 May

13 May

-

10 June

10 June

-

08 July

08 July

-

19 Aug.

19 Aug.

-

09 Sept.

09 Sept.

-

23 Sept.

23 Sept.

-

01 Nov.

01 Nov.

-

01 Jan.

Prices are in UK Pounds (£)
*Rental prices do not include Residence Tax: £ 0.92 (per person per night)

Pricing and booking information

Pricing Information

Pricing is calculated per property per night in GBP Sterling. Many destinations also require tourist tax to be paid. Tourist tax starts from £0.92 per adult per night, and £0.46 per night per child aged 12-17 at time of travel. If tourist tax is applicable to the destination you are travelling to, this will be shown in the booking process. For tourist tax payable at time of booking, the cost will be added to your subtotal. For tourist tax payable locally, the cost will be shown at time of booking and on documentation.

All bookings subject to a £25 booking fee.

Booking Information

A 30% deposit is required at time of booking. Full balance is due 10 weeks prior to arrival.

If booking within 10 weeks of arrival, the full cost of the villa must be paid at the time of booking.

Holding an Option on a villa

Please Contact Us should you wish to place an option on a property for 24 hours whilst you book your flights and/or make other arrangements.

Payment Information

For online bookings, payment can be made by credit or debit card. Credit card payments (Visa or Mastercard) incur a credit card fee of 2% of the total amount of your booking. There is no surcharge for Debit card payments. All major currencies are accepted when paying online by credit card.

Payment by bank transfer (In sterling or Euros), UK online banking or cheque in Euros or sterling can be accepted. Please Contact Us if you wish to make a payment in this way.

Our full terms and conditions can be read here:

Select your travel dates

Free

Occupied

Your selection
Guest services
The following additional services can be arranged at the villa.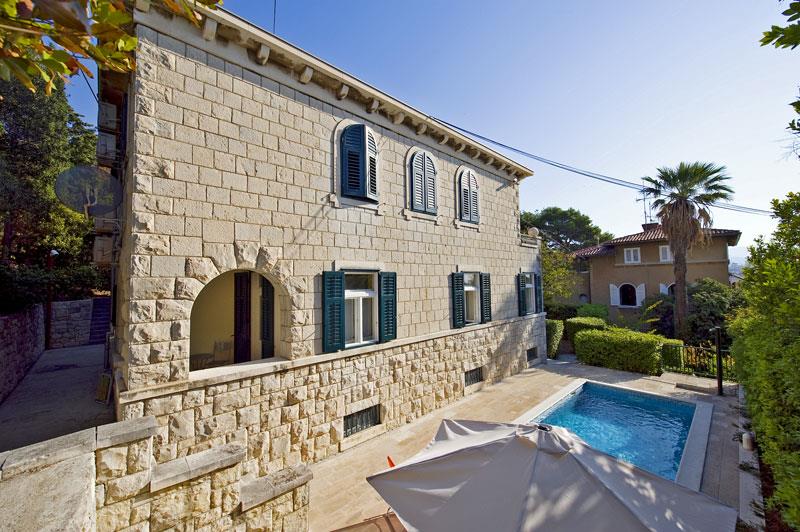 Winter Offer at SP015

Book 3 nights at SP015, for travel between 1 November 2016 and 31 March 2017, and the following will be included in your stay:

~ Local wine tasting per person - 5 slides of Croatian wines

~ 4 medical massages per party per stay

~ 20% discount for the whole party at Restaurant Kadena

~ 30% discount on Cosmomedicus cosmetic treatments at the villa (arranged on request)

Please request this offer at the time of booking. This offer cannot be combined with other offers.