5 Bedroom Luxury Villa with Heated Pool, Maid and Optional Chef Service near Groznjan, sleeps 10
Istria & Kvarner Gulf
Code: IS081
Five Bedroom Luxury Villa with Heated Pool, Maid and Optional Chef Service near Groznjan, Istria, sleeps 10

This outstanding luxury villa offers panoramic views of the rolling Istrian countryside and the historic hill top towns of Grozjnan and Motovun. Converted from a former 19th century school house, the building has been renovated to high standard creating a very spacious, refined and comfortable villa, while retaining its charming character.

Guests enter the villa from a gravel driveway into the main entrance hall which opens up into an exceptionally large and spacious open plan living / dining room. Four sets of French doors open out on to a shaded colonnaded terrace and seating area running the entire length of the villa looking out over the garden, swimming pool and surrounding scenery. To the side of the villa there is an additional toilet accessible from the garden. To the rear of the living room doors lead to the kitchen with adjoining utility and storage rooms, there is also a separate guest toilet. From the main entrance hall guests enter a second hallway containing a computer for guest use only. On this ground floor level guests can access the master double bedroom with en suite bathroom (with shower and bath tub) and a twin bedroom with en suite shower room. Both of these bedrooms contain French doors opening out on to the colonnaded terrace. There is also a further twin bedroom with en suite shower room on this level. On the first floor there are two bedrooms both with private adjoining bathrooms, one is a twin bedroom and the other is a larger double bedroom featuring a large corner balcony overlooking the generously sized pool.

Maid service is included 2 hours/day, 5 days per week. Chef service is available on request at additional cost, and can be booked per week.

Located among the towns and villages of inland Istria guests can explore by car and sample the fine local cuisine and wines of the region as well as enjoy the historic seaside towns such as of Novigrad which has surrounding its Marina restaurants serving excellent seafood. A little further down the Adriatic coast is the town of Porec which boasts the UNESCO world heritage Basilica of Euphrasius and from which guests can take day trips to Venice.

Please note: short stays available on request for a supplement. This supplement will include chef service.

Location

Distance to beach

20 km

Nearest airport

Pula Airport

Distance to airport

70 km

Nearest town

Groznjan / Novigrad

Distance to town

9km /20 km

-

-

Details on nearest shops

Supermarket

Distance to nearest shops

9 km

Distance to nearest restaurant

9 km

Facilities:

General

Sleeps in bedrooms: 10
Sleeps total (includes sleeping capacity on sofa/extra beds): 10
Minimum stay: 7 nights for all dates. Shorter stays available on request - supplement applies.
Arrival days: Saturday for July & August, any day for all other dates.
Check-in: 15:00
Check-out: 10:00
Built: 19th Century
Last renovated: 2009
Total number of rooms: 5

Amenities

Area: Villa = 450m2. Garden and terraces = 4,000m2.
Car park: Parking for more than 5 cars.
Whole house air-conditioned
Garden
Sun deck
Heating
Parking
Children
Cot/crib (available on request)
Pool size: 12 m x 6 m
Pool private to the property
Heated pool
Fire place
Alarm
Safe

Appliances

Desktop Computer and wireless broadband provided free of charge.
Stove
Dishwasher
TV
Oven
Dryer
Refrigerator
Microwave
Stereo
Freezer
Toaster
Washing machine
BBQ
Satellite TV
DVD player
Internet access

Rooms

Kitchen
Dining room
Balcony
Terrace
Lounge/living room

Bedroom details

Number of double bedrooms: 2
Total number of bedrooms: 5
Number of twin bedrooms: 3

Bathroom details

Number of bathrooms with shower: 2
Number of bathrooms with bathtub: 3
Total number of bathrooms: 7
Number of toilet only rooms: 2

Staff on site /available

Maid
Gardener
Chef service available as an optional extra, supplement applies. For short stays, chef service will be included in the short stay supplement.

Information on Location

Distance to beach: 20 km
Driving time to nearest beach: 30 minutes
Nearest airport: Pula Airport
Distance to airport: 70 km
Nearest town: Groznjan / Novigrad
Distance to town: 9km /20 km
Details on nearest shops: Supermarket
Distance to nearest shops: 9 km
Distance to nearest restaurant: 9 km
Distance from the sea: 20 km
Distance from the center: 9 km
Car recommended
In countryside

Charges

Price includes

Electricity
Gas
Water
Provision of linen/towels
Heating
Internet
Maid service included - 2h/day, 5 days/week.

Separate charges

Chef service available as an optional extra, supplement applies. For short stays, chef service will be included in the short stay supplement.

Security deposit

The following must be produced on arrival: £1000
Guest services
The following additional services can be arranged at the villa.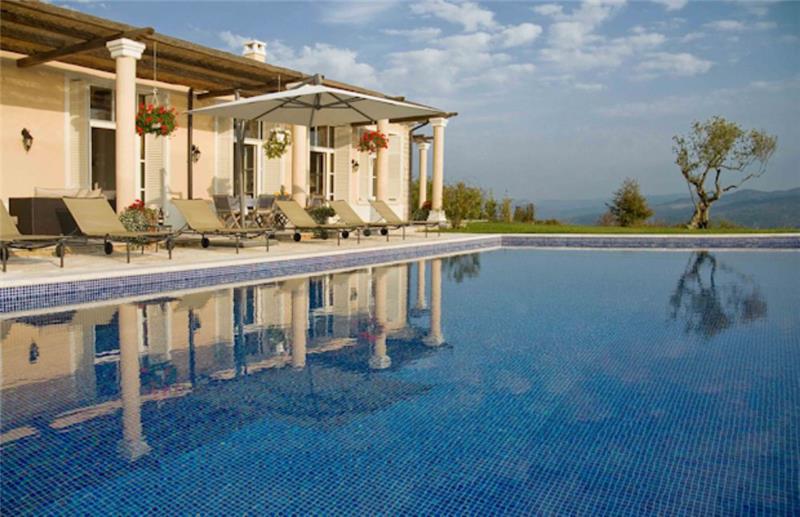 Chef Service

Chef service is available as an optional extra on 7 night stays, bookable in 6 day blocks per week. Chef will prepare breakfast and either lunch or dinner. Chef service is an additional £1300 per week not including food and beverages, which are payable locally.

For short stays, the chef service will be included in the short stay supplement.

Maid Service

Maid service is included 2 hours/day, 5 days/week.