Luxury Dalmatian Island Castle-style Villa with Pool, sleeps 16-20
Northern & Central Dalmatia
Code: SL003
Luxury Dalmatian Island villa, sleeping 16-20

Arguably one of the most spectacular villas located along the Dalmatian Coast, this elegantly decorated luxury Croatian villa features a fabulous harbour location, courtyard swimming pool and guest accommodation sleeping 16-20 persons. The villa also provides a perfect setting at which to host a wedding or unforgettable special occasion in view of the restaurant (seating 120 outside and 80 inside) and bar which also forms part of the estate. Complete privacy with suitable entertainment areas makes this property an outstanding Croatian Villa.

Situated in the pretty harbour of Maslinica on the unspoilt island of Solta and located within easy access of Split airport/city, this former nobleman's defence fortress, built during the early part of the 18th century, is constructed as a rectangular residence around a central quadrangle containing the stylish pool area. Surrounding the building is 5000m2 of Mediterranean garden and a private illuminated helipad. Guests enter the building via the main entrance located along the harbour front and into the main reception area. On either side of the reception sits the restaurant dining areas. To the rear of the reception is an ornate wrought iron gate through which stairs lead up to the commencement of the private villa area. Working in an anti-clockwise direction, the villa layout is as follows:

Conference room seating up to 20-25 persons. In the hallway/music room next door there is a baby grand piano.

Entrance from pool courtyard into hallway and stairs up to a double bedroom with en-suite shower room.

Second double bedroom with en-suite shower room.

Breakfast terrace with harbour view.

Utility room with separate guest cloakroom and door to rear garden.

Large kitchen/dining/lounge area extending the entire rear building of the villa. French doors from this room lead out onto the pool courtyard. Rear stairs lead up to a gallery from where guest access to and rear garden is provided.

Large en-suite apartment located on 3 levels. Access is from the pool courtyard into the lounge with stairs leading down to a double bedroom and further stairs down to a bath and shower room with two sinks and separate toilet.

Mini Spa room featuring a Finnish sauna, steam and massage room, toilet and shower.

Family annexe accessed from the pool courtyard and consisting of a double bedroom with en-suite bathroom (roll top bath and two sinks) on the ground floor, and a twin bedroom with separate shower room on the first floor.

Double bedroom and shower room accessed from the pool courtyard.

Maslinica harbour is a quaint fishing village lying very close to some of Croatia's most beautiful stretches of coastline and waters such as Krknjasi Bay. As well as the opportunity to moor your own boat directly in front of the villa, sailing or motorboat hire with a skipper can be arranged. Other activities available for hire include windsurfing, kayaking, scuba diving and mountain biking. Included in your stay are a buffet breakfast, daily housekeeping and personal concierge service.

This villa sleeps 16 in standard bedrooms. Extra beds can be provided for an additional 4 persons for a supplement per person. Supplements vary depending on number of extra adults, children and infants. Please enquire at time of booking.

Location

Distance to beach

100 m

Nearest airport

Split

Distance to airport

2 - 2 1/2 hours including ferry crossing time.

-

-

-

Frequency of buses

Approximately 8 buses a day during the summer.

Details on nearest shops

Small supermarket, souvenir shops.

Distance to nearest shops

100 m

Distance to nearest restaurant

A la Carte restaurant located on the Estate.

Facilities:

General

Sleeps in bedrooms: 16
Sleeps total (includes sleeping capacity on sofa/extra beds): 20
Minimum stay: 1 night for all dates
Arrival days: Any day for all dates
Check-in: 15:00
Check-out: 11:00
Built: 1703
Last renovated: 2005

Amenities

Area: Main house: 676m2, Tower: 208m2, Garden: 5,000m2
Buffet breakfast, included in price
Price of boat mooring available on request
Underfloor heating runs throughout villa
Helipad available on site
Frequency of linen/towel change: Daily maid service included
Car park: Space for up to 6 cars
Boat mooring (on request)
Sea view
Whole house air-conditioned
Garden
Sun deck
Heating
Parking
Children
Cot/crib (available on request)
Pool size: 12.0m x 6.0m
Pool private to the property
Heated pool
Safe
Sauna
Beach
Wifi

Appliances

DD phones in every bedroom. Calls charged locally
Stove
Dishwasher
TV
Oven
Dryer
Refrigerator
Stereo
Freezer
Toaster
Washing machine
Satellite TV
Video VHS
DVD player
Telephone
Internet access

Rooms

Spa room with sauna and massage area
Outdoor dining area on breakfast terrace with harbour view. Wine cellar and study in Tower. Spa room with sauna and massage area
Kitchen
Dining room
Kitchen table
Terrace with sea view
Terrace
Lounge/living room

Bedroom details

Information on bedrooms: Up to 4 additional beds available on request - supplement applies.
Number of double bedrooms: 7
Total number of bedrooms: 8
Number of twin bedrooms: 1

Bathroom details

All bathrooms have toilets
Number of bathrooms with shower: 5
Number of bathrooms with bathtub: 3
Total number of bathrooms: 11
Number of toilet only rooms: 3
Number of bath/shower rooms which have a toilet: 8

Staff on site /available

Maid
Caretaker
Gardener
Restaurant located on the estate can deliver catered food to the villa either to dining room or pool area.

Information on Location

Distance to beach: 100 m
Nearest airport: Split
Distance to airport: 2 - 2 1/2 hours including ferry crossing time.
Details on nearest shops: Small supermarket, souvenir shops.
Distance to nearest shops: 100 m
Restaurant within walking distance
Distance to nearest restaurant: A la Carte restaurant located on the Estate.
On the seaside
Bus stop: 30 m
Bus available
Frequency of buses: Approximately 8 buses a day during the summer.
Information on transfers: Private boat transfer available from Split airport to villa. Price on request.

Charges

Price includes

Electricity
Gas
Water
Provision of linen/towels
Internet
: Buffet breakfast, daily housekeeping, personal concierge service, cot linen included.

Security deposit

The following must be produced on arrival: Credit card authorisation taken on arrival for €500

Price bands

Property per night

14 Apr.

-

05 June

05 June

-

24 July

24 July

-

21 Aug.

21 Aug.

-

18 Sept.

18 Sept.

-

23 Oct.

Prices are in UK Pounds (£)
*Rental prices do not include Residence Tax: £ 0.92 (per person per night)

Pricing and booking information

Pricing Information

Pricing is calculated per property per night in GBP Sterling. Many destinations also require tourist tax to be paid. Tourist tax starts from £0.92 per adult per night, and £0.46 per night per child aged 12-17 at time of travel. If tourist tax is applicable to the destination you are travelling to, this will be shown in the booking process. For tourist tax payable at time of booking, the cost will be added to your subtotal. For tourist tax payable locally, the cost will be shown at time of booking and on documentation.

All bookings subject to a £25 booking fee.

Booking Information

A 30% deposit is required at time of booking. Full balance is due 10 weeks prior to arrival.

If booking within 10 weeks of arrival, the full cost of the villa must be paid at the time of booking.

Holding an Option on a villa

Please Contact Us should you wish to place an option on a property for 24 hours whilst you book your flights and/or make other arrangements.

Payment Information

For online bookings, payment can be made by credit or debit card. Credit card payments (Visa or Mastercard) incur a credit card fee of 2% of the total amount of your booking. There is no surcharge for Debit card payments. All major currencies are accepted when paying online by credit card.

Payment by bank transfer (In sterling or Euros), UK online banking or cheque in Euros or sterling can be accepted. Please Contact Us if you wish to make a payment in this way.

Our full terms and conditions can be read here:

Select your travel dates

Free

Occupied

Your selection
Guest services
The following additional services can be arranged at the villa.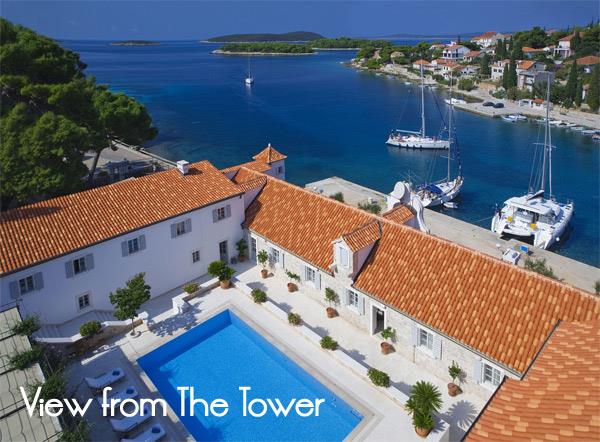 Buffet Breakfast is included in your stay.

Boat Services

Price for boat mooring available on request.

As well as the opportunity to moor your own boat directly in front of the villa, sailing or motorboat hire with a skipper can be arranged. Price for boat rental available on request.