Elegant 3 Bedroom Stone Villa with Pool in Milna, Brac Island

This tastefully decorated stone villa is situated in the picturesque coastal village of Milna on the island of Brac. Located in an elevated position, the property offers fine views of the harbour, church and surrounding area from its upper terrace and the rustic décor mixed with the modern style of the property provides a relaxing retreat from everyday life. There is a fantastic herb garden, a large garden with a playhouse, trampoline and badminton.

The property is accessed from a pedestrian street in Milna old town, through intricate metal gates into a split level garden which features a spacious outside BBQ and dining area with a swimming pool. French doors from the BBQ area lead into the attractively furnished open plan kitchen diner lounge area with single sofa-bed. On this level there is also a cloakroom with toilet and washing machine. Stairs to the first floor lead to one double room and one twin room both, offering harbour views, with a family bathroom located between the two bedrooms. The second floor contains the en-suite master bedroom with shower room and an additional single sofa-bed. This bedroom boasts harbour views, views to the island of Solta and doors from the bedroom lead out onto a terrace offering panoramic views of the surrounding area.

Car hire is recommended. The property would suit a family or group of friends keen to be within easy walking distance of restaurants and shops and nearby beaches. It also provides an excellent base to explore Brac island. Excursions to other islands and Split old town are also available from the island

For more information about Brac Island watch

video.

£1,246.00

01 October 2023 - 08 October 2023

7 nights

Location

Distance to beach

1 km

Nearest airport

Split

Distance to airport

60km

Nearest town

Milna

-

Distance to bus stop

300m

-

Details on nearest shops

Mini-market and post office.

Distance to nearest shops

200 m

Distance to nearest restaurant

200m

Facilities:

General

Sleeps in bedrooms: 7
Sleeps total (includes sleeping capacity on sofa/extra beds): 9
Minimum stay: 7 nights for June-early September, 3 nights for all other dates.
Arrival days: Saturday for June-early September, any day for all other dates.
Check-in: 16:00
Check-out: 10:00
Built: 19th Century
Last renovated: 2005

Amenities

Car park: Off-street parking - 5 mins walk
Boat mooring (on request)
Sea view
Whole house air-conditioned
Garden
Sun deck
Heating
Smoking
Children
Cot/crib (available on request)
Pool size: 26m2
Pool private to the property
Children's play area

Appliances

Stove
Dishwasher
TV
Oven
Refrigerator
Microwave
Stereo
Freezer
Toaster
Washing machine
BBQ
Satellite TV
DVD player
Internet access

Rooms

Furniture in terrace/balcony/garden: Sun loungers, table and benches.
Kitchen
Dining room
Balcony with sea view
Kitchen table
Terrace with sea view
Balcony
Terrace
Lounge/living room

Bedroom details

Information on bedrooms: There is an additional bed that can sleep a person up to the age of 18. There is also a double sofa bed in the living room for two additional people.
Number of double bedrooms: 2
Total number of bedrooms: 3
Number of twin bedrooms: 1

Bathroom details

All bathrooms have toilets
Number of bathrooms with shower: 1
Number of bathrooms with bathtub: 1
Total number of bathrooms: 3
Number of toilet only rooms: 1
Additional information on bathrooms: Master bedroom is en-suite.

Information on Location

Distance to beach: 1 km
Driving time to nearest beach: 5 minutes
Nearest airport: Split
Distance to airport: 60km
Nearest town: Milna
Distance to bus stop: 300m
Details on nearest shops: Mini-market and post office.
Distance to nearest shops: 200 m
Restaurant within walking distance
Distance to nearest restaurant: 200m
On the seaside
Bus available
Information on transfers: Available on request.
In city/town

Charges

Price includes

Electricity
Water
Provision of linen/towels
Heating
Cot linen

Separate charges

Security deposit

The following must be produced on arrival: €300

Price bands

Property per night

01 Jan.

-

29 Apr.

29 Apr.

-

13 May

13 May

-

03 June

03 June

-

24 June

24 June

-

02 Sept.

02 Sept.

-

09 Sept.

09 Sept.

-

23 Sept.

23 Sept.

-

30 Sept.

30 Sept.

-

31 Dec.

Prices are in UK Pounds (£)
*Rental prices do not include Residence Tax: £ 0.92 (per person per night)

Pricing and booking information

Pricing Information

Pricing is calculated per property per night in GBP Sterling. Many destinations also require tourist tax to be paid. Tourist tax starts from approximately £1 per adult per night, and £0.50 per night per child aged 12-17 at time of travel. If tourist tax is applicable to the destination you are travelling to, this will be shown in the booking process. For tourist tax payable at time of booking, the cost will be added to your subtotal. For tourist tax payable locally, the cost will be shown at time of booking and on documentation.

All bookings subject to booking fee.

Booking Information

A 30% deposit is required at time of booking. Full balance is due 10 weeks prior to arrival.

If booking within 10 weeks of arrival, the full cost of the villa must be paid at the time of booking.

Certain properties require varying payments for bookings. If payments required vary from those above, these conditions will be displayed below or advised at time of booking.

Holding an Option on a villa

Please Contact Us should you wish to place an option on a property for 24 hours whilst you book your flights and/or make other arrangements.

Payment Information

For online bookings, payment can be made by credit or debit card. Corporate credit card payments may incur a surcharge at time of booking. There is no surcharge for personal credit or debit card payments. All major currencies are accepted when paying online by credit card.

Payment by bank transfer (In sterling or Euros), UK online banking or cheque in Euros or sterling can be accepted. Please Contact Us if you wish to make a payment in this way.

Our full terms and conditions can be read

here

:

Cancellation policy

Cancellation Conditions

Standard cancellation conditions apply for all cancellations received by Croatian Villas/Authentic Villa Holidays Ltd up to 40 days prior to arrival.

Cancellations received within 40 days of arrival incur a 100% cancellation charge.

Select your travel dates

Free

Occupied

Your selection

Customer reviews:

Excellent. The property was beautiful and in a fantastically located area in the town making it easy to go out to local shops and restaurants. The caretaker, was lovely. Very friendly, helpful and whilst she was available by mobile phone at any time, she left us to our own devices after her initial welcome. She also very kindly let us stay in the villa until 12pm and even then, let us leave our luggage in the locked garden as our flight wasn't until evening.

We were hugely impressed with the whole service we got from Croatian Villas. Both the property and the resort were superb.

Impressed with: The island of Brac was beautiful and much less touristy than other places we have visited like Majorca or the Greek islands. The people were friendly, the food good and the prices for eating and drinking out incredibly good value.
Not impressed with: Nothing!
Recommend: The two restaurants we liked best were Palma and the other was just on the left of the steps down into the town - I've forgotten it's name! For coffee or drinks, Fjaka was lovely and reasonably priced. Also would highly recommend a day out on the Olinta boat with the lovely Captain Toni, Excellent value for money as it was a full 9 hours with stops for coffee, lunch and 3 swimming stops. Our teenagers loved it!
Favourite villa moment: The best times were simply relaxing by the pool or in the shade in the beautiful terraced garden and the chilled out evenings, after our harbour-side meal, sitting outside the villa playing cards with the children or reading.

Stayed August 2012
Guest services
The following additional services can be arranged at the villa.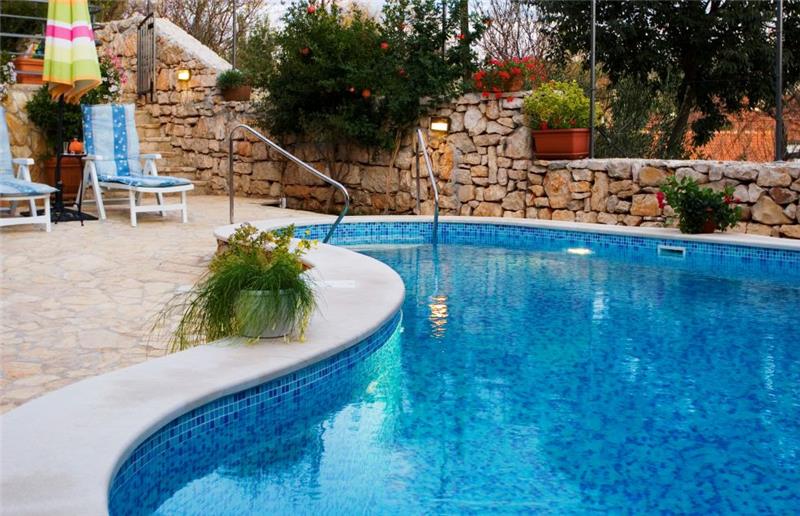 Transfers

Return transfer by minivan between Supetar and the accommodation available at no extra charge for January - early June and early September - December. For all other dates at a rate of €40 one-way (payable locally).

Return transfer between Split Airport and Split ferry port available at a rate of €45 one-way for 4 people, and €65 one-way for 8 people (payable locally).

To pre-book, please speak with one of our consultants.

Housekeeping

Extra cleaning of the accommodation can be arranged on request at a cost of €80 (payable locally).