3 Bedroom Stone House with Pool in Mirca on Brac Island

This exceptionally pretty stone house with pool lies on the northern part of Brac island. Located in the village of Mirca, which contains a number of old stone houses, this character property will appeal to those looking to stay in a typical Dalmatian stone house offering views of the Adriatic Sea and mainland.

The house is approached via a country lane where guests can park their car under a shaded parking area. Steps lead up from the parking bay to the raised ground floor which consists of a lovely outdoor pool area with sundeck positioned to capture the best views of the sea and Dalmatian coast. To one side of the pool there is a shaded outdoor eating area with BBQ and separate shower room. A door from the outdoor eating area leads into the kitchen and on through to the elegantly decorated lounge/diner. There is also a separate toilet/guest cloakroom on this level. To the rear of the lounge there is a double bedroom with en-suite shower room offering country views and a terrace door leading out onto a side terrace which leads onto the pool area. From the lounge a grand staircase leads to the first floor which contains a family bathroom, a double bedroom and twin bedroom offering country views. From this level a door in the hallway opens out onto an outdoor staircase which leads down to the pool area.

Car hire is recommended. The house would suit a family or group of friends looking for a peaceful location to relax in on a typical Dalmatian Island location. The nearby town of Supetar with its cafes and bars is within 15 minutes drive of the villa. Brac island has much to offer in the way of sightseeing. Sites of interest include Vidova Gora, the highest point of all the Adriatic islands (778m), the towns of Milna, Postira, Sutivan and Bol with its famous Golden Horn beach. Also worth visiting is the sandy beach of Lovrecina Bay near Splitska. Excursions to other islands and to the mainland are also all possibilities from Brac.

For more information about Brac Island watch

video.




£1,337.00

01 October 2023 - 08 October 2023

7 nights

Location

Distance to beach

800 m

Nearest airport

Split

Distance to airport

45km

Nearest town

Supetar

Distance to town

3km

Distance to bus stop

200m

-

Details on nearest shops

Grocery shop

Distance to nearest shops

50 m

Distance to nearest restaurant

800m

Facilities:

General

Sleeps in bedrooms: 6
Sleeps total (includes sleeping capacity on sofa/extra beds): 7
Minimum stay: 6 nights minimum stay between mid June and early September. 3 nights for all other dates.
Arrival days: Flexible arrival for early June-early September, any day arrival for all other dates.
Built: 19th Century
Last renovated: 2008
Total number of rooms: 3

Amenities

Area: 160m2
Frequency of linen/towel change: Towels daily, linen every 2 days.
House pets allowed (on request)
Sea view
Whole house air-conditioned
Garden
Sun deck
Heating
Parking
Children
Cot/crib (available on request)
Pool size: 15m2
Pool private to the property
Fire place
Mini bar
Laundry service
Wifi

Appliances

Dishwasher
TV
Oven
Refrigerator
Microwave
Stereo
Toaster
Washing machine
BBQ
Satellite TV
DVD player
Telephone
Internet access

Rooms

Furniture in terrace/balcony/garden: Sun loungers, tables and chairs.
Dining room
Terrace with sea view
Terrace
Lounge/living room
Air-conditioning

Bedroom details

Information on bedrooms: Single sofa-bed in lounge.
Number of double bedrooms: 2
Total number of bedrooms: 3
Number of twin bedrooms: 1

Bathroom details

All bathrooms have toilets
Number of bathrooms with shower: 1
Number of bathrooms with bathtub: 2
Total number of bathrooms: 4
Number of toilet only rooms: 1

Information on Location

Distance to beach: 800 m
Nearest airport: Split
Distance to airport: 45km
Nearest town: Supetar
Distance to town: 3km
Distance to bus stop: 200m
Details on nearest shops: Grocery shop
Distance to nearest shops: 50 m
Restaurant within walking distance
Distance to nearest restaurant: 800m
On the seaside
Bus available
Car recommended
Information on transfers: Available on request.
In city/town

Charges

Price includes

Electricity
Gas
Water
Provision of linen/towels
Heating
Cot linen
Internet

Separate charges

Telephone charged at local rates.
Pet fee: €15 per day (small, well trained dogs).
Laundry service: €30 per load (washing and ironing).
Mini bar charge.

Security deposit

The following must be produced on arrival: €300

Price bands

Property per night

02 Jan.

-

13 May

13 May

-

10 June

10 June

-

24 June

24 June

-

01 July

01 July

-

26 Aug.

26 Aug.

-

02 Sept.

02 Sept.

-

23 Sept.

23 Sept.

-

30 Sept.

30 Sept.

-

23 Dec.

23 Dec.

-

02 Jan.

Prices are in UK Pounds (£)
*Rental prices do not include Residence Tax: £ 0.92 (per person per night)

Pricing and booking information

Pricing Information

Pricing is calculated per property per night in GBP Sterling. Many destinations also require tourist tax to be paid. Tourist tax starts from approximately £1 per adult per night, and £0.50 per night per child aged 12-17 at time of travel. If tourist tax is applicable to the destination you are travelling to, this will be shown in the booking process. For tourist tax payable at time of booking, the cost will be added to your subtotal. For tourist tax payable locally, the cost will be shown at time of booking and on documentation.

All bookings subject to booking fee.

Booking Information

A 30% deposit is required at time of booking. Full balance is due 10 weeks prior to arrival.

If booking within 10 weeks of arrival, the full cost of the villa must be paid at the time of booking.

Certain properties require varying payments for bookings. If payments required vary from those above, these conditions will be displayed below or advised at time of booking.

Holding an Option on a villa

Please Contact Us should you wish to place an option on a property for 24 hours whilst you book your flights and/or make other arrangements.

Payment Information

For online bookings, payment can be made by credit or debit card. Corporate credit card payments may incur a surcharge at time of booking. There is no surcharge for personal credit or debit card payments. All major currencies are accepted when paying online by credit card.

Payment by bank transfer (In sterling or Euros), UK online banking or cheque in Euros or sterling can be accepted. Please Contact Us if you wish to make a payment in this way.

Our full terms and conditions can be read

here

:

Customer reviews:

Good-Excellent. Caretaker was great!

Impressed with: The people, food, weather and clear water.
Not impressed with: The wasps
Recommend:Recommended a restaurant called Ziza (in Donji Humac) which was a fantastic upmarket restaurant experience!

Stayed August 2013

a wonderful house, with very well considered lay out, very cozy, in a quite and peaceful place, with the beautiful garden and olive oil tree))). Located close to two big supermarkets/grocery, and the city Supetar, but yet you need to have a car. Welcoming people on the Island. Perfect for family of 3 or 4. Many beaches spots, that you can always find the one good for you, including sand-beach, may be 30 min drive from villa.

The owner was very helpful and welcoming, so we could always call for advice. We are grateful to the owner, and appreciate all the assistance and efforts. Every day we had housemaid, making beds and changing towels, A LOT OF TOWELS in the house.

Recommend:The Island is not that big, so just to make the trip around the Island, you will enjoy the pictures view of beautiful nature and small stone villages. We would recommend visiting Tomi restaurant that is in Dol village, 40 min drive from villa, good food, and good service. You can also buy their home wine, black olives, olive oil, all home made. Kapachino restaurant, 20 min drive from villa, very good food, service and view. BOL famous beach, worse to see and of course Vidova Gora.
Favourite villa moment: We enjoyed all the time being there, and I think most memorable moments are outside breakfast in the morning, sundown on sundeck and BBQ in the evenings with the garden and swimming pool lightning. We would love to get back to villa one day again!

Stayed June 2012

Excellent villa, beautifully designed, great location

Stayed July 2008
Guest services
The following additional services can be arranged at the villa.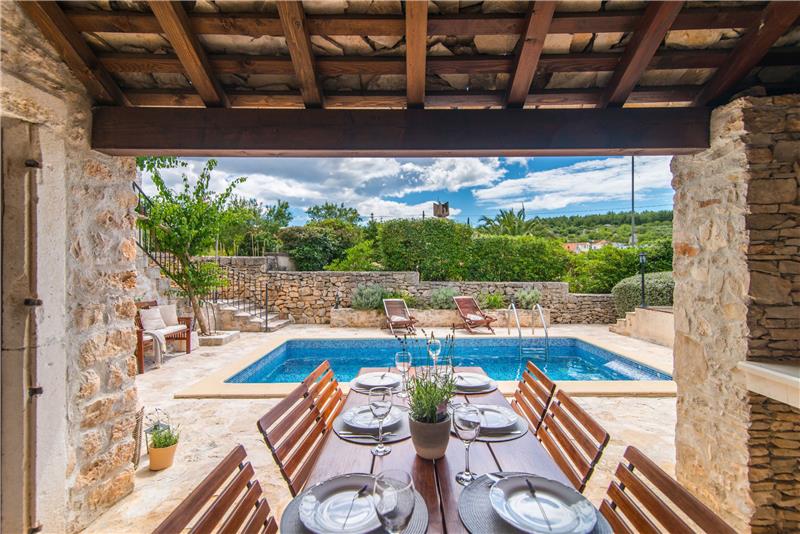 Catering

A weekly chef service can be arranged if booked in advance. The price starts at €1600 a week plus the cost of groceries and travel costs. Service is subject to confirmation and cooking for larger groups or any special arrangement on request.



Boat Mooring

Boat mooring is possible at Supetar Port. There is a charge per metre of the boat.

Babysitting Service

Evening babysitting can be arranged on request. Prices start from €7 per hour payable locally.



Laundry Service

Washing, drying and ironing services available payable locally.

Tennis Courts

There are a few clay tennis courts in Supertar at the Waterman Svpetrvs Resort. Additional charges will apply.

Yoga

Yoga is available at the villa and around 15 yoga mats can be provided at no extra cost.

Massage

An aroma massage treatment can be organised at the villa either in the privacy of one of the villa rooms or on the rooftop terrace. Massage is offered as 60 minute slots for €40 payable locally.



Local Activities/Other Services

Guests can rent a bike, scooter or boat,attend wind-surfing school and go scuba diving. Other daily excursions can all be arranged locally subject to availability. If you wish to reserve any of the above please request this from one of our consultants.