FTP picture upload instruction
---

Please follow these instructions for FTP Upload:

If you don't have FTP Client software you will need to download the following software to enable you to upload pictures.

STEP 1. Downloading and installing FTP client software.
To upload your files you need an FTP client programme.
You can download a FREE FTP programme by clicking on this link below:
FileZilla_3.0.8.1_win32-setup.exe
Launch the downloaded install file. The set up program should take you through the set up.

STEP 2. Connecting to FTP server.
Once you have installed FileZilla. Start it. You will then need to connect with our server, please manually type in:
Host: www.croatianvillas.co.uk
Username: cv.suppliers
Password: (send request)
And click on 'Quickconnect' button.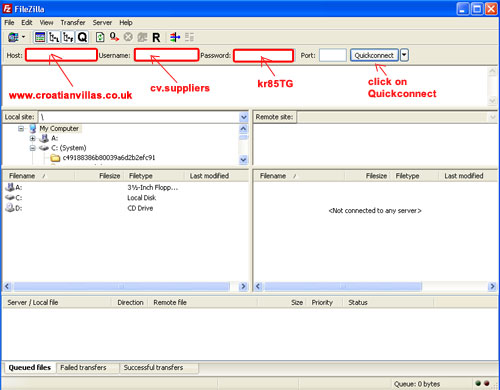 STEP 3. Locate your picture folder.
The left hand side shows the current folders on your machine. The right hand side shows the current folder on the FTP site. Navigate to the folder where your photo folder is located on your local disk or CD disk.
Before you upload your pictures onto the Croatian Villas FTP site, create a recognizable folder name on your local machine with your picture in it (e.g. use the name + location of your property or use the Croatian Villa code).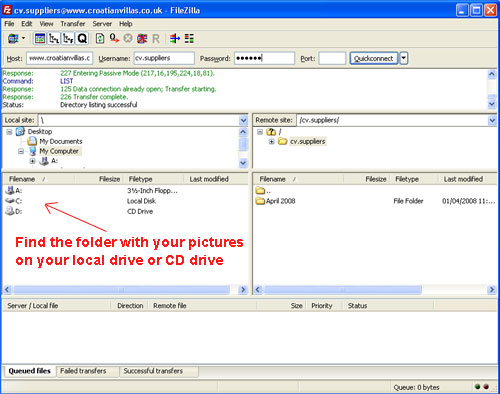 STEP 4. Upload your picture on to our FTP server
Once you have located your folder with pictures, right click on your mouse on the folder and click UPLOAD.
You can create any additional folder you require on your own (use your Villa/Apartament name + location or Croatian Villa code).

You can also 'Drag and Drop' directly from your computer into the upload right window.
See diagram below.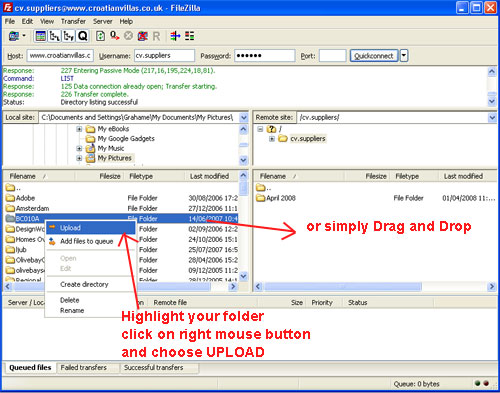 WELL DONE 🙂
If you have any question please do not hesitate to contact us michal@croatianvillas.com