Catering Services at villa DU119
---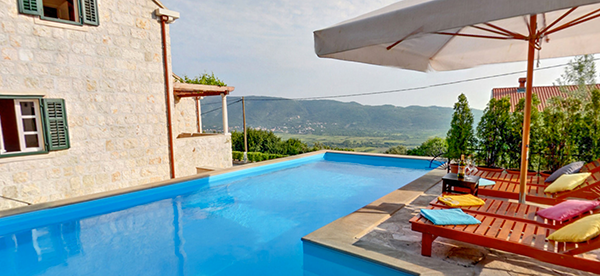 Breakfast must be confirmed the day before. Meals can usually be arranged if confirmed by the morning of the same day, some meals may require 24 hours notice.
Meals can be arranged for a minimum of 4 persons.
A number of different menus are available to choose from. Prices range from approximately Euros 13 – 35 per person depending on menu selected, fish tends to be more expensive than meat. Children ages 5-12 pay 50% of the price. Payment is made locally in advance and can be made in Euros or equivalent price in the local currency (Kuna).
Example menu for guests staying at DU119
Breakfast
FARMERS BREAKFAST
Herbal teas, juices, Turkish coffee, milk, homemade marmalades, local honey, butter, bread/rolls, homemade sausage, pancetta, cheese, scrambled eggs, farm-fresh eggs, cake cooked to family's own recipe, seasonal fruits.
Price: €10 per person

WEEKEND BREAKFAST
Herbal teas, juice, coffee, milk and marmalades, local honey, butter, bread/rolls, scrambled eggs with ham, cheese and vegetables, seasonal fruits.
Lunch or Dinner
All meals are prepared in a traditional way and generally consist of:
Aperitif:
Homemade liqueurs.
Appetizer:
Local cheeses, other items may also be served such as salted sardines, prosciutto, pancetta, pickled vegetables, olives. Price is dependent on number of items selected.
Soup:
Soup with gnocchi or homemade pasta. Only some menus offer soup.
Main Course:
Menus offer the following dishes to choose from:
Suffed Peppers
Pasta dish
Roasted or boiled meat such as veal, pork, lamb.
Grilled Fish
Main course are generally served with seasonal house salad and potatoes.
Dessert:
Menus include the following dishes to choose from:
Padišpanj (homemade sponge cake made with farm fresh eggs)
Traditional family desert with dried figs.
Pancakes with homemade jam.
Fruit:
Seasonal Fruit served with some menus.
Coffee:
Turkish coffee
Wine
The price includes a glass of white or red "Kameni Dvori produced" wine each.
Bread is included in all menus.
Drinks
Drinks (wine, beer, soft drinks) are not included in the menu. Guests can bring their own drinks or can buy drinks from the villa wine cellar during the meal. Drinks are also available to purchase from the wine cellar at any time during guest stay, not just at meal times.
Additional Services are on request and subject to confirmation.