Split Airport General Information: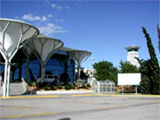 Full Address:
AIRPORT SPLIT – Kastela
Cesta dr.Franje Tudjmana 96
21216 Kastel Stafilic, Croatia
Tel. Contact: +385 21 203 555
Fax Contact: +385 21 203 422
---
Split Airport Hotels:
For hotels offering a shuttle bus service to/from Split airport and to book Split airport hotels click here
---
Getting to and from Split Airport: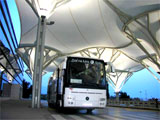 Split Airport Bus:


The Split airport bus departs from Split Harbour Bus Terminal which is approximately 200m from the old town. The buses take approximately 40 minutes to get to the airport and cost around 4 Euros per person one way.
On arrival at Split Airport buses depart for Split Harbour Bus Terminal shortly after the arrival of all Croatia Airlines scheduled flights. The Airport Bus goes directly from Split Airport to Split and takes 30-40 minutes. Buses from Split to Split Airport leave 90 minutes before the departure of aircrafts on scheduled Croatia Airlines flights. Full details of buses to and from Split airport/city click here.
There is a local bus that stops in front of the airport every 20 minutes. It takes approximately one hour and 10 minutes to get to Split city. For further details click here

Split airport Taxis:
Taxis are available outside the terminal although we recommend pre-booking your taxi with Split transfer taxi company.

Split airport Car Hire:
Car rental is available for pick up at Split airport. Car rental desks are located very close to flight arrivals exit. Croatian Villas works with a number of car rental companies at Split airport. Please visit our car hire page for the most competitive prices and latest offers.
---
Split Airport Help Desk and Facilities Information: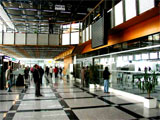 The information desk is located within the airport terminal.
Click here for Split airport contact details.

Unless otherwise stated, the following airport facilities are open during airport opening hours:

Split Airport Facilities in Passenger lounge:
Bank is located in the airport terminal open from 0630 – 2030
Post Office – Open Winter Mon – Fri 0700 – 2000, Sat 0700 – 2100.
From 1st July – 1st September open daily from 0700 – 2100
Newspaper/magazine stand
Coffee bar and restaurant.
Internet access available from two PC's located in terminal building. In additional entire area of Split airport terminal building has access to WLAN internet access free of charge.
Toilets including baby changing.
Split Airport Airside Facilities:
Duty Free shop selling gifts, cigarettes, alcoholic beverages, confectionary, toys, Croatian food produce including chilled food, fashion section (jewellery, clothing, sunglasses, leather goods, scarves).
Perfume counter.
Snack bar offering beverages and sandwiches.
Toilets including baby changing facilities.
---
Other Split Airport Information: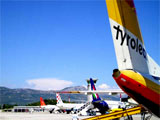 Split airport car parking:
Conveniently located close to the airport terminal, Split airport offers car parking for 353 cars and 31 buses. For information on prices click here.

Disabled Access at Split Airport:
Assistance is provided at the airport for disabled passengers. Please contact the airport directly with your request.

Smoking Policy at Split Airport:
From 1st March 2009 Split airport will be a non-smoking building.

For further information on Split airport including flight arrival and departure information and webcams click here.
---
All information correct at time of web posting December 2008. Information subject to change without notice.
---