Find accommodation in Croatia
If you're looking for holiday accommodation in Croatia, look no further than Croatian Villas. We offer a wide range of high-quality apartments and villas suitable for whatever type of holiday you may be planning – whether it's a romantic getaway with your partner, a fun-filled family holiday or an exciting break with a group of friends.
The accommodation in Croatia can range from luxurious villas that are only a few steps away from the glorious beaches of the Adriatic Sea to trendy town apartments that give you the chance to enjoy the sights of the city, as well as the nightlife.
Our accommodation in Croatia is spread throughout the country, from Istria and the Kvarner Gulf in the north, all the way down the Dalmatia coast to Dubrovnik in the south. We also offer accommodation on the Croatian islands of Brac, Hvar and Vis. So no matter where you decide to stay on your holiday, Croatian Villas is sure to have a location for your requirements.
Things to do near your accommodation in Croatia
When you book holiday accommodation in Croatia, you'll have a vast choice of things to see and do during your h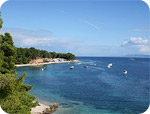 oliday, whether you're an adventure seeker, looking for family fun or simply want to soak up some sunshine.
When staying at an accommodation in Croatia, you'll no doubt want to spend time on the beach. Croatia's unspoilt coastline stretches for 1778km and with beaches ranging from small coves to long, sweeping expanses, any beachgoer is sure to find a setting to their liking.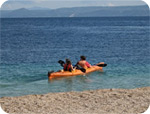 For those who enjoy water sports, the warm turquoise water of the Adriatic will be very inviting while staying at an accommodation in Croatia. Perfect for scuba diving and snorkelling, as well as kayaking, waterskiing and sailing, the waters off Croatia's coast are protected by the country's 1,185 islands, ensuring calm and crystal clear conditions.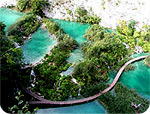 For those who enjoy hiking, a trip to Plitvice Lakes National Park is a must, especially when staying at accommodation in Croatia's northern Dalmatian region. With sixteen lakes interconnected by dramatic waterfalls, the beauty of this UNESCO World Heritage Site is magnificent.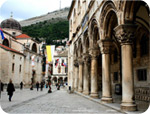 If you're looking to take in a bit of culture during your stay at an accommodation in Croatia, there are plenty of options. Throughout the country's history, Croatia has been under the rule of the Romans, Venetians, Italians and Austro-Hungarians, contributing to a uniquely diverse culture with delicious food and distinctive architecture.
For those who are looking for a bit of pampering while staying at accommodation in Croatia, the country also boasts a number of luxurious spas that are sure to relax and revitalise visitors.
---
Book accommodation with Croatian Villas
When you book accommodation with Croatian Villas, you can rest assured that the apartment or villa that you choose will be clean, comfortable and in a good location, with easy access to a beach or pool. Every accommodation in Croatia that we offer has been individually chosen by one of our team members, ensuring the quality that you expect while on holiday.
Accommodation in Croatia ranges from studio apartments to large four and five plus bedroom family villas. Contemporary and luxurious accommodations in Croatia are available with private pools and all the modern conveniences. More traditional homes are also available – quaint and charming, with stone walls and wooden shutters, some are over 100 years old.