4 Bedroom Villa with Pool and Sea View in Sumartin on Brac Island, sleeps 8-10

This pretty Brac stone villa with attractive Adriatic sea views is situated in the picturesque fishing village of Sumartin on the island of Brac. The villa has been tastefully decorated with a mix of modern and traditional antique furniture and would suit families or friends looking to holiday in a charming setting and be within walking distance of beaches, a couple of restaurants and a supermarket.

Guests enter the property from the street, up a flight of steps to the main entrance gate. Once inside a further short flight of stairs takes guests to the rear of the property where the main entrance door is located. Here guests enter directly into a large open plan kitchen, diner, lounge area with double sofa-bed and French doors opening onto an outdoor shaded dining area overlooking the pool and sea.

Once through the lounge area there are three double bedrooms all with en-suite shower rooms. There is also a separate guest cloakroom/toilet on this level. The first floor (eaves) contains the master bedroom which features a double bed and en-suite bathroom.

Car hire is recommended. Sumartin is located in a bay at the eastern tip of Brac and is known for its unique character and hospitable people. It is home to the former manors of sea captains and the Franciscan monastery, the foundations of which were laid by the famous Dalmatian poet friar, Andrija Kacic-Miosic and which now houses a museum focusing on religious art and manuscripts. There is a direct car ferry service operating from Sumartin to Makarska on the mainland and this also allows guests to visit the pretty town of Makarska as foot passengers. Check out the Makarska-Sumartin ferry times here.

£1,456.00

28 January 2023 - 04 February 2023

7 nights

Location

Distance to beach

300 m

Nearest airport

Split

Distance to airport

2-3 hours including ferry crossing

Nearest town

Makarska by ferry or Bol by road.

Distance to town

Makarska 14km or Bol 27km

Distance to bus stop

50m

Frequency of buses

2-3 times per day

-

Distance to nearest shops

50 m

Distance to nearest restaurant

100m

Facilities:

General

Sleeps in bedrooms: 8
Sleeps total (includes sleeping capacity on sofa/extra beds): 10
Minimum stay: 7 nights for early June-early September, 3 nights for all other dates - - surcharge included in the price for stays less than 7 nights
Arrival days: Any day arrival for all dates
Check-in: 16:00
Check-out: 10:00
Built: 2002
Last renovated: 2009
Number of floors: 2
Total number of rooms: 4

Amenities

Boat mooring prices available on request.
Frequency of linen/towel change: Weekly
Boat mooring (on request)
Sea view
Whole house air-conditioned
Garden
Sun deck
Heating
Children
Cot/crib (available on request)
Pool size: 25m2
Pool private to the property
Alarm

Appliances

Stove
Dishwasher
TV
Oven
Microwave
Stereo
Washing machine
BBQ
Satellite TV
DVD player
Internet access

Rooms

Furniture in terrace/balcony/garden: Terrace has a table and chairs
Kitchen
Kitchen table
Terrace with sea view
Safe
Air-conditioning

Bedroom details

Information on bedrooms: Double sofa-bed.
Number of double bedrooms: 4
Total number of bedrooms: 4

Bathroom details

All bathrooms have toilets
Number of bathrooms with bathtub: 4
Total number of bathrooms: 5
Number of toilet only rooms: 1

Information on Location

Distance to beach: 300 m
Nearest airport: Split
Distance to airport: 2-3 hours including ferry crossing
Nearest town: Makarska by ferry or Bol by road.
Distance to town: Makarska 14km or Bol 27km
Distance to bus stop: 50m
Distance to nearest shops: 50 m
Restaurant within walking distance
Distance to nearest restaurant: 100m
On the seaside
Bus available
Car recommended
Frequency of buses: 2-3 times per day
Information on transfers: Available on request.

Charges

Price includes

Electricity
Gas
Water
Provision of linen/towels
Internet

Separate charges

Extra cleaning available at £136 payable on booking: Please enquire if required

Security deposit

The following must be produced on arrival: €500

Price bands

Property per night

01 Jan.

-

29 Apr.

29 Apr.

-

13 May

13 May

-

03 June

03 June

-

24 June

24 June

-

02 Sept.

02 Sept.

-

09 Sept.

09 Sept.

-

23 Sept.

23 Sept.

-

30 Sept.

30 Sept.

-

31 Dec.

Prices are in UK Pounds (£)
*Rental prices do not include Residence Tax: £ 0.92 (per person per night)

Pricing and booking information

Pricing Information

Pricing is calculated per property per night in GBP Sterling. Many destinations also require tourist tax to be paid. Tourist tax starts from approximately £1 per adult per night, and £0.50 per night per child aged 12-17 at time of travel. If tourist tax is applicable to the destination you are travelling to, this will be shown in the booking process. For tourist tax payable at time of booking, the cost will be added to your subtotal. For tourist tax payable locally, the cost will be shown at time of booking and on documentation.

All bookings subject to booking fee.

Booking Information

A 30% deposit is required at time of booking. Full balance is due 10 weeks prior to arrival.

If booking within 10 weeks of arrival, the full cost of the villa must be paid at the time of booking.

Certain properties require varying payments for bookings. If payments required vary from those above, these conditions will be displayed below or advised at time of booking.

Holding an Option on a villa

Please Contact Us should you wish to place an option on a property for 24 hours whilst you book your flights and/or make other arrangements.

Payment Information

For online bookings, payment can be made by credit or debit card. Corporate credit card payments may incur a surcharge at time of booking. There is no surcharge for personal credit or debit card payments. All major currencies are accepted when paying online by credit card.

Payment by bank transfer (In sterling or Euros), UK online banking or cheque in Euros or sterling can be accepted. Please Contact Us if you wish to make a payment in this way.

Our full terms and conditions can be read

here

:

Cancellation policy

Cancellation Conditions

Standard cancellation conditions apply for all cancellations received by Croatian Villas/Authentic Villa Holidays Ltd up to 40 days prior to arrival.

Cancellations received within 40 days of arrival incur a 100% cancellation charge.
Guest services
The following additional services can be arranged at the villa.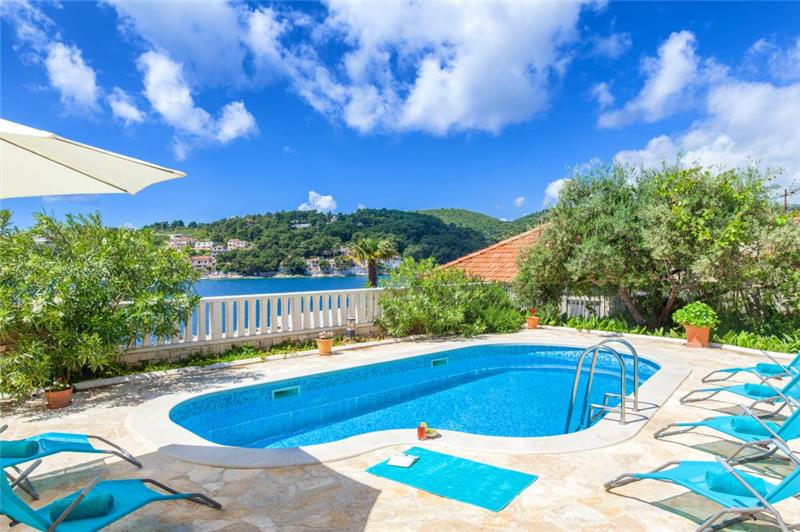 Transfers

Return transfer by minivan between Supetar and the accommodation available at no extra charge for January - early June and early September - December. To pre-book, please speak with one of our consultants.

Housekeeping

Extra cleaning of the accommodation can be arranged on request at a cost of €80 (payable locally).