3 Bedroom Villa in Sumartin with Pool, Sleeps 6-8
*EARLY BOOKING DISCOUNT*: 5% off 2024 stays between 01.01.-21.06. and 07.09.-31.12 - book by 09.01.24
Lovely 3 Bedroom Dalmatian Stone House with Pool on Brac Island

This lovely villa is located in the small picturesque fishing village of Sumartin and offers scenic views of the village and sea as well as being within walking distance of restaurants and shops. Boat hire can also be arranged locally.The property would suit a family or group of friends.

Decorated to a high standard, this charming property features an open plan kitchen/diner/lounge with double sofa-bed on the ground floor. The property also consists of two double bedrooms, one twin bedrooms, one bathroom, one shower room and separate WC. The property also has a large garden complete with swimming pool. The nearest beach is less than 5 minutes walk away.

Car hire is recommended. For details on ferry schedules check out the Makarska-Sumartin and Split-Supetar ferry times. For further assistance on planning your journey to Brac please speak with one of our consultants.

For more information about Brac Island watch

video.

*EARLY BOOKING DISCOUNT*: 5% off 2024 stays between 01.01.-21.06. and 07.09.-31.12 - book by 09.01.24

£980.00

02 December 2023 - 09 December 2023

7 nights

Location

Distance to beach

100 m

Nearest airport

Split

Distance to airport

2-3 hours including ferry crossing time.

Nearest town

Sumartin

Distance to town

35 minutes by ferry

Distance to bus stop

50m

-

Details on nearest shops

Supermarket

Distance to nearest shops

100 m

Distance to nearest restaurant

5 minutes walk

Facilities:

General

Sleeps in bedrooms: 6
Sleeps total (includes sleeping capacity on sofa/extra beds): 8
Minimum stay: 7 nights for early June-mid September, 3 nights for all other dates - surcharge included in the price for stays less than 7 nights
Arrival days: Saturday for early June-mid September, any day for all other dates.
Check-in: 16:00
Check-out: 10:00
Built: circa 1850
Last renovated: 2004

Amenities

Area: 500m2
Boat mooring prices available on request
Frequency of linen/towel change: Weekly
Car park: Space for 3 cars.
Sea view
Whole house air-conditioned
Garden
Children
Cot/crib (available on request)
Pool size: 32m2
Pool private to the property

Appliances

Stove
Dishwasher
Oven
Refrigerator
Stereo
Freezer
Toaster
Washing machine
BBQ
Satellite TV
Internet access

Rooms

Furniture in terrace/balcony/garden: Terrace has table and chairs.
Kitchen
Kitchen table
Terrace with sea view
Terrace
Lounge/living room

Bedroom details

Information on bedrooms: Double sofa-bed in living room.
Number of double bedrooms: 2
Total number of bedrooms: 3
Number of twin bedrooms: 1

Bathroom details

All bathrooms have toilets
Number of bathrooms with shower: 1
Number of bathrooms with bathtub: 1
Total number of bathrooms: 3
Number of toilet only rooms: 1

Information on Location

Distance to beach: 100 m
Driving time to nearest beach: 5 minutes to the larger beach.
Nearest airport: Split
Distance to airport: 2-3 hours including ferry crossing time.
Nearest town: Sumartin
Distance to town: 35 minutes by ferry
Distance to bus stop: 50m
Details on nearest shops: Supermarket
Distance to nearest shops: 100 m
Restaurant within walking distance
Distance to nearest restaurant: 5 minutes walk
On the seaside
Bus available
Car recommended
Information on transfers: Available on request.

Charges

Price includes

Electricity
Gas
Water
Provision of linen/towels

Separate charges

Maid/Cleaning available on request

Security deposit

The following must be produced on arrival: €500 credit card authorisation

Price bands

Property per night

01 Jan.

-

29 Apr.

29 Apr.

-

13 May

13 May

-

03 June

03 June

-

24 June

24 June

-

02 Sept.

02 Sept.

-

09 Sept.

09 Sept.

-

23 Sept.

23 Sept.

-

30 Sept.

30 Sept.

-

31 Dec.

Prices are in UK Pounds (£)
*Rental prices do not include Residence Tax: £ 0.92 (per person per night)

Pricing and booking information

Pricing Information

Pricing is calculated per property per night in GBP Sterling. Many destinations also require tourist tax to be paid. Tourist tax starts from approximately £1 per adult per night, and £0.50 per night per child aged 12-17 at time of travel. If tourist tax is applicable to the destination you are travelling to, this will be shown in the booking process. For tourist tax payable at time of booking, the cost will be added to your subtotal. For tourist tax payable locally, the cost will be shown at time of booking and on documentation.

All bookings subject to booking fee.

Booking Information

A 30% deposit is required at time of booking. Full balance is due 10 weeks prior to arrival.

If booking within 10 weeks of arrival, the full cost of the villa must be paid at the time of booking.

Certain properties require varying payments for bookings. If payments required vary from those above, these conditions will be displayed below or advised at time of booking.

Holding an Option on a villa

Please Contact Us should you wish to place an option on a property for 24 hours whilst you book your flights and/or make other arrangements.

Payment Information

For online bookings, payment can be made by credit or debit card. Corporate credit card payments may incur a surcharge at time of booking. There is no surcharge for personal credit or debit card payments. All major currencies are accepted when paying online by credit card.

Payment by bank transfer (In sterling or Euros), UK online banking or cheque in Euros or sterling can be accepted. Please Contact Us if you wish to make a payment in this way.

Our full terms and conditions can be read

here

:

Cancellation policy

Cancellation Conditions

Standard cancellation conditions apply for all cancellations received by Croatian Villas/Authentic Villa Holidays Ltd up to 40 days prior to arrival.

Cancellations received within 40 days of arrival incur a 100% cancellation charge.

Select your travel dates

Free

Occupied

Your selection

Customer reviews:

Excellent. Suited us perfectly. We returned to the mainland on the Sumartin-Makarska ferry which was very convenient and might have suited the journey out too.

Loved the village and the house. The land line number for the caretaker wasn't helpful as she used her mobile, and the person who answered didn't speak English

Caretaker was brilliant, extremely helpful (especially helping with sorting out a broken down hire car) , couldn't have asked for more. Even got up to see us off at 05.30

Impressed with: Beauty of scenery, cleanliness. Clarity of the sea. Friendliness of people.
Not impressed with: Our car hire company who were very obstructive when our car broke down, until Angela laid into them!
Recommend:The Golden Horn in Bol is lovely but very busy and nicest visited later in day -when parking was free too.
Favourite villa moment: The boys loved having a pool - and if they were happy we could relax.

Stayed August 2013

All was fine. Only annoyance was wasps. Too many of them to make eating on the terrace relaxing. Recommend to have some wasp nest treatment after the summer, possibly also to leave spray for guests.

Caretaker was very good

Impressed with: Welcoming and easy going people, fine weather.
Not impressed with: Busy roads and slightly chaotic ferry crossing arrangements.
Recommend: Local boat hire very convenient and reasonable price.
Favourite villa moment: Relaxing in pool.

Stayed August 2013

The welcome from the 'owner' was extremely friendly and informative. (Impressed with) The beautiful scenery, the stunning architecture and the friendliness of many people we met.

Stayed August 2011
Guest services
The following additional services can be arranged at the villa.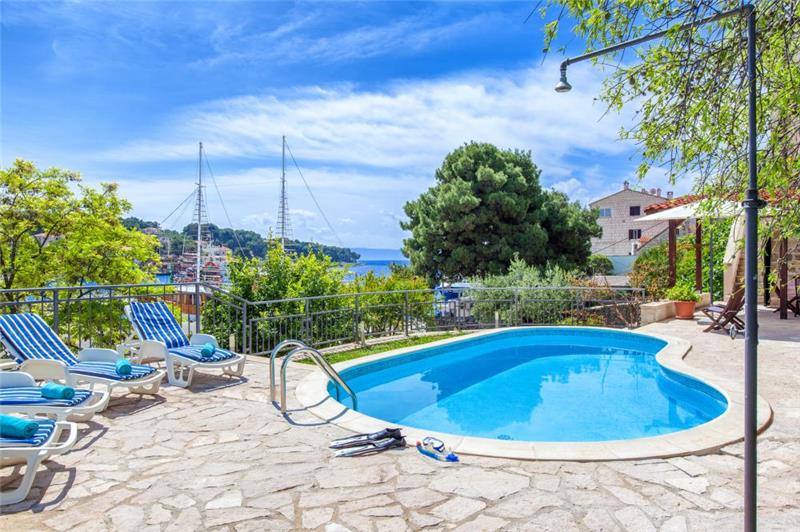 Transfers

Return transfer by minivan between Supetar and the accommodation available at no extra charge for January - early June and early September - December. To pre-book, please speak with one of our consultants.

Housekeeping

Extra cleaning of the accommodation can be arranged on request at a cost of €80 (payable locally).