Croatia Villa Apartments Pool
---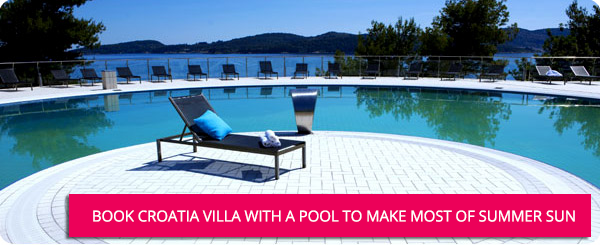 Staying in a Croatian villa with a pool may be the best way to enjoy the Adriatic sun this summer
With the weather typically topping 30 degrees Celsius, a Croatia villa with a pool may be a must-have when visiting the country this summer.
Whether it is a trip to Dubrovnik in the south of the country or a relaxing break in the picturesque resorts of Split or Trogir further north that is on the agenda, holidaymakers can be sure of one thing in Croatia – it is going to be hot.
So, when browsing through top-class accommodation that could provide the base for any break, choosing a Croatia villa with a pool is likely to be a shrewd move.
This will ensure there is somewhere for all the family to cool down and relax when the sun-soaked Dalmatian coast becomes a little bit too warm.
Joe Mulligan, head of first aid education at the British Red Cross, offers some advice to those heading out to catch some rays this summer.
He says wearing sun cream – ideally of a high factor – is one way to ensure a dream holiday does not turn into a spell with heat exhaustion.
Other tips could be to drink plenty of fluids and spend some time in the shade or even inside – which is where having a Croatia villa with a pool comes in handy.
Not only will tourists who splash out on such a property for the duration of their stay have access to the turquoise waters of the Adriatic Sea, they can take a dip in their own pool or relax on the balcony of a high-quality villa.
With so many options that allow people to enjoy the sun but remain safe, a Croatia villa with a pool is arguably the best choice of all in 2013.
The BBC says even an average temperature in Dubrovnik can be 29 degrees Celsius, with the record said to be a scorching 37 degrees Celsius.