Large 7 Bedroom Istrian Villa Estate with Pool near Groznjan, Sleeps 14-22
Istria & Kvarner Gulf
Code: IS115
7 Bedroom Villa Estate with Pool near Groznjan, Istria, Sleeps 14-22

This carefully renovated villa offers guests fantastic privacy, peace and quiet and stands within a large garden with covered well, enclosed by a stone wall. Split into two different houses, the property would be ideal for a large group who are looking for a range of possible activities nearby whilst having the option to relax separately.

Guests enter the property through a double gateway into a parking area. The property consists of two separate buildings, a large house suitable for ten-twelve guests and a cottage suitable for four-ten. The entrance to the main house takes guests up a short flight of steps into a ground floor reception/games room featuring Playstation 3 as well as traditional board games and cards, which has a door leading down to the pool via an external staircase. There is a room at the bottom of the house, accessible from the pool area, which contains a table tennis set and a darts board. The rest of the ground floor is a lounge which features an impressive traditional fireplace. The lower ground floor contains the kitchen/dining area which leads out to the pool. There is also a separate toilet on this level. The first floor contains 2 double bedrooms and 1 twin bedroom which features a sofa bed for one adult or 2 children under 12 years. These bedrooms are accessible via two different staircases. All three of these bedrooms have en-suite facilities (two with shower and one with a bath) and one of the rooms also contains a walk in wardrobe. The second floor features two further double en-suite bedrooms, one with bath and one with shower.

The cottage annexe is located behind the main house. Guests enter into a hallway and on this level there is a lounge with sofa bed for 2 adults and a kitchen/dining room with French doors opening out onto a covered terrace. There is also a separate toilet on this floor. The first floor features a double bedroom and a twin bedroom, both with access to a shared family bathroom. The bedrooms in the cottage annexe each feature a sofa bed suitable for 1 adult or 2 children under 12 years old.

If required, an additional property can be rented with IS115 to provide accommodation for 23-32 guests. This property can only be booked once the full capacity of the 7 bedroom villa estate has been reached. Please note that amenities such as iPhone docking station, Satellite TV and Wifi etc. may not be available in the additional property. Supplement applies per day. Please select the 'Additional Property - 23-32 Guests' option at time of booking.

There is a wide variety of places to visit within the area such as the local Vineyards, the hill top towns of Motovun and Groznjan and the not to be missed local cuisine served in the local restaurants and cafes. The most famous of these eateries is the nearby "Restaurant Zigante", a world renowned truffle restaurant. Other areas of interest in Istria such as Pula and Rovinj are within easy driving distance of this property and day excursions by car are also possible. Car hire is recommended at this villa.

£5,537.00

20 February 2019 - 27 February 2019

7 nights

Location

Distance to beach

22 km

Nearest airport

Pula. Further away and also possibilities: Rijeka, Zagreb, Ljubljana, Trieste

Distance to airport

80 km to Pula Airport

Nearest town

Groznjan

Distance to town

5 km

-

-

Details on nearest shops

Supermarket in Sterna

Distance to nearest shops

3 km

Distance to nearest restaurant

3 km

Facilities:

General

Sleeps in bedrooms: 14
Sleeps total (includes sleeping capacity on sofa/extra beds): 32
Minimum stay: Minimum stay: 7 nights for July-August, 4 nights for all other dates.
Arrival days: Arrival days: Saturday for July-August, any day for all other dates.
Check-in: 16:00
Check-out: 10:00
Built: 1876
Last renovated: 2012

Amenities

Area: 510m2
Pool: Open from start of May til end of September
Underfloor heating
Car park: Space for 6 cars
House pets allowed (on request)
Whole house air-conditioned
Garden
Sun deck
Heating
Parking
Children
Cot/crib (available on request)
Pool size: 12.0m x 6.0m and a 3.0m x 3.0m
Pool private to the property
Fire place
Alarm
Safe
Wifi

Appliances

Internet: Wifi
Tumble dryer
Fridge
iPhone docking station
Stove
Dishwasher
Oven
Refrigerator
Microwave
Freezer
Toaster
Washing machine
BBQ
Satellite TV
DVD player
Hair dryer
Coffeemaker
Iron
Ironing board
Internet access

Rooms

Mosquito nets
Furniture in terrace/balcony/garden: Chairs and table on the terrace, umbrellas and sunbeds around the pool
Kitchen
Dining room
Kitchen table
Terrace
Lounge/living room
TV room
Study

Bedroom details

Information on bedrooms: Sofa beds for 1 adult or 2 children available in two twin rooms and one double room, plus additional sofa bed for 2 adults in one living room, for 15-22 persons. Additional property for 23-32 persons also available. Supplement applies for all additional accommodation above 14 persons.
Number of double bedrooms: 5
Total number of bedrooms: 7
Number of twin bedrooms: 2

Bathroom details

All bathrooms have toilets
Number of bathrooms with shower: 3
Number of bathrooms with bathtub: 3
Total number of bathrooms: 6
Number of toilet only rooms: 4

Staff on site /available

Catering services available on request. Speak with one of our consultants for further details.

Information on Location

Information on transfers: A taxi transfer from the airport can be organised on request – please ask for details
Distance to beach: 22 km
Driving time to nearest beach: 20 minutes
Nearest airport: Pula. Further away and also possibilities: Rijeka, Zagreb, Ljubljana, Trieste
Distance to airport: 80 km to Pula Airport
Nearest town: Groznjan
Distance to town: 5 km
Details on nearest shops: Supermarket in Sterna
Distance to nearest shops: 3 km
Distance to nearest restaurant: 3 km
Distance from the sea: 22 km
Distance from the center: 5 km
Car recommended
In countryside

Charges

Price includes

Electricity
Water
Provision of linen/towels
Heating
Internet

Separate charges

Pets on request: Pets are allowed on the ground floor at a cost of €25 per pet per day (paid locally). Cot rental: €10 per day (paid locally)
Events: A 15% surcharge is levied for all event bookings at this villa, with higher surcharge for weddings. Please enquire for further details.
Villa can accommodate up to 19 adults and 3 children. Supplement of £50 per person per day applies for 15-22 persons. Please select the additional persons required during the booking process.
An additional property is available on site for up to 10 extra guests, sleeping total 32. Supplement applies. Please select this property at time of booking if required.

Security deposit

The following must be produced on arrival: €500

Price bands

Property per night

08 Jan.

-

29 June

29 June

-

06 July

06 July

-

17 Aug.

17 Aug.

-

01 Sept.

01 Sept.

-

15 Dec.

15 Dec.

-

01 Jan.

Prices are in UK Pounds (£)
*Rental prices do not include Residence Tax: £ 0.92 (per person per night)

Pricing and booking information

Pricing Information

Pricing is calculated per property per night in GBP Sterling. Many destinations also require tourist tax to be paid. Tourist tax starts from approximately £1 per adult per night, and £0.50 per night per child aged 12-17 at time of travel. If tourist tax is applicable to the destination you are travelling to, this will be shown in the booking process. For tourist tax payable at time of booking, the cost will be added to your subtotal. For tourist tax payable locally, the cost will be shown at time of booking and on documentation.

All bookings subject to booking fee.

Booking Information

A 30% deposit is required at time of booking. Full balance is due 10 weeks prior to arrival.

If booking within 10 weeks of arrival, the full cost of the villa must be paid at the time of booking.

Certain properties require varying payments for bookings. If payments required vary from those above, these conditions will be displayed below or advised at time of booking.

Holding an Option on a villa

Please Contact Us should you wish to place an option on a property for 24 hours whilst you book your flights and/or make other arrangements.

Payment Information

For online bookings, payment can be made by credit or debit card. Corporate credit card payments may incur a surcharge at time of booking. There is no surcharge for personal credit or debit card payments. All major currencies are accepted when paying online by credit card.

Payment by bank transfer (In sterling or Euros), UK online banking or cheque in Euros or sterling can be accepted. Please Contact Us if you wish to make a payment in this way.

Our full terms and conditions can be read

here

:

Customer reviews:

This is a wonderful place and combines rustic Istrian charm with modern 5* living. We were fortunate enough to have found this magical place to host our families, friends and wedding. Secluded enough to be private, central enough to be easily found, this villa and Istria will play a large part of our lives to come.

The owner was accommodating, friendly and helpful beyond belief. He made us and our families so at home. We could not have asked for a better host. His advice and knowledge of the area, food, wine etc was impeccable. This made it very difficult to leave.

Impressed with: The friendly people and the high quality of food and wine.
Not impressed with: Not many (if any) sandy beaches... although we knew that already!
Recommend: The town of Groznjan is a short drive away and is home to arts, music and has beautiful vistas. We would recommend restaurant Bastilla, which serves some of the finest food we have eaten.
Favourite villa moment: So many... Barbecueing throughout day and night Ping pong by the gorgeous pool Preparing for our wedding Nights by the fire-pit Ad-hoc football on the huge field 5 star luxury all to ourselves Drinking good, local wine into the night on the gorgeous terrace This Villa was made for favourite moments.

Stayed May/June 2015
Guest services
The following additional services can be arranged at the villa.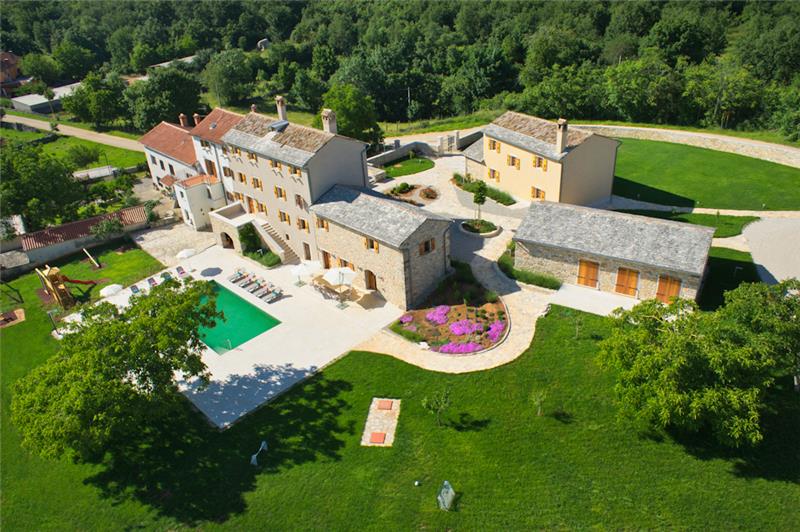 Events

Weddings and special events can be held at this property. A 15% surcharge applies for all events, with an additional surcharge applied for weddings. Wedding surcharge varies depending on number of guests.

Additional Guests

If required, an additional property can be rented with IS115 to provide accommodation for 23-32 guests. Please note that amenities such as iPhone docking station, Satellite TV and Wifi etc. may not be available in the additional property. Supplement applies per day. Please select the 'Additional Property - 23-32 Guests' option at time of booking.