5 Bedroom Seaside Villa with 2 Bedroom Beach Annexe in Stanici near Omis, sleeps 13-16
Southern Dalmatia inc Peljesac & Korcula
Code: OM004
*SPECIAL OFFER*: 20% off all 2019 dates
Five Bedroom Seaside Villa with 2 Bedroom Beachfront Annexe in Stanici near Omis, sleeps 13-16

Located in the small fishing village of Stanici, which lies 3kms south of Omis, this impressive seafront villa offers magnificent panoramic views of Brac island and the Adriatic sea. This exceptional villa is beautifully decorated, with unique interior design reflecting the owner's artistic flair. The property consists of a main house containing two apartments, which sleeps a total of 12 people, plus an annex which sleeps an additional 4 people, to accommodate a total of 16 people together. The villa would suit families travelling together, or a group of friends looking for a spacious seaside villa located on a pretty beach set in spectacular surroundings. Stairs from the main terrace lead down to a beach annexe with roof terrace, opening directly onto a child friendly beach.

Your Holiday Villa

The villa is approached off the main road down a short steep track* to the main parking area. At the rear of the villa is a courtyard with a table and chairs. The villa is divided into two apartments. The first apartment is entered via a spiral staircase leading up to the main entrance hallway located on the first floor. On this level there is one double bedroom with en-suite shower room, one twin bedroom and a separate shower room.

A half set of stairs leads down from the hallway into a spacious open plan kitchen / diner / lounge area. This room features two sets of French doors leading out to the upper sea view facing terrace, there is also a ladder style staircase from the lounge leading up to a galleried sleeping area containing one double bed.

The second apartment is entered from the rear courtyard on the ground level through an entrance hall which features one double bedroom with doors leading out to a side sea facing terrace, one twin bedroom and a separate family bathroom. Stairs from this level lead down to a part way landing containing a large double bedroom , en-suite shower room and two sets of French doors leading out onto a sea facing terrace. Further down the stairs guests will find another floor level featuring a kitchen and separate shower room. Descending to the bottom of the staircase, guests enter the spacious open plan dining room / lounge area with two sets of French doors opening out on the main sea facing terrace with outdoor dining area.

From the terrace, stairs lead down towards the beach and to a 2 bedroom beachfront annexe. A secure gate leads straight into a brightly tiled roof terrace with expansive sea views, furnished with deck chairs. Stairs from the roof terrace lead down into the annexe, decorated in contemporary style, with double bedroom and ensuite shower room, plus a second bedroom with fold out double bed. From the bedrooms, guests access a loggia-style lounge area opening directly onto the beach.

*For first time visitors the steep approach needs to be driven down slowly to get used to it, after a few runs guests adapt to this quickly.

Explore the area

Car hire is recommended at this villa, although shops and restaurants are within walking distance and the beach is literally on your doorstep. Watersports available nearby include Jet Ski hire, windsurfing and parasailing. The villa is also within easy access of Split and its Riviera. Areas of interest nearby include the River Cetina near Omis which offers white water rafting, canoeing and canyoning, Biokovo Nature Park as well as the ancient and fascinating city of Split.

*SPECIAL OFFER*: 20% off all 2019 dates

Location

Distance to beach

1 m

Nearest airport

Split

Distance to airport

55km

Nearest town

Omis

Distance to town

3km

Distance to bus stop

300 m

-

Details on nearest shops

Grocery shops in Stanici village, 500m from the villa

Distance to nearest shops

500 m

Distance to nearest restaurant

500m

Facilities:

General

Sleeps in bedrooms: 14
Sleeps total (includes sleeping capacity on sofa/extra beds): 16
Minimum stay: 7 nights in July and August. 5 nights for all other dates
Arrival days: Saturday for July and August. Any day for all other dates
Check-in: 16:00
Check-out: 10:00
Built: 1990
Last renovated: 2017

Amenities

Area: Villa: 1,100m2
Frequency of linen/towel change: Weekly
Car park: Space for 4 cars
House pets allowed (on request)
Boat mooring (on request)
Sea view
Whole house air-conditioned
Sun deck
Heating
Smoking
Parking
Children
Air-conditioning (some of the rooms): All bedrooms have air-conditioning
Fire place
Beach
Wifi

Appliances

Stove
Dishwasher
TV
Oven
Refrigerator
Microwave
Stereo
Freezer
Toaster
Washing machine
BBQ
Satellite TV
DVD player
Internet access

Rooms

Furniture in terrace/balcony/garden: Dining table & chairs, sun loungers
Kitchen
Dining room
Balcony with sea view
Kitchen table
Terrace with sea view
Balcony
Terrace
Lounge/living room

Bedroom details

Information on bedrooms: 1 double bedroom contains a double sofa bed in beachfront annexe. An additional double bed is in a galleried sleeping area in the main villa.
Number of double bedrooms: 5
Total number of bedrooms: 7
Number of twin bedrooms: 2

Bathroom details

All bathrooms have toilets
Number of bathrooms with shower: 4
Number of bathrooms with bathtub: 2
Total number of bathrooms: 7
Number of toilet only rooms: 1

Information on Location

Distance to beach: 1 m
Driving time to nearest beach: n/a - on the beach
Nearest airport: Split
Distance to airport: 55km
Nearest town: Omis
Distance to town: 3km
Distance to bus stop: 300 m
Details on nearest shops: Grocery shops in Stanici village, 500m from the villa
Distance to nearest shops: 500 m
Restaurant within walking distance
Distance to nearest restaurant: 500m
In suburb
On the seaside
Bus stop: 300 m
Distance from the sea: 1 m
Distance from the center: 3 km
Bus available
Car recommended

Charges

Price includes

Electricity
Gas
Water
Provision of linen/towels
Heating
Cot linen
Internet

Separate charges

Pets fee: €15 per pet per day payable locally

Security deposit

The following must be produced on arrival: €500

Price bands

Property per night

06 Apr.

-

01 June

01 June

-

29 June

29 June

-

01 July

01 July

-

24 Aug.

24 Aug.

-

01 Sept.

01 Sept.

-

14 Sept.

14 Sept.

-

03 Nov.

Prices are in UK Pounds (£)
*Rental prices do not include Residence Tax: £ 0.92 (per person per night)

Pricing and booking information

Pricing Information

Pricing is calculated per property per night in GBP Sterling. Many destinations also require tourist tax to be paid. Tourist tax starts from approximately £1 per adult per night, and £0.50 per night per child aged 12-17 at time of travel. If tourist tax is applicable to the destination you are travelling to, this will be shown in the booking process. For tourist tax payable at time of booking, the cost will be added to your subtotal. For tourist tax payable locally, the cost will be shown at time of booking and on documentation.

All bookings subject to booking fee.

Booking Information

A 30% deposit is required at time of booking. Full balance is due 10 weeks prior to arrival.

If booking within 10 weeks of arrival, the full cost of the villa must be paid at the time of booking.

Certain properties require varying payments for bookings. If payments required vary from those above, these conditions will be displayed below or advised at time of booking.

Holding an Option on a villa

Please Contact Us should you wish to place an option on a property for 24 hours whilst you book your flights and/or make other arrangements.

Payment Information

For online bookings, payment can be made by credit or debit card. Corporate credit card payments may incur a surcharge at time of booking. There is no surcharge for personal credit or debit card payments. All major currencies are accepted when paying online by credit card.

Payment by bank transfer (In sterling or Euros), UK online banking or cheque in Euros or sterling can be accepted. Please Contact Us if you wish to make a payment in this way.

Our full terms and conditions can be read

here

:

Select your travel dates

Free

Occupied

Your selection

Customer reviews:

We had an excellent stay and really enjoyed every minute of our stay. Villa was beautiful. Details were all very clear. The only negative was that the wifi didn't work properly in the upper apartment. The owners were very responsive -- we had a problem with the air conditioner in the main bedroom and the son, came out on a Sunday evening at 8.30pm to fix it. Very nice and warm people who went the extra mile for us.



Impressed with:

Cost, people and the scenery and beaches.


Not impressed with

: Roads very run down and a little bit chaotic during peak season.


Recommend:

The bar on the beach has good local food and easy to get to from the apartment. (not suitable for disabled people though). If you're in Omis during July go to the Acapella Concert -- men and women from all over Dalmatia compete --really impressive and unique.


Favourite villa moment

: Sitting on the balcony early in the morning sipping coffee and admiring the view :-)



Stayed July 2015

Caretaker was friendly and helpful. I liked that you offered excursions and other things. It is good that you warned about the difficult drive way.

Impressed with: Definitely the national park with the lakes and waterfalls. Was spectacular, one of the best things we've seen in our lives!
Recommend: We liked rafting in Cetina -river, and pirate ruins in Omis. Restaurant by Cetina was also nice.
Favourite villa moment: Eating out in a terrace in the evening and swimming and snorkling in the sea.

Stayed June 2013

The website needs to say that it has wi-fi. It also would have been helpful to have an address so that we could have used our GPS navigation.

It worked out well for us but getting to the property down the steep driveway in our big van was very difficult, and we scraped the side trying to get into the parking space. It took some getting used to maneuver the van in and out of the property. That was the biggest problem. The website should let people know that a small vehicle is best to use. Also the house is well equipped, but kitchen needs dish towels.

Caretaker was there to greet us and guide us down or we would have never found it. But once inside she helped us a lot and served us refreshments. She also gave us her phone number and email so that if we needed anything she was available.

Impressed with: Definitely the national park with the lakes and waterfalls. Was spectacular, one of the best things we've seen in our lives!
Not impressed with: Love the beauty - but the people are not too friendly.
Recommend: The little restaurant called Espana just down the road was good food and very nice to us. We didn't realize they didn't take credit cards and we didn't have enough Kuna to pay for our meal (there were 8 of us)! So the owner said, no problem, you can come back tomorrow and pay me! He was kind and trusted us! So that is what we did. We recommend to go there!
Favourite villa moment: We are 8 people who enjoy to be together, so our favorite moments were having meals on the deck, enjoying the view, sipping wine, talking, and watching the sunsets! Also enjoyed walks along the shore and swimming in the Adriatic!

Villa Comments: I know about the road but unfortunately we cannot change it although it certainly was a big van. A normal car has no problem. About the kitchen towels they should have asked me. I will make sure more are added.

Stayed September 2012

Read more reviews

An excellent stay in a nice house close to the beach. We (12 persons) had an excelent stay in a house 40 steps from the beach and 5 minutes walking to a grocer's shop. There is a nice beach restaurant 5 minutes from the house, and also other restaurants by the grocer's store. They had great food and good service. The owners of the house were very friendly and helped us when we needed something. The rooms were beautifully decorated and were good looking with air condition.

Stayed June 2012

We enjoyed the house very much. Location is perfect with just 15 m down to the beach. Beach with sun beds. No traffic noise. Several good restaurants within walking distance. Big house with a lot of space. Clean and nice decorated. Great beautiful terrace, with a 180 degree view towards Brac. 6 bathrooms is very convenient, when the 5 girls are putting on makeup at the same time.

Stayed June/July 2011

Impressed with:Sun, see, friendly people, landscape, fish.
Not impressed with: Traffic jam on the highway.
Recommend: Rafting on the Cetina river Jewish heritage in Split (Synagogue and cemetery) Zip-line in Omis
Favourite villa moment: Being there :-)

Stayed August 2014
Guest services
The following additional services can be arranged at the villa.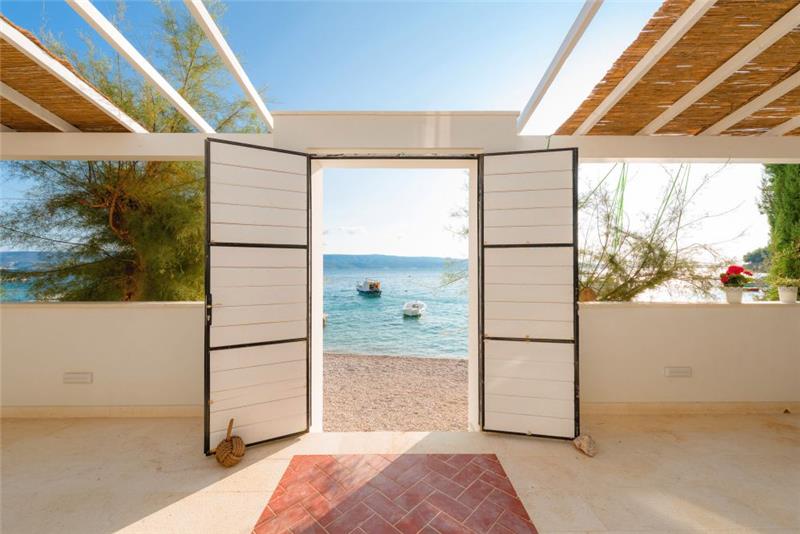 Chef Service

Chef service is available at this villa. The chef can be with guests for a full day, or for breakfast, lunch or dinner.

Cuisine: Local specialities, fresh fish.

Price starts from EUR €200 per day.

Food and beverages are not included and are payable locally. If the chef buys and collects groceries on guests' behalf there may be an additional service fee payable.

Within 2 months of travel chef service is on request.