COMMUNICATIONS IN CROATIA
---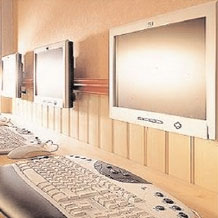 Mobile Phone use in Croatia


Mobiles from all the main UK/other European operators should work in Croatia, but please check with your network provider before you go to make sure. There are public pay-phones in most towns. International phone cards can be bought in shops, kiosks and at post offices.The country code for Croatia is ++ 385.





Post Offices in Croatia

The Croatian Postal Service (HPT Hrvatska) has branches in all major locations. Most major post offices are open from 7am-7pm Monday to Friday. They tend to shut at 1pm on Saturdays, although during the peak season they may stay open longer. Stamps can also be bought at the many small newspaper kiosks which are dotted around towns and villages, where you'll also find yellow postboxes to pop your postcards home into. International calls and faxes can be sent from most Post Offices.

Internet Cafes in Croatia
Virtually all towns and tourist centres in Croatia have at least one internet café. The bigger towns such as Split and Dubrovnik have several, although dial-up rather than broadband connections are still more common. Please note that opening hours may be limited outside of the summer months.