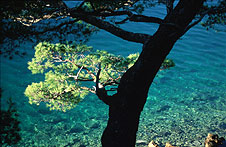 The Croatian coast

enjoys a lengthy summer,
stretching right through from May to October, so if you are lucky enough to be able to travel outside of the main months of July and August you'll benefit from lower prices and ideal weather conditions, whilst being able to avoid the crowds and really get away from it all in one of the most beautiful places in Europe.

The sea also tends to warm up throughout the summer, meaning even in late October it's warm enough to take a dip and enjoy the wonderful, clear waters of the Adriatic. For those who really want to soak up the sun, travelling in the summer months, particularly July and August, all but guarantees sparkling sunshine, warm seas and an air temperature in the high twenties at least. But Croatia is much more than just a beach holiday destination and with its impressive collection of national parks, waterfall complexes, fast-flowing river canyons and historic cities it offers plenty to occupy and entertain the traveller whatever the weather and whatever the season.