All major currencies accepted when paying online by credit card.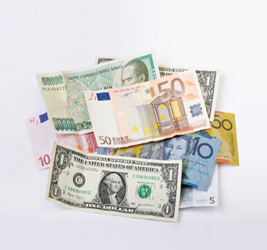 How does it work?
Prices quoted and confirmed on the website and on your e-mail invoice are in pounds sterling.
When you go to pay online, the payment system will auto-detect your bank card's currency and you will be offered a choice of paying in Pounds Sterling or a competitive rate in your own local currency.
We also accept payment in euros via bank transfer. Please speak with one of our staff for more information.
The following currencies are currently accepted:
Euro (EUR)
Sterling (GBP)
US Dollars (USD)
Australian Dollar (AUD)
Canadian Dollar (CAD)
Danish Krone (DKK)
Hong Kong Dollar (HKD)
Israeli Shekel (ILS)
Japanese Yen (JPY)
New Zealand Dolar (NZD)
Norwegian Krone (NOK)
Soudi Arabian Riyal (SAR)
South African Rand (ZAR)
Swedish Krona (SEK)
Swiss Franc (CHF)
Turkish Lira (TRY)
UAE Dirham (AED)
Brazilian Real (BRL)
Czech Koruna (CZK)
Hungarian Forint (HUF)
Indian Rupee (INR)
South Korean Won (KRW)
Kazakhstani Tenge (KZT)
Mexican Peso (MXN)
Malaysian Ringgit (MYR)
Polish Zloty (PLN)
Romanian Leu (RON)
Russian Ruble (RUB)
Singapore Dollar (SGD)
Thai Baht (THB)
Ukrainian Hryvnia (UAH)