Dubrovnik Airport General Information: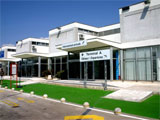 Full Address:
Dubrovnik Airport
Čilipi-Konavle,
20213 Cilipi
Croatia
Tel. Contact: + 385 20 77 3377 or + 385 20 77 3100
Fax Contact: + 385 20 77 3322
This guide is best read in conjunction with the Dubrovnik Airport floor plan.
Please click on the following links to access them: Ground Floor, First floor.
---
Dubrovnik Airport Hotels:
For hotels offering a shuttle bus service to/from Dubrovnik Airport and to book Dubrovnik Airport hotels click here

---
Getting to and from Dubrovnik Airport: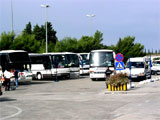 Dubrovnik AirportBus:


Atlas bus meets all passengers arriving on schedule flights into Dubrovnik Airport. Price is approximately 5 Euros.
It takes approximately 30 minutes to arrive at Dubrovnik City Bus station from the Airport. The bus station is located in Gruz port area where there are taxi ranks and local bus service operators. By taxi it take approximately 10 minutes to get to either Dubrovnik old town or Lapad Bay area from Gruz.
The public bus company Libertas offers a public transport service to and from the airport to Dubrovnik old town, Cavtat and other areas in the local region. For full details of Libertas timetables click here.
Dubrovnik AirportTaxis:
Taxis are available outside the terminal although we recommend pre-booking your taxi with Dubrovnik transfer taxi company.
Dubrovnik Car Hire:
Car rental is available for pick up at Dubrovnik Airport. Car rental desks are located very close to flight arrivals exit. Croatian Villas works with a number of car rental companies at Dubrovnik Airport. Please visit our car hire page for the most competitive prices and latest offers.
---
Dubrovnik Airport Help Desk and Facilities Information: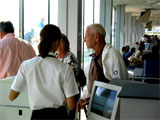 The information desk is located in terminal A near check in facilities.
Contact telephone number is: +385 20 773 100
Unless otherwise stated, the following airport facilities are open during airport opening hours: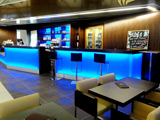 Dubrovnik Airport Facilities in Passenger lounge:

Bank open Monday – Saturday 0730-2000 and Sunday 0900-1500
Newspaper/magazine shop.
Gift shop
Coffee bar and restaurant.
Toilets including baby changing.
Lost and Left Luggage facilities: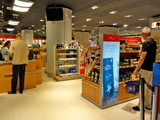 Dubrovnik Airport Airside Facilities:

Duty Free shop selling gifts, cigarettes, alcoholic beverages, confectionary, toys, Croatian food produce including chilled food, fashion section (jewellery, clothing, sunglasses, leather goods, scarves).
Perfume counter.
Snack bar offering beverages and sandwiches.
Toilets including baby changing facilities.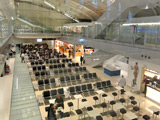 Internet Access at Dubrovnik Airport:
Complimentary internet access is offered for free to passengers with laptops. Passengers have to present their boarding card at the information desk to be issued with free internet access.
There are also two internet corners, one in the domestic departure area and the other in the International departure area. Pre-paid internet access cards can be purchased at Dubrovnik Airport coffee shops and News stands.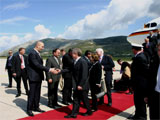 VIP facilities:
Dubrovnik Airport VIP lounge has recently undergone renovation. The VIP lounge is offered to state officials, delegations and passengers requesting VIP treatment. Dubrovnik Airport is a member of EAVS (European Airport VIP Services) and offers to its' users all standard VIP services including food and beverage catering, Croatian and International newspapers and magazines, TV, phone and fax service and free internet connection.
---
Other Dubrovnik Airport Information: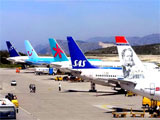 Dubrovnik Airport car parking:
Conveniently located close to the airport terminal, Dubrovnik Airport offers car parking for 200 cars. Up to 15 minutes is free. 15min- 1hour = 5kunas, 1-2 hours = 10kunas, 2-4 hours = 15 kunas, 4-12 hours = 20 kunas, 12-24 hours = 40kunas, every hour thereafter = 2kunas, Lost ticket = 300kunas. Payment can be made in cash or credit cards.
Disabled Access at Dubrovnik Airport:
Assistance is provided at the airport for disabled passengers.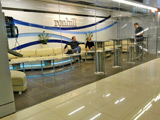 Smoking Policy at Dubrovnik Airport:
Dubrovnik Airportis a non-smoking building with designated smoking areas for smokers.
For further information about Dubrovnik Airport including latest flight arrival and departure information and webcams click here.
---
All information correct at time of web posting December 2008.
Information subject to change without notice.
---