Sun Gardens Dubrovnik – Restaurants and Bars
---

Maraska Lounge Bar
The Maraska lobby lounge and bar with a terrace overlooking the sea and the island of Lopud is a perfect place for that light snack or drink. Open throughout the day, it is a perfect place to take a break and relax on one of the sofas.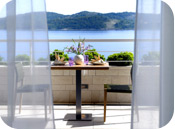 Origano


Guests can enjoy a lavish breakfast and superb buffet dinners at Origano. The hotel's main restaurant provides both indoor and outdoor seating and is open for guests and locals.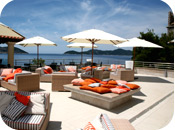 Sunset Bar and Grill
Open all day, guests can enjoy the sun while eating bar snacks from the grill. During the evening the Aperitif Bar will be open, ideal for receptions and functions such as weddings. Open from 10.00-18.00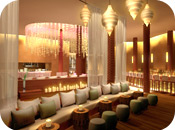 Ginja Lounge-Club
With an exclusive design and atmospheric location, Ginja is a modern restaurant with an exciting menu, featuring some of the trendiest and most classic culinary experiences on the continent. Patrons enjoy premium table-side service, top wines, high-end liquors and of course, beautiful views of the sea and islands.
Open from 19:30 – 23:30 (July – August, excluding special events)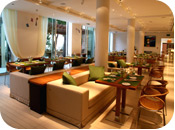 Cilantro Lounge Bar
Serving extended breakfast hours (11.00-12.00) for those who wish to sleep in, Cilantro also offers delicious hot and cold dishes based on Eastern Mediterranean cuisine. This Mediterranean café is family oriented and open all day long.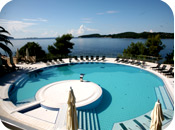 The Lemonia Bar and Grill
Open from 10.00-18.00 with 200 lounge seats, this poolside bar serves grilled dishes, salads, ice cream or some other light snacks. This bar serves to hotel and apartment guests as well as locals
Shopping and eating in the resort food court
The resort has a food court with shops and restaurants providing for all the needs of hotel and apartment guests. It is a one-stop shop offering local and international specialties as well as day to day items.

L

a Patisserie

 sells home made ice cream, fresh fruits, chocolates and cakes and pastries as well as international teas and coffees. Opening hours from 7.00-18.00 for breakfast, lunch or afternoon tea.

The Market sells fresh fish as well as serving fish and chips, grilled fish, plait fruit de mer and oysters to be enjoyed with good wine and champagne. Serving fine seafood for lunch and dinner either indoors or outdoors.Vino, the wine bar sells wines, champagne and high quality spirits as well as cured meats, cheeses, olives, oils and preserved foods. Along with locals wines it serves Mediterranean delicacies. Open from 17.00The Butcher sells meat and cold cut products as well as serving meals prepared on the charcoal and lava stone grill and rotisserie. With an a la carte menu with a wide selection of wines and other drinks, seating is indoor or outdoor adjacent to the pool. Open for lunches and dinners.
---