Contemporary Croatian Artwork at Villa on Brac BC035
---
The sourcing and shipping worldwide of
Croatian Artwork
on a consultancy basis is available as a service.
For further details please
contact
Croatian Villas
---
Srecko Zitnik Croatian artist Srecko Zitnik was born in Split in 1962 where he attended art high school followed by a place at the University of Split, graduating in 1987 in Formal Arts. His first exhibition called "The Colours of Holland" took place the year before his graduation. Since that period he has held over 35 exhibitions in Croatia, Switzerland, and the USA."That painting style in which he moves his brush tool so freely over dense layers of pure paint, meets his needs which are – accuracy and expression of immediacy, as a criteria in his struggle to accomplish each piece."  Dusko Kreckemet

Zitnik's paintings have a close bond with the French Impressionists with an additional Mediterranean zest. These are not naïve Croatian paintings but rather bold interpretations of places and things seen and unseen.
---
Dusko Racik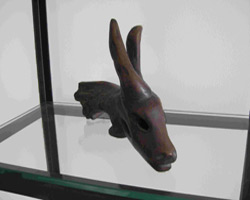 Croatian sculptor Dusko Racik works primarily with olive wood. He is one of a few Croatian artists to work with this tough material. Working from his Brac island studio, his lovely sculptures do not travel far to reach their destination at the villa. There is a primitive and spiritual quality to his work inviting you to touch. Each piece is sculpted from olive wood gathered from the island. Available for purchase, what could be a better reminder of your stay on the beautiful island of Brac than a piece of Croatian olive wood sculpture.
---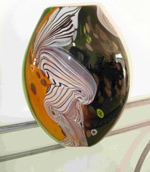 Murano GlassA small selection of Murano glass is on display at the villa. The Italian influence in Croatia is unmistakable. From Diocletian's Palace, Salona, the Roman viaduct to the pizza, it is fitting to have beautiful glass from Murano at the villa.
---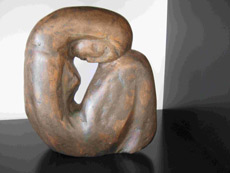 Pero GoicStone sculptor Pero Goic and his father Vinko made the sign for the villa and some of their beautiful Brac stone sculptures are being added to the villa interior.