Istria Villa Extra Services
---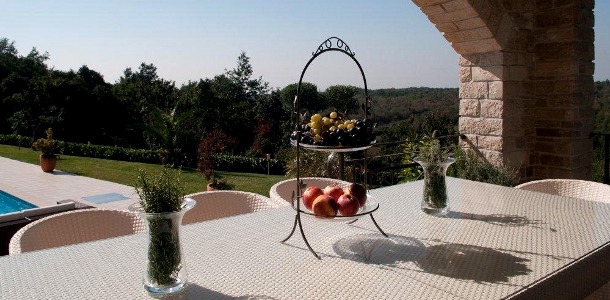 Additional Services
Services available to book when staying at IS105
Buffet Breakfast
served by the pool in the Summer kitchen
Organic Eggs
Sausages
Selection of breads
Selection of home-made cheeses
Spreads (Marmalade, butter, nutella etc.)
Fresh Fruit
Cereals
Freshly-squeezed juices
Selection of teas and coffee
Price per person from €9 payable locally
Example Menus
The award winning restaurant Marino – famous for cooking the world's biggest white truffle – can prepare a selection of menus to be enjoyed in the villa.
All menus can be prepared for either lunch or dinner and will be served on the villa premises.
Wine can be served at an additional cost.
Asparagus Menu
Cream of Wild Asparagus Soup
Home-made Gnocchi with Wild Asparagus
Grilled Lamb cutlets and Grilled Polenta
Home-made Apple Strudel
From €33 per person
Mushroom Menu
Cream of Forest Mushroom Soup
Home-made macarroni with Mushroom Sauce
Meat "Mommillianum" with grilled polenta
Fresh seasonal salad
Chocolate Panacotta
From €35 per person
Istria Menu
Bruschetta with cherry tomatoes and anchovies
Home-made Ravioli stuffed with truffles
Mixed meat grill with baked potatoes
Home-made seasonal fruit cake
From €36 per person
Truffle Menu
Truffle Toast
Home-made tagliatelle with Truffles
Beefsteak with truffles and gratin potatoes
Chocolate and Truffle soufflé
From €49 per person
Please note that all menus are subject to change due to the availability of seasonal produce.
Additional Villa Services
Babysitting from €10 per hour
Professional massage from €30 per hour
Laundry Service from €20 per load of washing
€2 per shirt
Extra cleaning from €10 per hour
Please note that all services should be pre-booked and paid for locally.