4 Bedroom Luxury Seaside Villa with Pool, Sleeps 8
Istria & Kvarner Gulf
Code: KV008
Luxury Villa on Krk Island with Pool, 5m from the Beach

Located on Croatia's largest island, Krk, this highly sought after spacious and beautifully furnished villa offers you all the comforts you need for your holiday. Designed by one of Croatia's renowned architects, this truly is one of the country's outstanding beach side villas. Located in a tranquil and secluded area on the outskirts of the seaside town of Malinska it offers direct access to the crystal clear waters of the Adriatic.

The ground floor consists of a marble entrance hall that leads into a very spacious lounge area with stereo and modern fireplace. The dining rooms seats up to 10 persons and the fully equipped kitchen features an array of gadgets including a steam cooker, and two American fridges. Extensive views of the private pool and sea are offered by way of floor to ceiling windows running along the entire sea-facing length of this floor. Also located is a garden facing Jacuzzi room.

Decorated to the highest standards and incorporating some of the best Italian designer furniture, the property also features in the basement a well stocked wine cellar and a 'Konoba' style room for eating and entertaining.

One double bedroom is located on the ground floor. There is a sweeping spiral staircase to the first floor and the other three double bedrooms including the master bedroom which offers wonderful sea views across to the Istrian Peninsula from its own private terrace. All bedrooms are en-suite.

French doors lead from the living/dining room to the very spacious BBQ area and a summer kitchen which offers a perfect setting for outdoor eating. Steps lead down to the large pool area which is surrounded by the beautiful scented garden filled with oleander and rosemary as well as olive, bamboo and banana trees among other greenery. A further bathing area suitable for children is a short distance away from the property. A gate from the garden leads to a short path and a spacious stone built beach side area with seating. Boat mooring is available on request. There are 4 bicycles available to use.

Maid service

Daily maid service is included at the villa for up to 2 hours per day. Additional maid service can be arranged on request, payable locally.

£5,943.00

18 May 2022 - 25 May 2022

7 nights

Location

Distance to beach

5 m

Nearest airport

Rijeka (nearest). Pula, Zagreb, Trieste and Ljubljana also possibilities.

Distance to airport

10 km to Rijeka

Nearest town

Malinska

Distance to town

5 minutes by car

Distance to bus stop

1km

Frequency of buses

Every hour

Details on nearest shops

Supermarket

Distance to nearest shops

1 km

Distance to nearest restaurant

200m

Facilities:

General

Sleeps in bedrooms: 8
Sleeps total (includes sleeping capacity on sofa/extra beds): 8
Minimum stay: 7 nights stay June to August. 3 nights stay for all other dates
Arrival days: Any day arrival for all dates
Check-in: 14:00
Check-out: 10:00
Built: 1999

Amenities

Area: 600m2
Pool: Open from May to October. Hot tub available all year
Bikes: Four bikes are available (please ensure that your travel insurance covers use of bicycles)
Laundry service: Available on request
Cleaning: 2h per day included
Frequency of linen/towel change: Every other day
Car park: Space for up to 5 cars
Boat mooring (on request)
Sea view
Whole house air-conditioned
Garden
Sun deck
Heating
Parking
Children
Cot/crib (available on request)
Pool size: 12.0m x 4.0m
Pool private to the property
Fire place
Alarm
Jacuzzi
Laundry service
Wifi

Appliances

Additional appliances: steam cooker, espresso machine, and two large American fridges
Stove
Dishwasher
TV
Oven
Dryer
Refrigerator
Microwave
Stereo
Freezer
Toaster
Washing machine
BBQ
Satellite TV
DVD player
Telephone
Kettle
Fax machine
Internet access

Rooms

Furniture in terrace/balcony/garden: Garden chairs on all terraces, pool furniture/recliners, large outdoor dining table by BBQ area.
Kitchen
Dining room
Balcony with sea view
Kitchen table
Terrace with sea view
Balcony
Terrace
Lounge/living room
Konoba
Wine Cellar
Telephone

Bedroom details

Information on bedrooms: All bedrooms Ensuite
Number of double bedrooms: 4
Total number of bedrooms: 4

Bathroom details

All bathrooms have toilets
Number of bathrooms with bathtub: 4
Total number of bathrooms: 4
Number of toilet only rooms: 1

Staff on site /available

Maid
Caretaker
Caretaker lives on site in separate apartment. Staff speak fluent English and Russian.
2h daily maid service included

Information on Location

Distance to beach: 5 m
Nearest airport: Rijeka (nearest). Pula, Zagreb, Trieste and Ljubljana also possibilities.
Distance to airport: 10 km to Rijeka
Nearest town: Malinska
Distance to town: 5 minutes by car
Distance to bus stop: 1km
Details on nearest shops: Supermarket
Distance to nearest shops: 1 km
Restaurant within walking distance
Distance to nearest restaurant: 200m
On the seaside
Distance from the sea: 5 m
Bus available
Car recommended
Frequency of buses: Every hour

Charges

Price includes

Electricity
Gas
Water
Provision of linen/towels
Heating
Cot linen
Internet

Security deposit

The following must be produced on arrival: €300

Price bands

Property per night

01 Apr.

-

01 July

01 July

-

23 July

23 July

-

28 Aug.

28 Aug.

-

01 Nov.

Prices are in UK Pounds (£)
*Rental prices do not include Residence Tax: £ 0.92 (per person per night)

Pricing and booking information

Pricing Information

Pricing is calculated per property per night in GBP Sterling. Many destinations also require tourist tax to be paid. Tourist tax starts from approximately £1 per adult per night, and £0.50 per night per child aged 12-17 at time of travel. If tourist tax is applicable to the destination you are travelling to, this will be shown in the booking process. For tourist tax payable at time of booking, the cost will be added to your subtotal. For tourist tax payable locally, the cost will be shown at time of booking and on documentation.

All bookings subject to booking fee.

Booking Information

A 30% deposit is required at time of booking. Full balance is due 10 weeks prior to arrival.

If booking within 10 weeks of arrival, the full cost of the villa must be paid at the time of booking.

Certain properties require varying payments for bookings. If payments required vary from those above, these conditions will be displayed below or advised at time of booking.

Holding an Option on a villa

Please Contact Us should you wish to place an option on a property for 24 hours whilst you book your flights and/or make other arrangements.

Payment Information

For online bookings, payment can be made by credit or debit card. Corporate credit card payments may incur a surcharge at time of booking. There is no surcharge for personal credit or debit card payments. All major currencies are accepted when paying online by credit card.

Payment by bank transfer (In sterling or Euros), UK online banking or cheque in Euros or sterling can be accepted. Please Contact Us if you wish to make a payment in this way.

Our full terms and conditions can be read

here

:

Select your travel dates

Free

Occupied

Your selection

Customer reviews:

An excellent experience all round

Impressed with: The sea
Favourite villa moment: The first meal which reassured us that we had chosen the right holiday and the final meal where we were made to feel so welcome

Stayed August/September 2016

Only positive comments on everything, excellent experience overall. Extremely hospital and a very good host and cook!



Impressed with:

Friendly people beautiful country


Not impressed with:

Couln't say.


Favourite villa moment:

Breakfast, lunch and dinner!



Stayed August 2015

Excellent. The food was extraordinary. The owner of the villa is outstanding, in terms of attitude and service.

Stayed August 2012
Guest services
The following additional services can be arranged at the villa.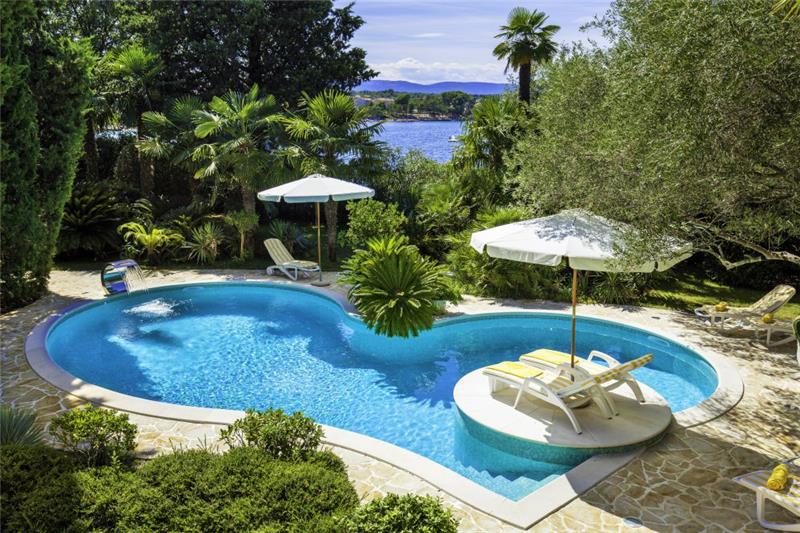 Chef Service

Catering is available at this villa at a rate prices start from £340 per day. Please select Full Board option at time of booking. Local food and beverage is included in the chef service rate. Branded and luxury products are charged extra, payable locally.

Maid Service

Daily maid service for up to 2 hours is included in the rental.