9 Bedroom Seaside Villa with Pool in Zaton Bay near Dubrovnik, Sleeps 18-22
Dubrovnik Region
Code: DU128
Large 9 Bedroom Villa with Pool and Sea Views in pretty Zaton Bay near Dubrovnik, Sleeps 18-22

Located in picturesque Zaton Bay, approximately 20 minutes' drive from Dubrovnik City, this 9 bedroom villa situated within a short walk to the beach, would suit a large group of families or friends, especially those looking for a place to hold a re-union/get together. The property is split into a number of apartments located over 4 floors which are broken down as follows:

Ground Floor

Apt 1 - Double bedroom, bathroom with living room, kitchenette and single sofa bed. Sleeps 3
Apt 2.- Double bedroom, bathroom. Also features a gym, pool table and single sofa bed. Sleeps 3

First Floor

Apt 3 - Large open plan living room, dining room and kitchen, sea view conservatory balcony, 2 x double bedrooms, 1 bathroom and 1 shower room. Sleeps 4

Second Floor

Apt 4 - Studio room with twin beds, en-suite shower room. Sleeps 2
Apt 5 - Studio with double bed, en-suite shower room, sea view balcony shared with Apt 6. Kitchenette. Single sofa bed, sleeps 3
Apt 6 - Studio with double bed, en-suite shower room kitchenette, sea view balcony shared with Apt 5 + single sofa bed. Sleeps 3

Third Floor (Eaves)

Apt 7 - Studio with twin beds, bathroom, kitchenette. Single sofa bed. Sleeps 3
Apt 8 - Studio with double bed and single bed, bathroom, kitchenette. Double sofa bed, sleeps 5
Both studio apartments feature velux windows.

The ground floor apartments are accessed from the pool area, a separate door located to the side of the villa opens onto the first floor and connects internally with the 2nd and 3rd floors.The villa is best suited to 18 persons..

The villa is enclosed within a walled garden with the pool area located to the front and a large BBQ area/summer kitchen and spacious outdoor dining area laid out as a succession of stepped terraces situated to the rear and side of the villa. There is also garage parking available for 2 cars at the villa.

Zaton Bay features a small selection of sea front restaurants serving local Mediterranean cuisine along with a grocery shop. Boat trips/excursions can be arranged locally. The Arboretum near Trsteno is located 15 minutes' drive away. Asides from Dubrovnik City, other areas of interest include the pretty harbour town of Cavtat, the fortified town of Ston, a day trip to Montenegro and Mostar as well as visiting a number of off-shore islands including the National Park island of Mljet.

The price shown in the table below is for 1-18 people, for 19-22 people there is an additional charge and this can be added once in the booking page.

Catering Options

Chef service is available on request. Please see Additional Services for more details.

Breakfast
The Chef can offer continental, Italian, French, American, Vegetarian or typical Dubrovnik breakfast.

Dinner
At dinner time there will be one extra person to help the chef with preparation as well as serving and clearing away dishes.

There is also another catering option possibility whereby one of 2 local restaurants can deliver food to the villa.

Boat hire
If you are interested in boat hire, please click here: http://www.dubrovnikboatexcursions.com/

Location

Distance to beach

120 m

Nearest airport

Dubrovnik

Distance to airport

35km

Nearest town

Dubrovnik

Distance to town

8km

-

Frequency of buses

Every 15-20 minutes

Details on nearest shops

Grocery, butcher and bakery

Distance to nearest shops

400 m

Distance to nearest restaurant

150m

Facilities:

General

Sleeps in bedrooms: 18
Sleeps total (includes sleeping capacity on sofa/extra beds): 22
Minimum stay: 7 nights for July - August, 5 nights for all other dates.
Arrival days: Saturday and Sunday arrival for July and August. Any for all other dates.
Check-in: 15:00
Check-out: 10:00
Built: 2007

Amenities

Area: Whole property: 586m2 (interior: 456m2, exterior: 130m2)
Boat mooring: On request for a boat up to 30m, charges may apply
Frequency of linen/towel change: Weekly
Car park: Garage parking for 2 cars. Off street parking available outside of villa on a first come first serve basis
Boat mooring (on request)
Sea view
Garden
Sun deck
Heating
Parking
Children
Air-conditioning (some of the rooms): Larger main rooms have powerful A/C units which cool the whole villa
Cot/crib (available on request)
Pool size: 8.5m x 4.6m
Fire place
Gym
Wifi

Appliances

Summer kitchen: Equipped with crockery, glasses, cutlery and additional dishwasher
Stove
Dishwasher
TV
Oven
Refrigerator
Microwave
Stereo
Freezer
Toaster
Washing machine
BBQ
Satellite TV
Hair dryer
Coffeemaker
Iron
Ironing board
Internet access

Rooms

Furniture in terrace/balcony/garden: Sea view conservatory on first floor has dining table for 10 people. Outdoor dining table for 20 people. Sun loungers around the pool
Kitchen
Dining room
Balcony with sea view
Kitchen table
Balcony
Lounge/living room

Bedroom details

Information on bedrooms: Number of 5 bedrooms: 1. Additional beds: 2 single beds in the lounge area
Number of double bedrooms: 4
Number of triple bedrooms: 3
Total number of bedrooms: 9
Number of twin bedrooms: 1

Bathroom details

All bathrooms have toilets
Number of bathrooms with shower: 4
Number of bathrooms with bathtub: 5
Total number of bathrooms: 9

Staff on site /available

Maid
Caretaker
Gardener
Cook and maid service: Available on request at additional fee, payable locally

Information on Location

Distance to beach: 120 m
Nearest airport: Dubrovnik
Distance to airport: 35km
Nearest town: Dubrovnik
Distance to town: 8km
Details on nearest shops: Grocery, butcher and bakery
Distance to nearest shops: 400 m
Restaurant within walking distance
Distance to nearest restaurant: 150m
On the seaside
Bus stop: 200 m
Bus available
Car recommended
Frequency of buses: Every 15-20 minutes
Information on transfers: Taxi pick-up from airport can be arranged on request

Charges

Price includes

Electricity
Water
Provision of linen/towels
Heating
Internet

Separate charges

The price shown in the table below is for 1-18 people, for 19-22 people there is an additional charge and this can be added once in the booking page.

Security deposit

The following must be produced on arrival: €500

Price bands

Property per night

01 May

-

01 June

01 June

-

01 July

01 July

-

01 Sept.

01 Sept.

-

01 Oct.

01 Oct.

-

01 Nov.

Prices are in UK Pounds (£)
*Rental prices do not include Residence Tax: £ 0.92 (per person per night)

Pricing and booking information

Pricing Information

Pricing is calculated per property per night in GBP Sterling. Many destinations also require tourist tax to be paid. Tourist tax starts from approximately £1 per adult per night, and £0.50 per night per child aged 12-17 at time of travel. If tourist tax is applicable to the destination you are travelling to, this will be shown in the booking process. For tourist tax payable at time of booking, the cost will be added to your subtotal. For tourist tax payable locally, the cost will be shown at time of booking and on documentation.

All bookings subject to booking fee.

Booking Information

A 30% deposit is required at time of booking. Full balance is due 10 weeks prior to arrival.

If booking within 10 weeks of arrival, the full cost of the villa must be paid at the time of booking.

Certain properties require varying payments for bookings. If payments required vary from those above, these conditions will be displayed below or advised at time of booking.

Holding an Option on a villa

Please Contact Us should you wish to place an option on a property for 24 hours whilst you book your flights and/or make other arrangements.

Payment Information

For online bookings, payment can be made by credit or debit card. Corporate credit card payments may incur a surcharge at time of booking. There is no surcharge for personal credit or debit card payments. All major currencies are accepted when paying online by credit card.

Payment by bank transfer (In sterling or Euros), UK online banking or cheque in Euros or sterling can be accepted. Please Contact Us if you wish to make a payment in this way.

Our full terms and conditions can be read

here

:

Select your travel dates

Free

Occupied

Your selection

Customer reviews:

We booked through Croatian Villas part of Authentic Villa Holidays as it was the only place that I could find a villa to sleep 21 people for a reasonable price! We felt so looked after, Ivana made sure that we had everything that we needed.

When emailing Sarah she facilitated taxis too and from the airport for all 21 guests who were arriving at different times throughout the weekend. Ivana turned up at the villa on the Sunday to accommodate us leaving early and getting our deposit back. We couldn't have asked for better service. Sarah recommended a caterer for the Saturday evening who was also fantastic.

Lovely choice of properties We had the most amazing time - thank you so much for accommodating us. It made for a fantastic hen weekend for my Sister in law to be

Impressed with: The coast line is stunning. Everything is so reasonably priced. The people are lovely.
Not impressed with: Nothing
Recommend: I would recommend Copa in Zotan for dinner. We went to Revelin in Dubrovnik for a night out - I would recommend that for younger groups looking for a club. I would also recommend the buza Bar for sunset and drinks
Favourite villa moment: Saturday night with the caterer and his chef - it was fantastic!

Stayed May 2018




The caretakers were very responsive.

I believe the description should have included that the house is on a hill and does require some physical ability to get to and from the small Zaton village. If you had a physical issue it would be a problem for any guest, as it was for one of our family members.

The lower two bedrooms cannot be accessed from the house. You must walk outside and upstairs to join the main part of the home. These family members felt a little removed from the rest of the guests.

Impressed with: It is clean, very clean and the landscape is breathtaking

Recommend: Zaton Water Sports assisted us with all of our activities. They coordinated an evening sunset boat trip to Dubrovnik, a full day private boat tour and coordinated all our other transportation needs. They were very helpful.

Favourite villa moment: The chef at The Capo Restaurant came to the villa and prepared a beautiful cooked breakfast on the large outdoor patio.

Stayed July/August 2017
Guest services
The following additional services can be arranged at the villa.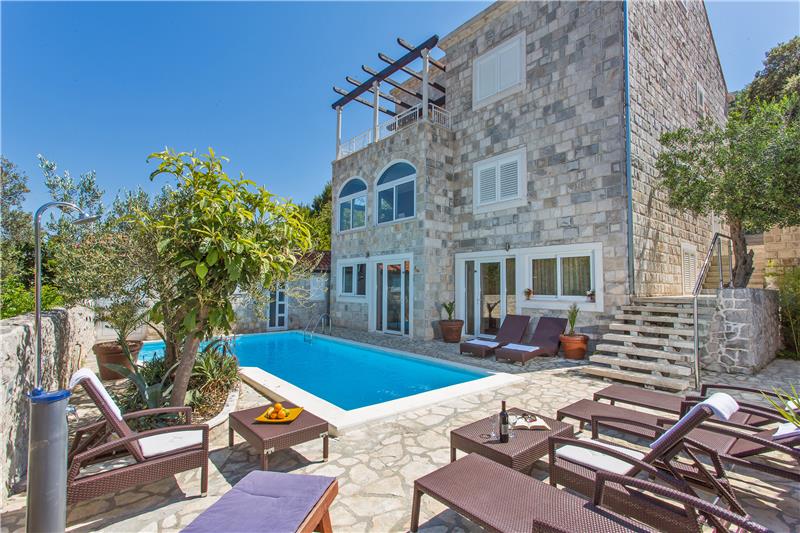 Chef Service

Chef service is available on request, providing the following service:

- The purchasing of the food ingredients
- Preparing and serving breakfast and dinner
- Clearing away the dishes from the table plus washing up

Beverages are not included.


Breakfast
The Chef can offer continental, Italian, French, American, Vegetarian or typical Dubrovnik breakfast. A sample menu can be found here.

Dinner
A sample menu can be found here.

At dinner time there will be one extra person to help the chef with preparation as well as serving and clearing away dishes.