6 Bedroom Luxury Villa with Heated Pool on Brac Island

This elegantly designed 6 bedroom villa with pool located in the coastal village of Mirca, Brac island consists of a main villa and guest annexe. The villa features a high spec interior complete with designer furnishings along with a lovely spacious outdoor area which offers guests a magnificent view of the sea and mainland. The overall feel is one of comfort and style where guests will undoubtedly enjoy a lovely relaxing summer holiday in this pretty Dalmatian island setting.

The main villa is approached from the rear where there is a car parking bay for two cars. Guests walk under an extensive slatted porch into a spacious lobby which leads through to the magnificent open-plan kitchen with breakfast bar / diner and lounge area featuring a garden atrium stocked with herbs, fireplace and patio doors leading out to the pool deck area. The ground floor bedroom annexe is also accessed from the lobby area and contains two double or twin bedrooms with en-suite bathrooms and French doors leading out onto rear facing terraces. There is a further third double bedroom featuring an en-suite shower room and doors leading out onto a side sea facing terrace. This bedroom is suitable for wheelchair users (for further details on this see bedroom and bathroom section below). A utility room which also contains a toilet completes the rest of the annexe rooms. The first floor contains a splendid bamboo floored master bedroom (double or twin) with en-suite bathroom, plus a sofa-bed suitable for 2 children under 12 or 1 adult. Doors from this bedroom lead out onto a stylish sea facing L-shaped terrace. This terrace can also be accessed from a door located on the first floor landing. There is table tennis, paddleboards, and bike rental available also.

The guest annexe located near the main villa features an additional kitchen, a double bedroom with fireplace, shower room and French doors leading out onto the sun deck area. The first floor features a double or twin bedroom with en-suite bathroom with bath and doors leading out onto a sea-facing terrace.

Outside on the sun deck area there is a splendid covered dining area, a pool deck area complete with a number of sun loungers for guests to sunbathe on whilst enjoying the magnificent view before taking a dip in the chic infinity pool. A large seaside garden featuring fruit and vegetables which guests can help themselves too completes the estate which runs down to the pretty pebble beach.

Yoga, hosting weddings and special occasions, are possible when staying at this villa - supplements may apply. It is also possible to cycle and hike on the island. Please click on the Additional Services tab for more details.

Car hire is recommended. The villa would suit a large family, two families travelling together or a group of friends looking to stay in a modern attractive villa on one of Croatia's most popular islands. The villa is well placed for sightseeing around Brac island. Excursions to other islands from Brac are also possibilities and clients can take the nearby Brac ferry back to Split for the day to explore Diocletian's Palace which makes up Split old town. Guests can rent mountain bikes from the property from 100 Kuna per day or 520 Kuna per week. Stand-up paddle boarding is also available from 150 Kuna per day or 1000 Kuna per week or 2 boards for 1 week from 1400 Kuna.

For more information about Brac Island watch

video.




£3,752.00

03 December 2023 - 10 December 2023

7 nights

Location

Distance to beach

20 m

Nearest airport

Split

Distance to airport

2-3 hours including ferry crossing time.

Nearest town

Supetar

Distance to town

4km

-

-

Details on nearest shops

Grocery store

Distance to nearest shops

300 m

Distance to nearest restaurant

20m

Facilities:

General

Sleeps in bedrooms: 12
Sleeps total (includes sleeping capacity on sofa/extra beds): 14
Minimum stay: 6 nights minimum stay between mid June and early September. 3 nights for all other dates.
Arrival days: Flexible arrival for early June to early September, any day arrival for all other dates.
Built: 2007
Total number of rooms: 6

Amenities

Area: 580m2
Boat mooring: The local pier at Mirca suitable for boarding/disembarking from a boat only. Nearest boat mooring facilities available at nearby Supetar. Further details on request.
Heating: Underfloor heating is fitted in all bathrooms and in the kitchen/diner/lounge.
Pool heating included May - October
Frequency of linen/towel change: Towels daily, linen twice a week.
Car park: Space for 2 cars.
House pets allowed (on request)
Boat mooring (on request)
Sea view
Whole house air-conditioned
Garden
Sun deck
Heating
Smoking
Children
Cot/crib (available on request)
Pool size: 26m2
Pool private to the property
Heated pool
Fire place
Mini bar
Laundry service
Wifi
Table tennis

Appliances

Stove
Dishwasher
Oven
Refrigerator
Microwave
Stereo
Freezer
Toaster
Washing machine
BBQ
Satellite TV
DVD player
Video/DVD/BluRay library
Telephone
Internet access

Rooms

Furniture in terrace/balcony/garden: Wooden table and chairs available on the terrace and balconies. Wooden sun loungers provided around the pool.
Kitchen
Balcony with sea view
Terrace with sea view
Balcony
Terrace
Lounge/living room

Bedroom details

Information on bedrooms: The beds in all the bedrooms, excluding the wheelchair accessible bedroom, can be converted into double or twin beds. Please advise at time of booking your preferred combination otherwise all beds will be offered as double beds. The wheelchair accessible bedroom features French doors with only a small frame edge to cross. Additional pull out sofa bed for 2 children under 12 (or 1 adult) is available in the master bedroom.
Number of double bedrooms: 1
Total number of bedrooms: 6
Number of twin bedrooms: 5

Bathroom details

All bathrooms have toilets
Number of bathrooms with bathtub: 5
Total number of bathrooms: 5
Number of toilet only rooms: 1
Additional information on bathrooms: The wheelchair accessible bathroom contains removable handles by the toilet seat. The walk in shower is suitable for wheelchair users and there is a seat attached to the shower wall for guests to use.

Staff on site /available

Maid
Caretaker
Cook
Gardener
Extra services: Aroma massage at the villa, boat/car/bike rentals, sport activities, private excursions, airport transfers.
Baby sitting service
Concierge

Information on Location

Distance to beach: 20 m
Nearest airport: Split
Distance to airport: 2-3 hours including ferry crossing time.
Nearest town: Supetar
Distance to town: 4km
Details on nearest shops: Grocery store
Distance to nearest shops: 300 m
Restaurant within walking distance
Distance to nearest restaurant: 20m
On the seaside
Car recommended

Charges

Price includes

Electricity
Gas
Water
Provision of linen/towels
Heating
Internet
Pool: solar heating included in price.

Separate charges

Maid: up to 3 hours per day included in price.
Laundry service: €20-30 per load (on request).
Cot rental: €10 per day
Pet fee: €15 per day (small well trained dogs).

Security deposit

The following must be produced on arrival: €500

Price bands

Property per night

01 Jan.

-

02 Jan.

02 Jan.

-

29 Apr.

29 Apr.

-

27 May

27 May

-

10 June

10 June

-

24 June

24 June

-

01 July

01 July

-

26 Aug.

26 Aug.

-

02 Sept.

02 Sept.

-

16 Sept.

16 Sept.

-

23 Sept.

23 Sept.

-

30 Sept.

30 Sept.

-

24 Dec.

Prices are in UK Pounds (£)
*Rental prices do not include Residence Tax: £ 0.92 (per person per night)

Pricing and booking information

Pricing Information

Pricing is calculated per property per night in GBP Sterling. Many destinations also require tourist tax to be paid. Tourist tax starts from approximately £1 per adult per night, and £0.50 per night per child aged 12-17 at time of travel. If tourist tax is applicable to the destination you are travelling to, this will be shown in the booking process. For tourist tax payable at time of booking, the cost will be added to your subtotal. For tourist tax payable locally, the cost will be shown at time of booking and on documentation.

All bookings subject to booking fee.

Booking Information

A 30% deposit is required at time of booking. Full balance is due 10 weeks prior to arrival.

If booking within 10 weeks of arrival, the full cost of the villa must be paid at the time of booking.

Certain properties require varying payments for bookings. If payments required vary from those above, these conditions will be displayed below or advised at time of booking.

Holding an Option on a villa

Please Contact Us should you wish to place an option on a property for 24 hours whilst you book your flights and/or make other arrangements.

Payment Information

For online bookings, payment can be made by credit or debit card. Corporate credit card payments may incur a surcharge at time of booking. There is no surcharge for personal credit or debit card payments. All major currencies are accepted when paying online by credit card.

Payment by bank transfer (In sterling or Euros), UK online banking or cheque in Euros or sterling can be accepted. Please Contact Us if you wish to make a payment in this way.

Our full terms and conditions can be read

here

:

Customer reviews:

This is a fantastic villa for families. The location is ideal to see the whole of the island. We loved the fact that we could pick fresh figs from the garden for breakfast. The option to have dinner served in the villa should not be missed -- the food was excellent and good value.

Stayed September 2010

Staff were all very professional and helpful. Property was beautifully furnished and very clean. It is a new property. Location was superb: right on the beach and 4 km from Supetar.

Stayed August 2008

The photographs did not do it justice. It was brilliant - stylish, equipped to a very high standard, beautifully laid out, and extremely elegantly designed. Proximity to the beach and little beach bar were an asset with young children and the spaciousness never made us feel crowded even though we were a large group. The separate building for my daughter's family and her 3 young children were an added bonus. The surrounding garden was beautiful and use of the vegetable garden with picking our own tomatoes was a delight.

Extremely welcoming and could not have been more helpful.

This is our second trip with a big family group to a large villa and both have surpassed our expectations. Keep it up guys, we'll be back!

Impressed with: We have been visiting Croatia and sailing the Croatian islands for years so don't need to be impressed. We already love the vistas, the food, the people, the clear water for swimming.
Not impressed with: Nothing, except maybe queuing for the ferry to Supetar with a car!
Recommend: We loved the beach bar for a sundowner, watching the sun set over the sea. Kids loved a day at the Aquapark http://www.rentaroberts.com/en/aqua-park . Young adults enjoyed the watersports on the neighboring beach.
Favourite villa moment: Kids in the jacussi with underwater lighting and music playing!

Stayed August 2014
Guest services
The following additional services can be arranged at the villa.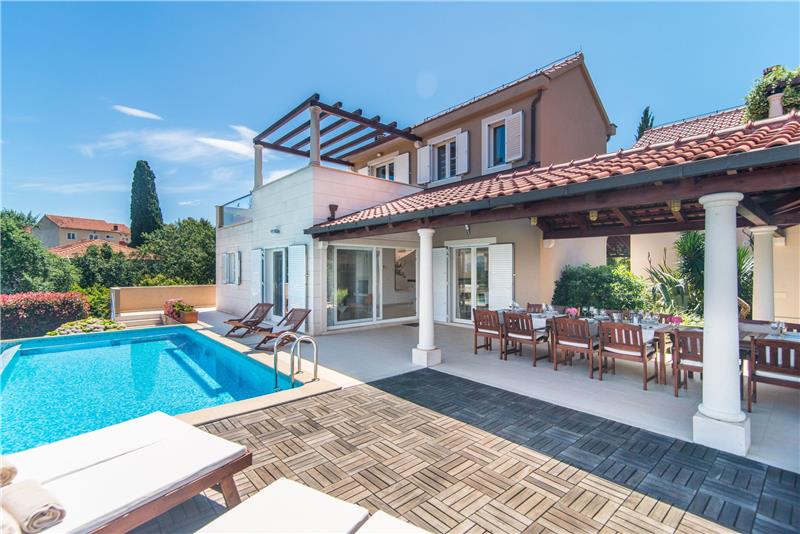 Yoga

Yoga is available at the villa and around 15 yoga mats can be provided at no extra cost.



Weddings and Special Occasions

Weddings and special occasions can be arranged at villa BC026 for up to 45 guests. There will be a fee of around €500 (payable locally). A local wedding planner can also be arranged. Additional fees will apply.



Bike and Stand-up Paddle Rental

Guests can rent mountain bikes from the property from 100 Kuna per day or 520 Kuna per week. Stand-up paddle boarding is also available from 150 Kuna per day or 1000 Kuna per week or 2 boards for 1 week from 1400 Kuna.

Tennis Courts

There are a few clay tennis courts in Supertar at the Waterman Svpetrvs Resort. Additional charges will apply.

Boat Mooring

Boat mooring is possible at Supetar Port. There is a charge per metre of the boat.

Cycling and Hiking Routes

There are many cycling and hiking routes on Brac island; the central part of the island being more popular for hiking. There are some easier cycling and hiking routes that go to the nearby towns (Supetar and Sutivan). There are some more challenging MTB cycling routes if you look at this link: www.dalmatia-bike.com.

There is also a local agency that offers guided biking and hiking tours. For more information please enquire.

Catering

A weekly chef service can be arranged if booked in advance. The price starts at €1600 a week plus the cost of groceries and travel costs. Service is subject to confirmation and cooking for larger groups or any special arrangement on request.



Mini-Bar

This villa is equipped with a mini bar stocked with selection of Croatian red/white wine from the surrounding area. A price list is provided and guests make a note of what is consumed on the drinks tab which is settled in cash weekly or at the end of their stay depending on which is shorter. Mini-bar is filled regularly and can be adapted to stock guests preferred drinks.



Babysitting Service

Evening babysitting can be arranged on request. Prices start from €7 per hour payable locally.




Massage

An aroma massage treatment can be organised at the villa either in the privacy of one of the villa rooms or on the rooftop terrace. Massage is offered as 60 minute slots for €40 payable locally.

Laundry Service

Washing, drying and ironing services available payable locally.

Local Activities/Other Services

Guests can rent a bike, scooter or boat,attend wind-surfing school and go scuba diving. Other daily excursions can all be arranged locally subject to availability. If you wish to reserve any of the above please request this from one of our consultants.