CIOVO – TROGIR'S RATHER STUNNING AND LAID-BACK NEIGHBOUR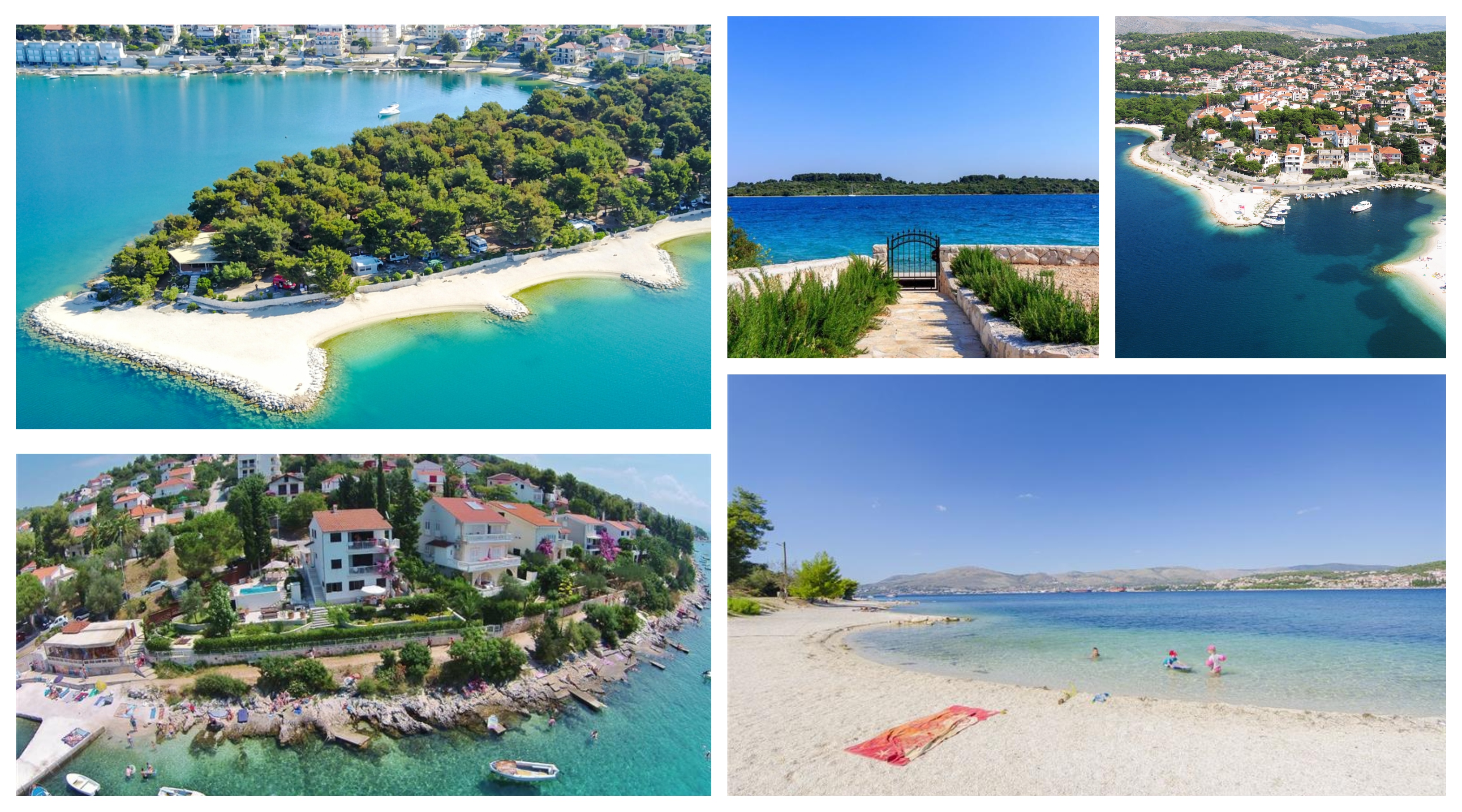 Pronounced "chee-ovo", if you look this up (anywhere), details on Trogir, the UNESCO listed walled town will probably appear. Trogir may be better known, and yet some wonderful things are happening on neighbouring Ciovo island which is earning a rather good reputation as a chilled-out, beach escape and a less developed location.
Ciovo is a great choice for a holiday with its lush vegetation, crystal clear sea, hidden beaches, simple eateries and is perfect for the ultimate in relaxation. Yet just over the bridge which connects to Trogir, there are monuments, museums, churches, smarter restaurants (informal ones too), boutique shops and some great cocktail bars if you want a little more buzz. Regular boat lines and water taxis are easy to use so this is really a kind of "best of both worlds holiday".
Worth noting is that in August, Trogir is positively packed and high season tourists even manage to find the hidden beaches on Ciovo too.
The best times to visit are in June (in 2019 June was sunnier than usual with temperatures regularly tipping 30C), July and September. If you really want a beach to yourself, choose late May or early October. In late September and until mid-October, the Adriatic Sea stays warm and there are flights from many UK airports to Split, then around 20 minutes transfer to both Ciovo and Trogir.
Let's take a look at Ciovo's distinct, hippy-chic style:-
Okrug Gornji
Located on the east side of Ciovo (with a regular boat service from Trogir every 30 minutes June-September) a man-made shingle and pebble beach has taken the name Copacabana Beach (easier to say!). This is the place to choose if you want to snorkel, hire a small boat, there are beachfront restaurants and bars, fruit stalls and even a small bouncy castle in the shallow water, perfect for children. Sometimes, locals call this an "aqua park" which it certainly is not!

In Duboka Bay, just past the main Okrug Gornji beach and facing the tiny island of Solta, Laganini is framed with pine trees. Looking as if it belongs on the set of Mamma Mia Three (if there were to be a third film), this is a wonderful setting where an old stone house seems to have extended across sunken terraces and decks as if touching the sea. Traditional stone walls, bleached, driftwood-style furniture, comfy sofas with cushions, set among Mediterranean plants and trees with a restaurant, bar with high stools. There's an excellent cocktail and coffee menu together with home-made desserts and cakes daily if you don't want a full meal. On the beach there are sun loungers and daybeds (daily hire charge applies) and massage services using local oils and plants.

"Laganini" means something like "take it easy" and it's the perfect name. It opened in 2010 and many visitors have returned again and again. Some have celebrated special birthdays or anniversaries and some have even had their wedding parties here. The owners have a well-deserved reputation for turning their hand to almost anything, whatever the theme: a retro 60th party or an utterly local, Dalmatian bash! Surprisingly, menus here feature excellent meat dishes alongside fish and seafood.
Sunsets
There is something rather special about sunsets on Ciovo so don't be surprised to see people heading off on boats towards Ciovo around 5.30pm to spend the next few hours watching the sky turn red. Konoba Duga is a summer-only beach restaurant, famous for seafood platters at Okrug Gornji and a great spot for watching the horizon. Water taxis know where to drop you.
With Split, Croatia's second city and home to the famous Diocletian's Palace (the chosen retirement spot for the Roman emperor) just thirty minutes away by regular boat line or by bus, Ciovo is another of Croatia's best kept secrets offering so many different holiday experiences in just one trip.

To view our selection of villas and apartments on Ciovo Island click here
---