Top 10 Reasons to Visit Kvarner, Croatia

When we talk of the Kvarner Region we refer to the Northern Adriatic including the city of Rijeka,  the Opatija Riviera featuring Opatija itself and the nearby resorts of Volosko, Ika, Icici, Medveja,  Lovran, Moscenicka Draga, Brsec. Inland there are stunning hilltop villages including Moscenice, Kastav, Draga di Lovrana. Following the main coastline east around the Kvarner Bay, the Crikvenica Riviera includes Crikvenica itself, Novi Vinodolski and Selce. The best known islands in the Kvarner Bay are  Krk, Cres,Rab and  Losinj.
Lonely Planet publication named the Kvarner Region as one of the Best in Travel 2020. A tremendous accolade and yet the Kvarner Region has been welcoming visitors for a very long time. In 1873 a railway line opened connecting Vienna to the Croatian coast and in  1844 the Kvarner hotel was built – the first hotel on the Adriatic. Visitors were attracted by the clean, healthy air, the pristine blue Adriatic sea (and the healing properties of it) and the glorious elegance.  In 1889 Opatija was officially established as a health resort.  Wealthy Austrians also brought some of their own features including the tradition of musical concerts and glittering balls not forgetting the "coffee and cake with cafe-society" culture.  Spa traditions were extended often using Adriatic sea water with its high levels of salts and minerals. These all continue today and are enjoyed by visitors from all over the world.
There's a rich cultural history and interesting architectural heritage where Habsburg-era grand buildings stand adjacent to a gritty, Socialist block (good examples in Rijeka) with the Opatija Riviera being home to grand villas with gardens leading to the sea.  Excellent conservation and a lack of mass tourism ensures that the Kvarner region remains an unspoilt and stylish destination which often attracts a sophisticated crowd. Make Kvarner your next destination and take a look at our top 10 reasons why you should visit in 2020:
1. Rijeka – European Capital of Culture 2020
Rijeka is Croatia's third city (after Zagreb and Split) and the country's  largest cargo port. For 2020 it  was awarded "European Capital of Culture" resulting in a vibrant diverse city combining the best of its cultural and industrial heritage,. Located between the Mediterranean, Central and Eastern Europe, their influences  are evident as Rijeka has developed within as many as seven different countries over the last 100 years. As history has evolved, Rijeka has retained a rather special,  "edgy" feel where the slogan "city of diversity" really holds true.
Located on the coast of the Kvarner Bay, Rijeka has remained something of a secret until now. The city is the perfect starting point for exploring the many attractions of the Kvarner Gulf  – there are  great museums,  a vibrant music,  theatre and  opera scene alongside some cool bars, eclectic lounges and a varied gastronomy scene.
The calendar of activities for the whole of 2020 is diverse with over 250 programmes and some 600 individual events which reach across the whole Kvarner region and extend to the islands. From April, the Music of Contemporary Art and City Museum has a new home in the Sugar Palace, a  reconstructed baroque palace formerly used as a sugar factory-refinery. From May 25,  'Kompressorhead – Concert of Robots' is the first rock band in the world in which robots play real instruments "live".
For the full all-year round calendar visit Rijeka 2020 . There will be special walking tours, music cruises and boat trips, performances of ballet on Rijeka's dockside and hundreds of events that will immediately bring the word "diversity" to mind!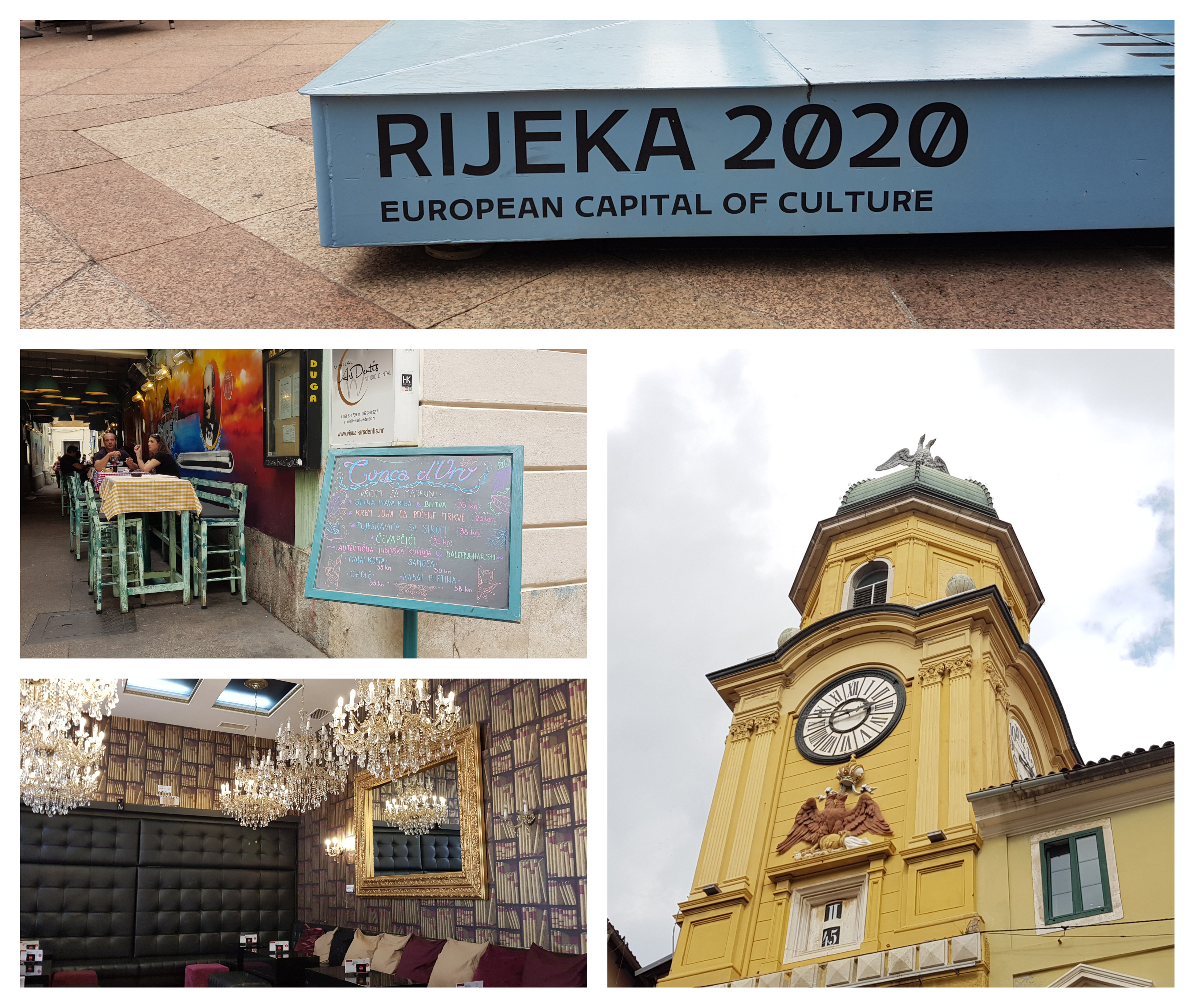 2. Opatija Riviera
Opatija is one of the most stylish resorts in Croatia replete with beautiful gardens which gently slope to the sea, (don't miss Angiolina Park and the American Gardens). It also has the longest lungomare promenade in Croatia at 12 kilometres connecting Volosko in the east  to Lovran to the west in around 2.5 hours at a leisurely stroll. It is unique in Croatia and passes through Opatija itself, Icici and Ika and was built for the visiting aristocracy to parade and take the seaside air.
Opatija's symbol is the "maiden with a seagull", a beautiful statue situated in the sea just beside the Lungomare and loved by locals and visitors. It was constructed with a nod to  the region's maritime history and distant sailors.
In recent years, film and television producers have chosen Opatija as one of their location stories, often to stand in for French Riviera spots and indeed, the town has often been called "the Nice of the Adriatic"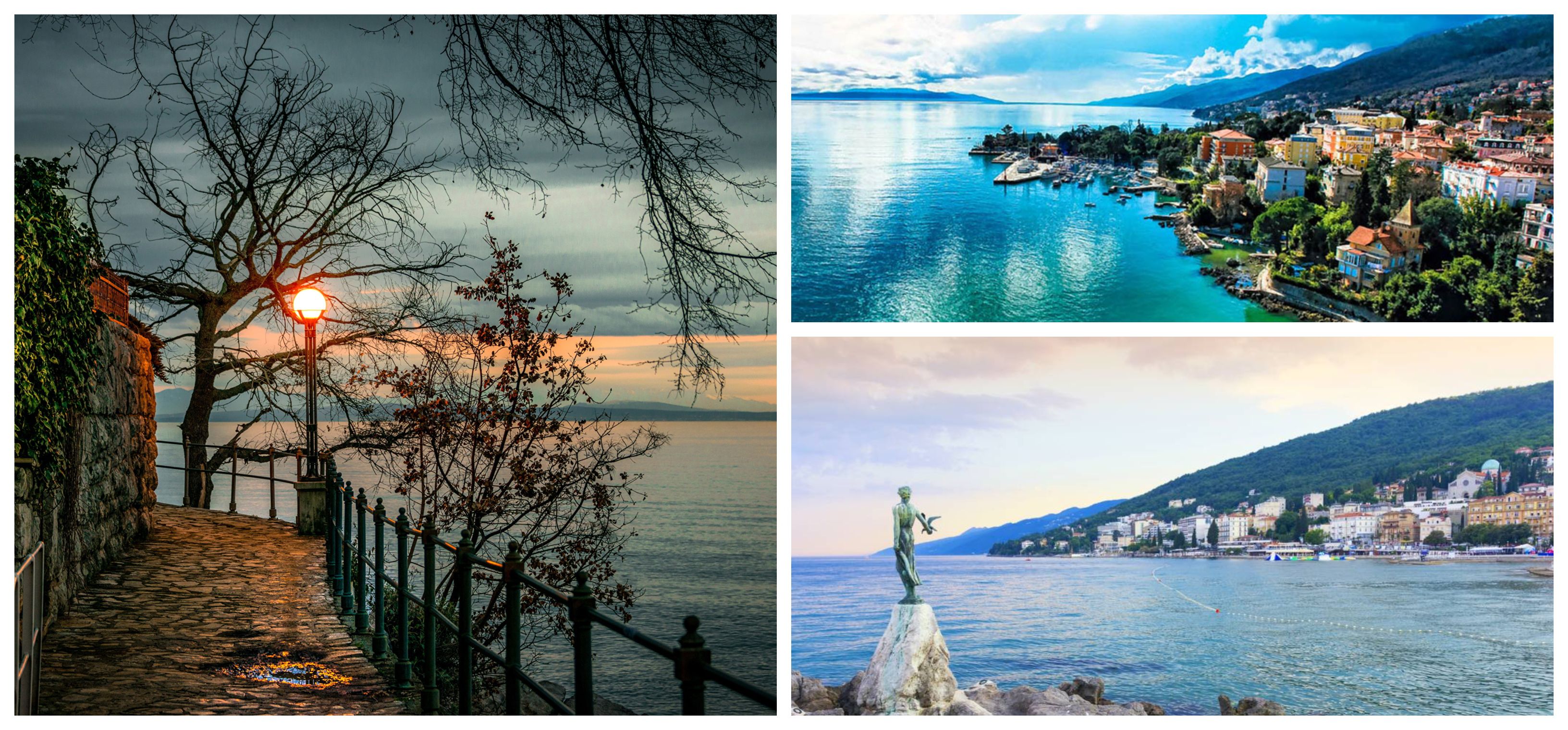 3. Explore the Largest Island in Croatia (Krk)
The Island of Krk is Croatia's largest island and is sometimes called the "Golden island" because of spectacular sunsets. Easily accessible and connected to the mainland by  a road bridge.  Beaches are pebbly and stone with a long part-sandy one at Baska Voda on the island's southern tip.  From May to October you can enjoy outdoor festivals of live music and dance and taste  Zlahtina white wine (means "golden") which is produced in the vineyards below the pretty, white stone hilltop village of Vrbnik. The island's capital is also called Krk and is a walled town with narrow stone alleyways and fortresses. Be sure not to miss the Cathedral and a wine bar called Volsonis with an entire floor of Roman ruins, found when the premises were being renovated.  If you are looking for an island holiday offering festivals, secret coves and bays, boat trips, a wide choice of restaurants and good sports facilities, check out the list of available apartments and villas here.

4. Visit the Risnjak National Park
Risnjak National Park is one of Croatia's seven national parks. It is located in Gorski Kotar  just 15 kms north of the Adriatic coastline and clearly visible from almost everywhere.
You can visit at any time of year  and there are well marked  walking , hiking and biking trails, whirlpools and springs, forests, hills and meadows – the Leska trail is 4,200 metres long and covers diverse terrain. On the Kupa river, there's white water rafting.  Bear watching is on offer too from the national park office (involves a dawn start or an overnight and hours of patiently sitting quietly on a veranda terrace).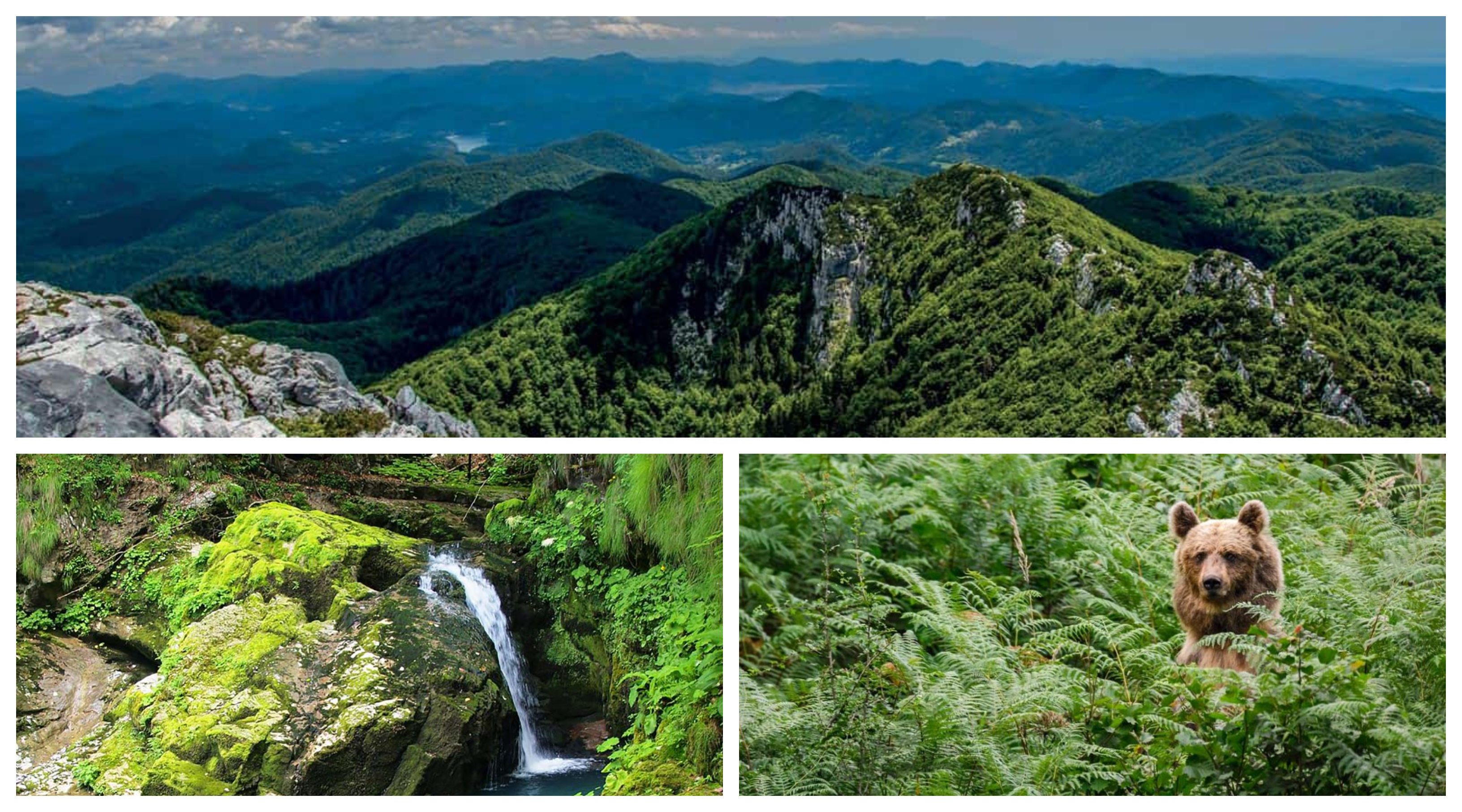 5. Visit Plitvice Lakes & Waterfalls
Not located within the Kvarner region yet an easy day out by self drive car or organised excursion.  Plitvice Lakes National Park is about a three hour drive, is the most visited attraction in Croatia and a listed UNESCO World Heritage site of nature. The highlight is the series of sixteen unique lakes, all inter-connected and often just referred to as the  Croatian waterfalls , all set in preserved woodland.
You explore the park  via boardwalk type pathways,  using some steps and  wooden bridges. There is a traditional village mill and several refreshment spots.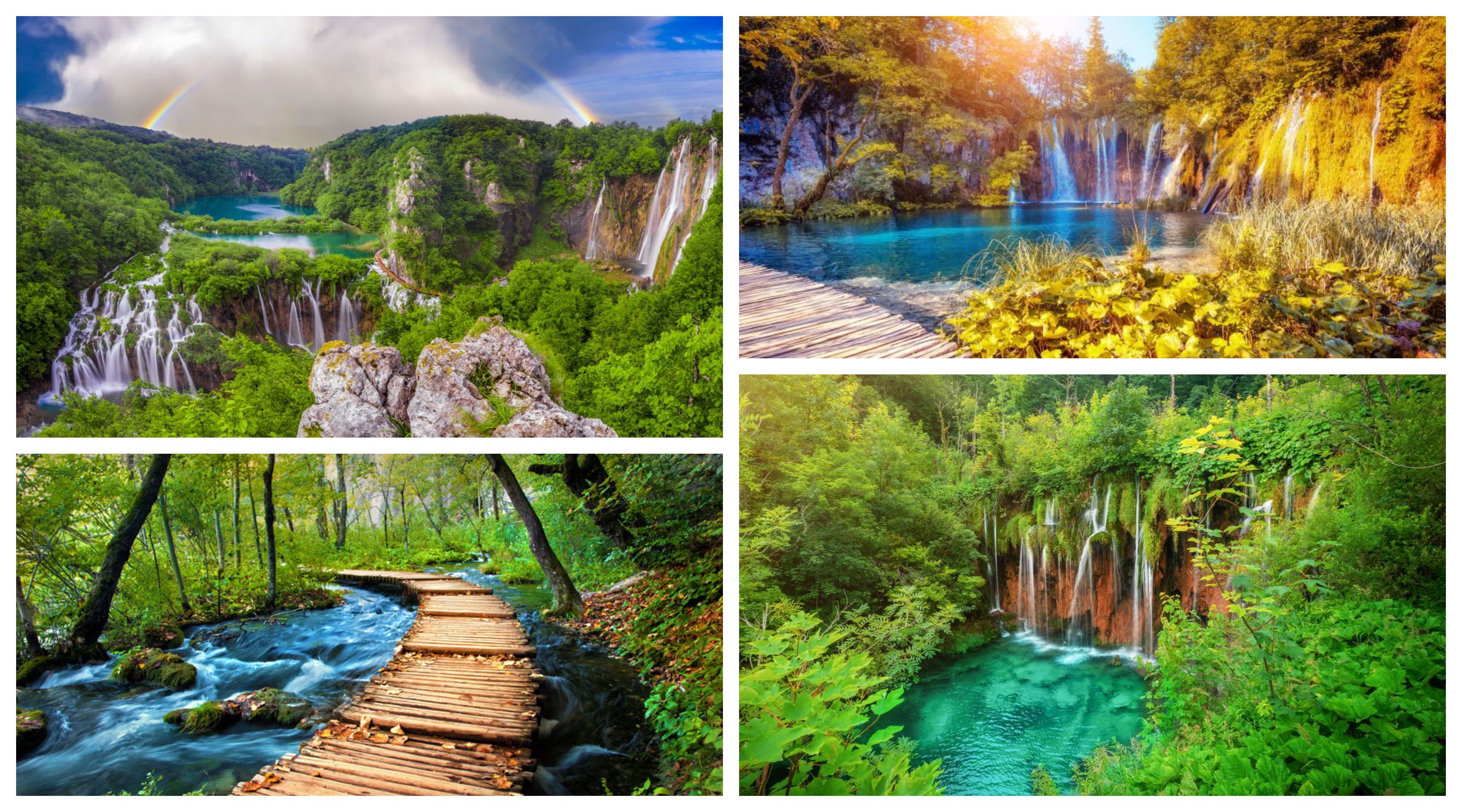 6. Kvarner – on the plate and in the glass
You will enjoy the food and drink scene here which is as diverse as the region itself and celebration of various foods takes place during many local festivals.  Asparagus and cherry festivals in Lovran, olive harvest festival on the island of Krk, wine and seafood in Volosko, a chocolate festival (and chocolate concert) in Opatija in December, a new wine celebration in hilltop Kastav, the oily fish week (really!) in Crikvenica and there are many more.
Local konobas (like bistros) and top class restaurants are found all over the region often featuring the acclaimed and delicious Kvarner Bay scampi (these scampi are like langoustines) and proximity to Italy means that risotto and pasta dishes are superb.  The region's first Michelin star restaurant is "Draga di Lovrana", in the foothills of the Ucka mountains a ten minute drive from Lovran.  In July and August  there are Fishermens Nights (usually on Friday evenings) where small stalls along the waterfront sell fried calamari,sardines and bread for around £6  and there is usually with a live band.
The local Zlahtina white wine and "sea champagne" (laid for several years in cages on the sea bed) are both excellent.

7. Out on the waters of the Kvarner Bay
The views of the mountains reaching down to the sea, endless pine and cypress trees, the white of pebble and stone beaches and the sparkling blue Adriatic are simply breathtaking. Locals say that one of the best ways to experience all this is from a boat, and you have many options..
Take the excursion taxi boat that travels between Opatija and Moscenicka Draga (passing pink rocks), take any water taxi from anywhere to anywhere (signs at all boat docks) boat dock), travel on the yellow submarine along the Opatija Riviera or take a whole day fish picnic boat trip visiting the islands of Krk and Cres with swimming and beach stops – great value and depart from Opatija, Icici, Lovran, and Moscenicka Draga with lunch served on board.

8. The island of Rab and a hop over to Pag
The picture-perfect island of Rab is famous for the  four beautiful spires which define the skylinein Rab Town  – and for sand.  Croatia has few sandy beaches but Rab island has around 22 sandy beaches and bays including the two kilometre-long Paradise Beach at the north end of the island with shallow waters and great family facilities.
Rab Town is a beautiful walled town with churches(and spires), Roman ruins and gardens and a unique summer festival which takes place over the third weekend in July turning the town back to the medieval period. You'll see witches , weavers and shepherds on the streets, and a  traditional fishing party on the beach, live music, the Rab crossbowmen and much more Excellent walking trails across the island up to the highest peak of Kamenjak at 410 metres about sea level – from here, you can see the entire Velebit mountain range.
Water taxis ferry you around to the beautiful Kandarola bay and hidden coves.  This is where King Edward VIII and Wallis Simpson swam naked during their visit to Rab in 1936. Locals claim that this heralded  the beginning of naturism in Europe.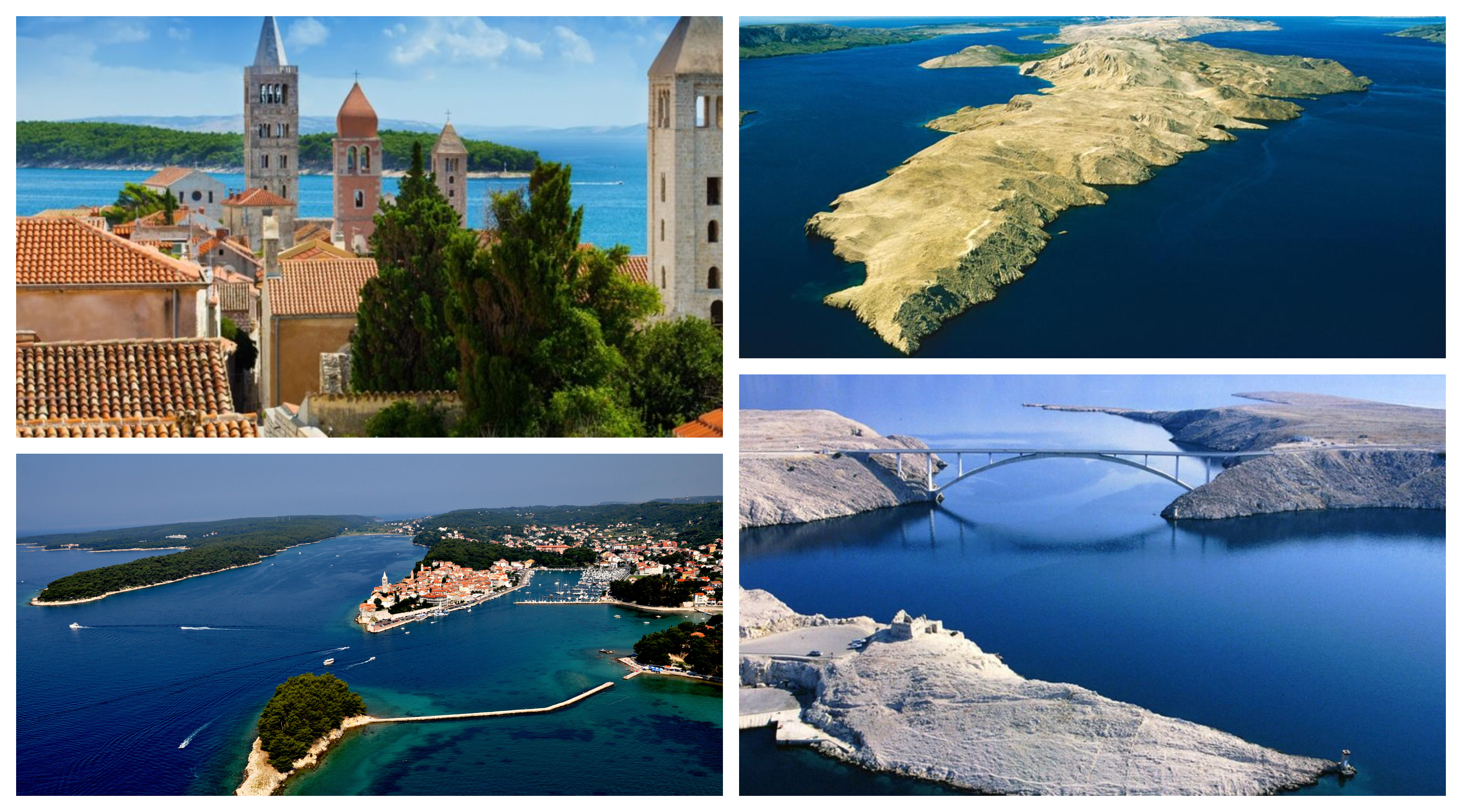 9. The biggest Blues Festival in Croatia is here
If you are a fan of the Blues choose Kvarner region in late July-early August.
The Jerry Ricks Blues Festival is named after the American Blues musician who fell in love with the medieval hilltop town of Kastav, made his home there – and died there.
The 11 day festival usually spans two weekends and there are live Blues concerts and Blues workshops in Kastav, Moscenicka Draga, Brsec, Moscenice, Lovran, Ika, Matulij, Opatija. Most events are on big, open-air stages, are mostly free with performers usually from all over the world including Japan, Croatia, Serbia, USA, UK, Italy and Slovenia.

10. Cres and Losinj
Cres is situated to the west of the island of Krk and is connected by ferry to it and by a further ferry connecting to the mainland.  Often called the "wild island" because of it's outstanding, almost primitive beauty and with a population of just around 3,000.  Cres is best known for the production of olives and lamb (from animals that roam freely eating wild herbs and plants on the way) and also for the rare, white headed Eurasian Griffon vultures which live on the cliffs on the northern part of Cres (this is rare since these birds rarely live in cliffs). If visiting, drop in at the tiny, semi abandoned village of Beli (last known population 28!) and visit the exhibit in the old schoolhouse.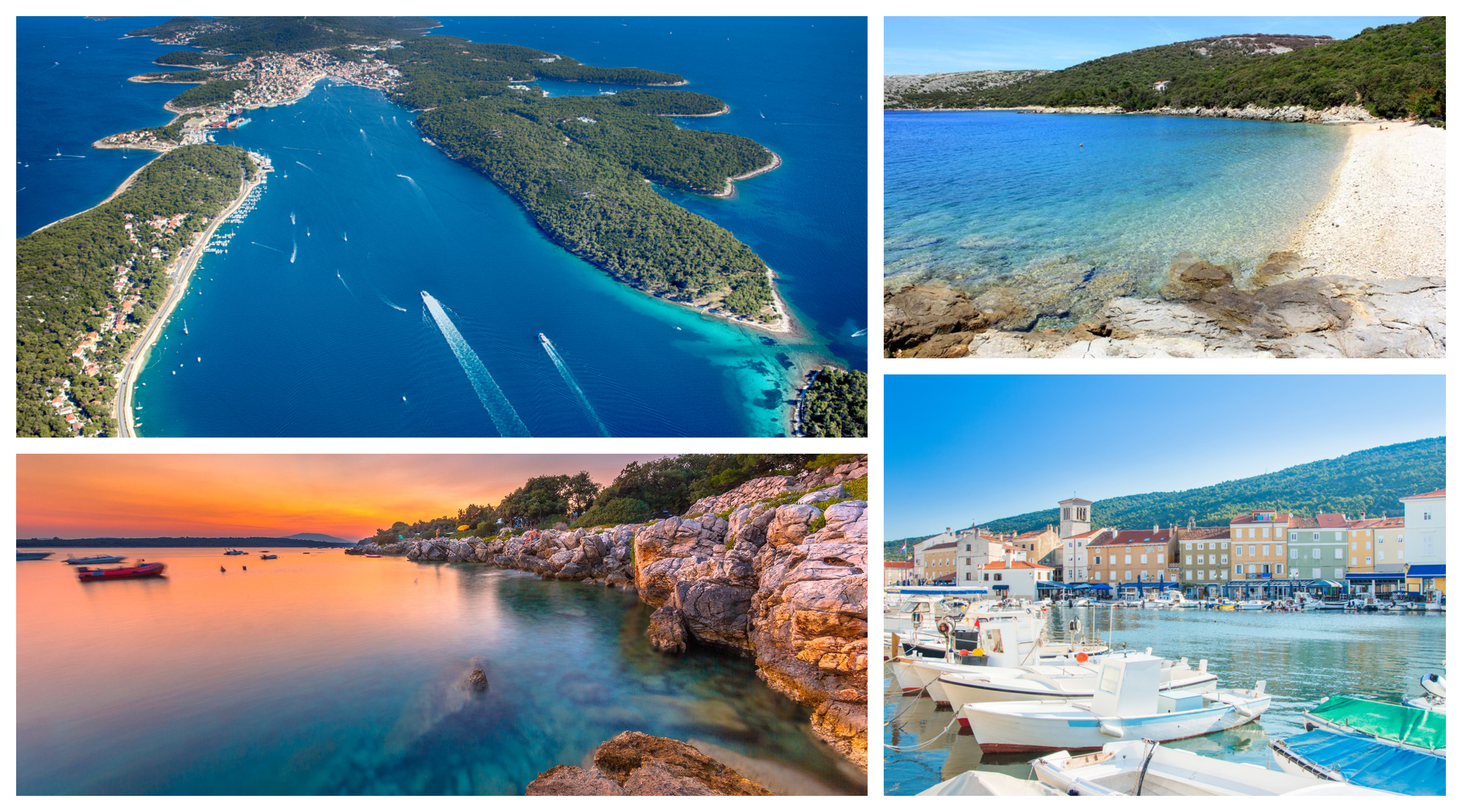 To the south of Cres, a very small bridge at Osor connects Cres to the island of Losinj. Known as the "island of vitality" Losinj has pine forests which are home to some 1,000 species of plant and herb which added to the special micro-climate and clean air have resulted i the island's nickname. Various health studios and spas offer treatments using the island's goodness. There are walking and hiking trails through the forest and a pod of more than 120 dolphins has made Losinj home. There are dolphin watching trips and regular boat trips may also involve some dolphin spotting,.
Surprisingly, Mali Losinj has a tiny airfield with a summer scheduled service by Silver Air connecting Mali Losinj with Zagreb, Venice (flight time 50 minutes)  and Lugano (1 hour 50 minutes).
A catamaran service connects Mali Losinj with Rijeka, also with Pula in the Istria region and Zadar iun the Dalmatia region meaning a twin centre villa holiday is easy.
---