Insider's Guide on what to do in Split, Croatia
Split lies at the heart of the Adriatic coast.  It's the second largest city in Croatia and a perfect base for your Croatian Villas getaway.  This charming Old Town is dripping with history and its bustling port is the gateway to the most popular Croatian islands of Brac, Hvar and Vis.  The surrounding region of Split also offers something for everyone  – from chillaxers to adrenaline junkies.
Read on for our definitive guide on what not to miss…
Split Old Town
Picturesque and easy-to-navigate, the Old Town of Split is bursting with charm.  The main attraction is Diocletian's palace which dates back to the 4th century.  It was built for the emperor Diocletian as a place of retirement.   Fast forward to today and it STILL maintains its' buzz as the centre of everyday life!
The palace is also among ten UNESCO World Heritage Sites in Croatia.  It's impressive perimeter walls surround a labyrinth of dazzling cobbled trees and hidden alleyways.  Stroll along these walkways and, every now and again they'll reward you by spilling onto a charming courtyard or breathtaking square.
It's well worth spending time exploring the Old Town to get a sense of how life was lived and how it thrives today.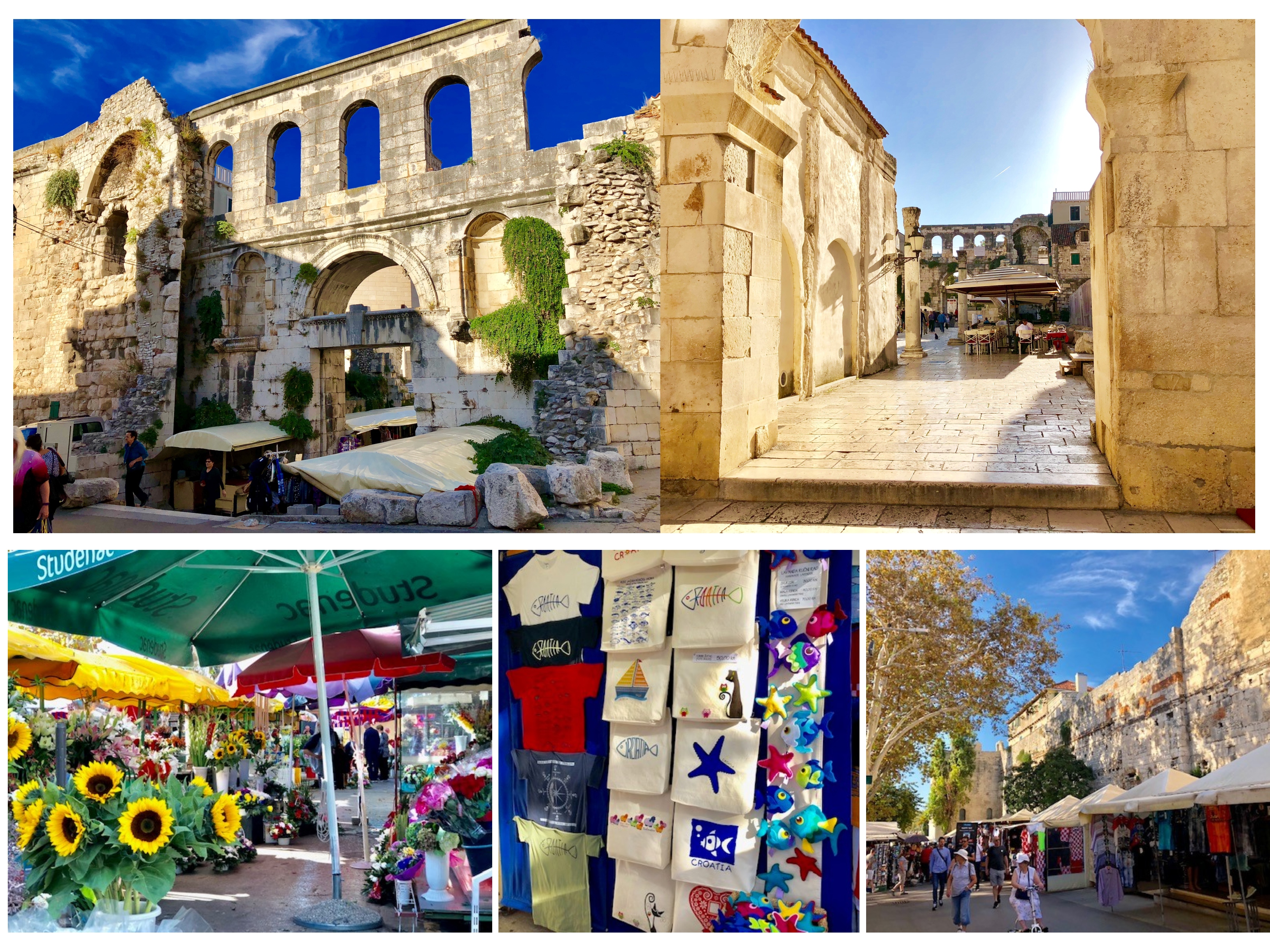 Peristil Square
The central square of Diocletian's palace is flanked by two impressive Corinthian colonnades.  It's where the Roman emperor would majestically appear before his subjects.
Now, it's a popular meeting place and during the Split summer festival, which usually takes place between mid July to mid August, it forms a magnificent backdrop for performances and concerts.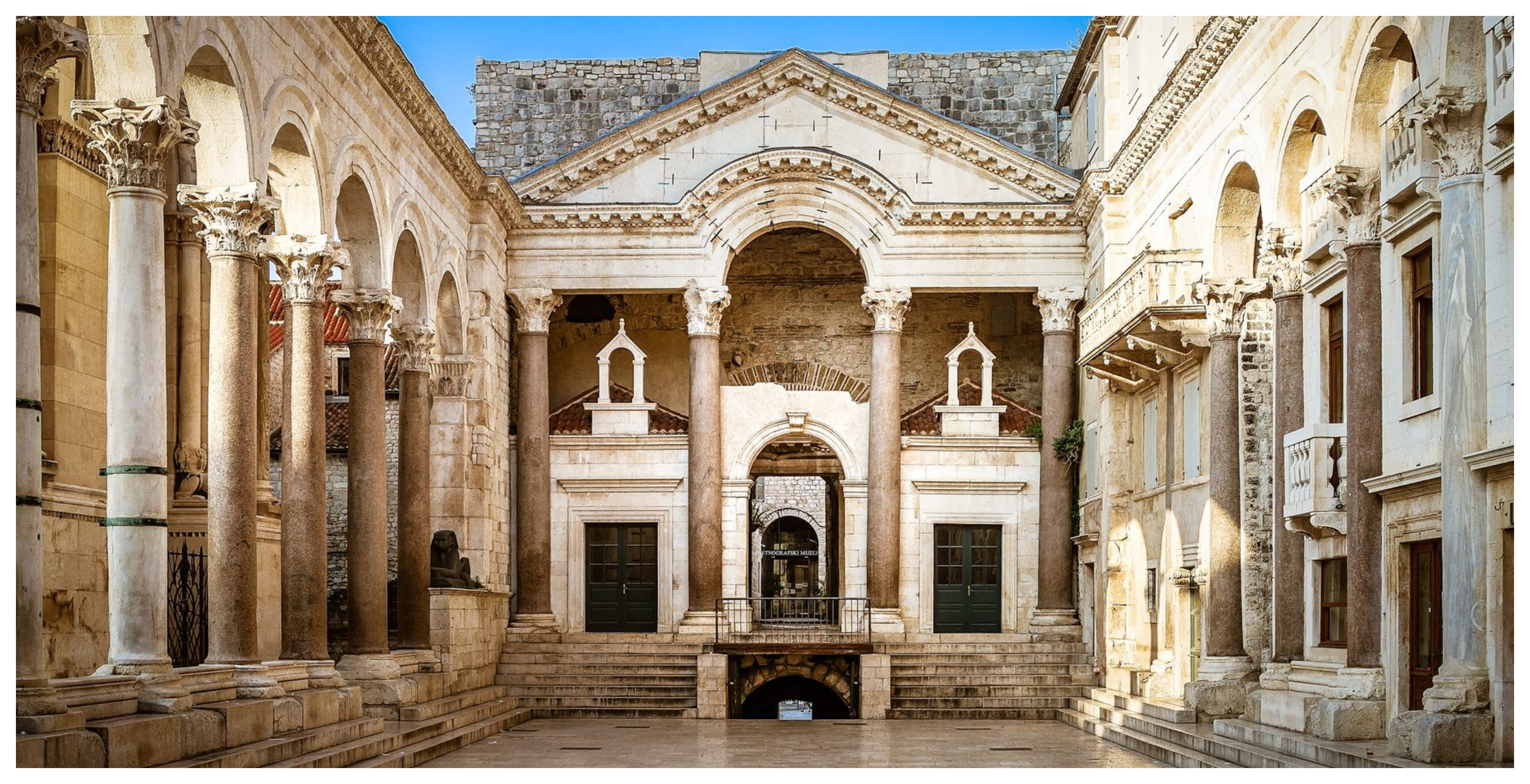 The Markets
For early risers, the markets of Split open from around 7am and continue till early afternoon.  If you take a walk over to the western side of Split you'll catch Ribarnica, the local fish market.
Pazar, Split's green market runs along Hrvojeva Street on the eastern side of the Diocletian Palace.  Local farmers produce all the seasonal fruit and vegetables found here.  There's also stalls with intriguing odds and ends from clothes to electronica.
For souvenirs and artisanal product the underground market in the cellars of Diocletian's Palace is a quirky place for a wander.
Most of the markets are cash only so bring Kunas with you.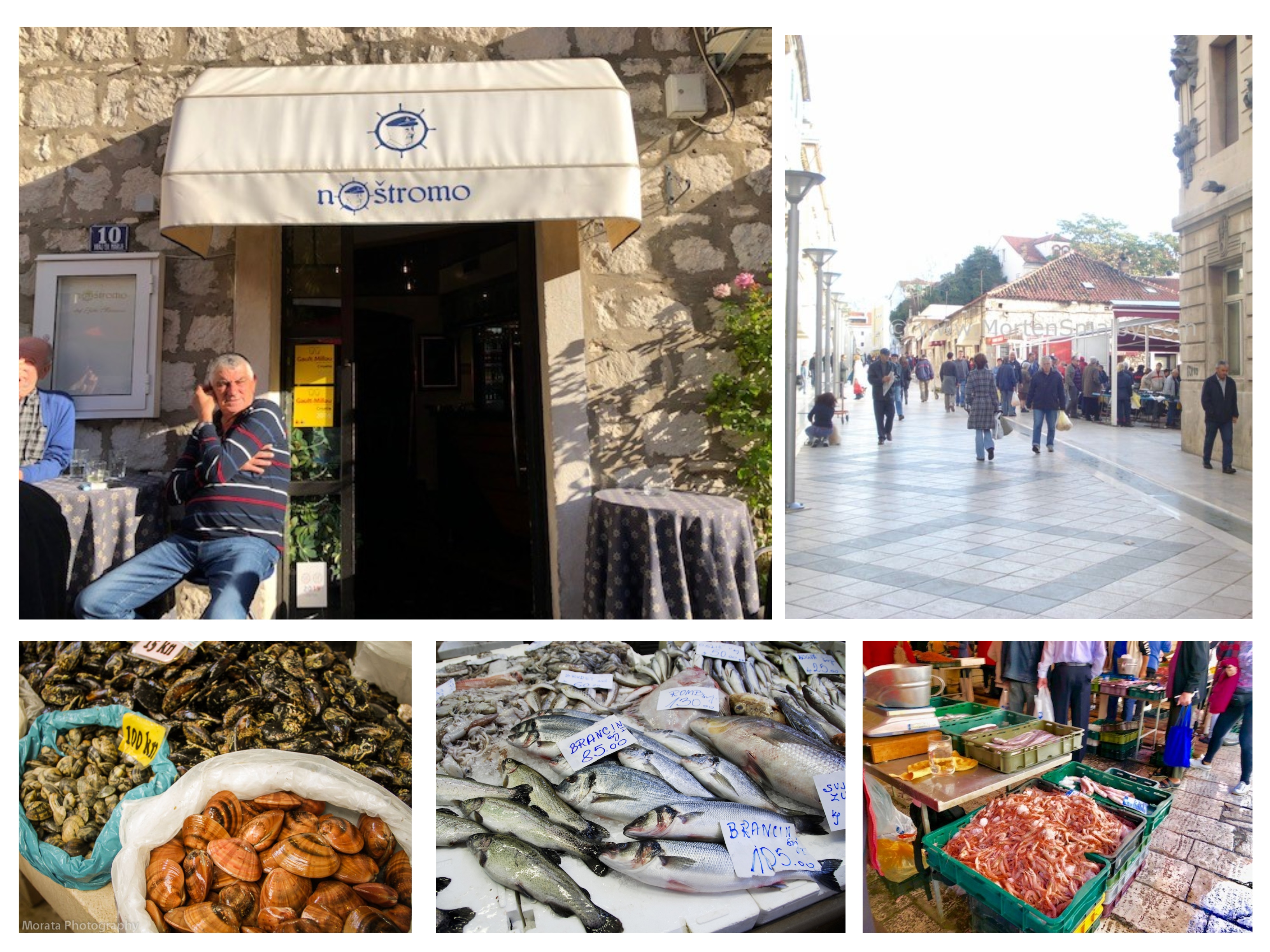 The Statue of Grgur Ninski (Gregory of Nin)
This 28-foot statue was erected in 1929 to commemorate the 1000th anniversary of this medieval bishops' opposition against the official ruling of the Roman Catholic Church.
The statue was sculpted by the renowned Ivan Mestrovic and is now one of the busiest tourist sites in Split…The reason?  In local folklore good luck follows those that kiss or rub the left big toe of the statue.  As you can imagine, it's a little worn down but make sure you have a go and good luck!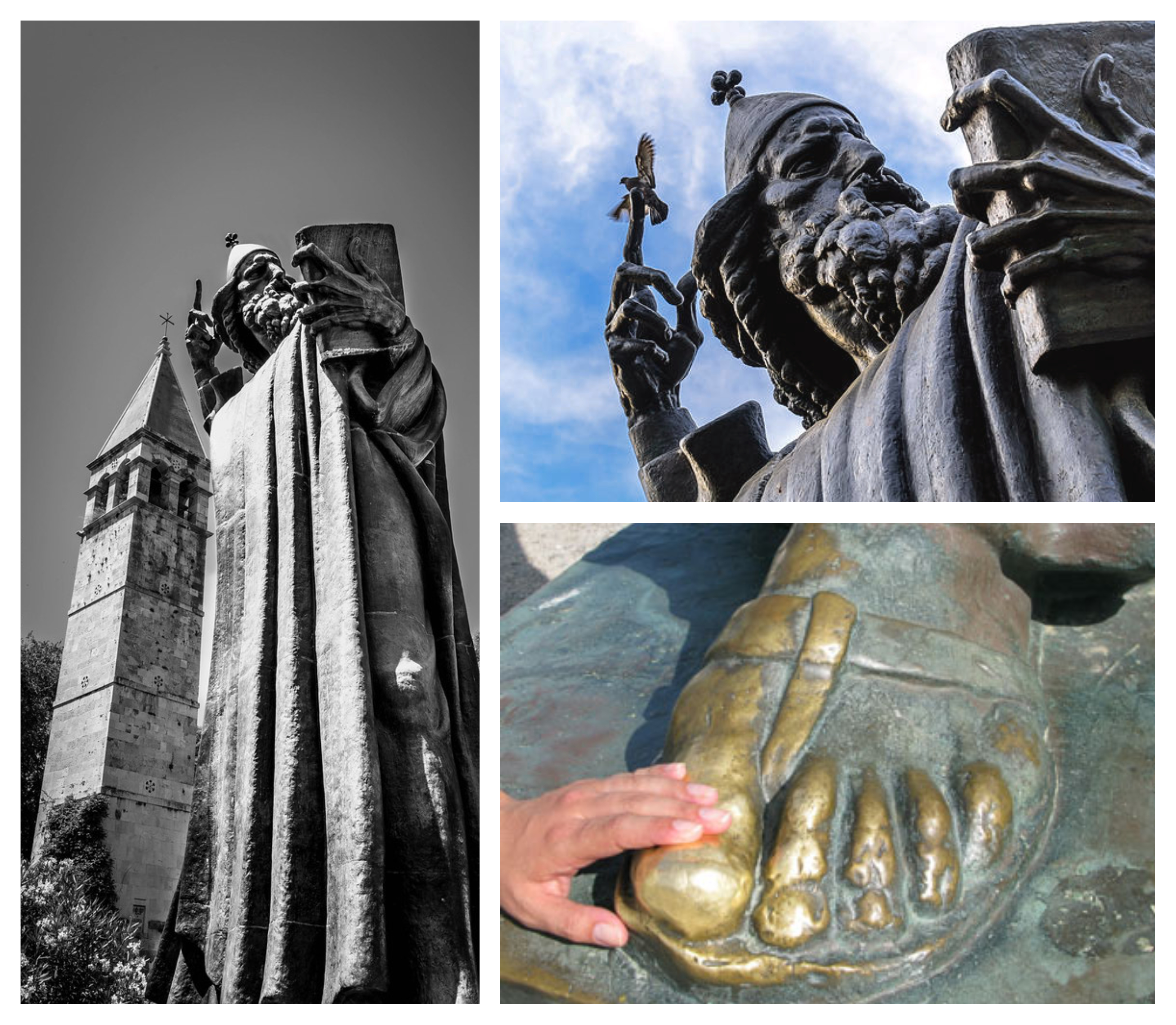 The Riva
Between the southern wall of Diocletian's Palace and the harbour lies the Riva, Split's buzzing go-to promenade.  Lined with palm-trees, shops and cafes, this is a prime spot for people-watching, gazing at the sea and soaking up the atmosphere and architecture.

Bacvice Beach
About a 1km walk from the main bus station, across the bridge, you'll find Bacvice beach. It's a popular and busy city beach, vast and sandy, with shallow water that's made for paddling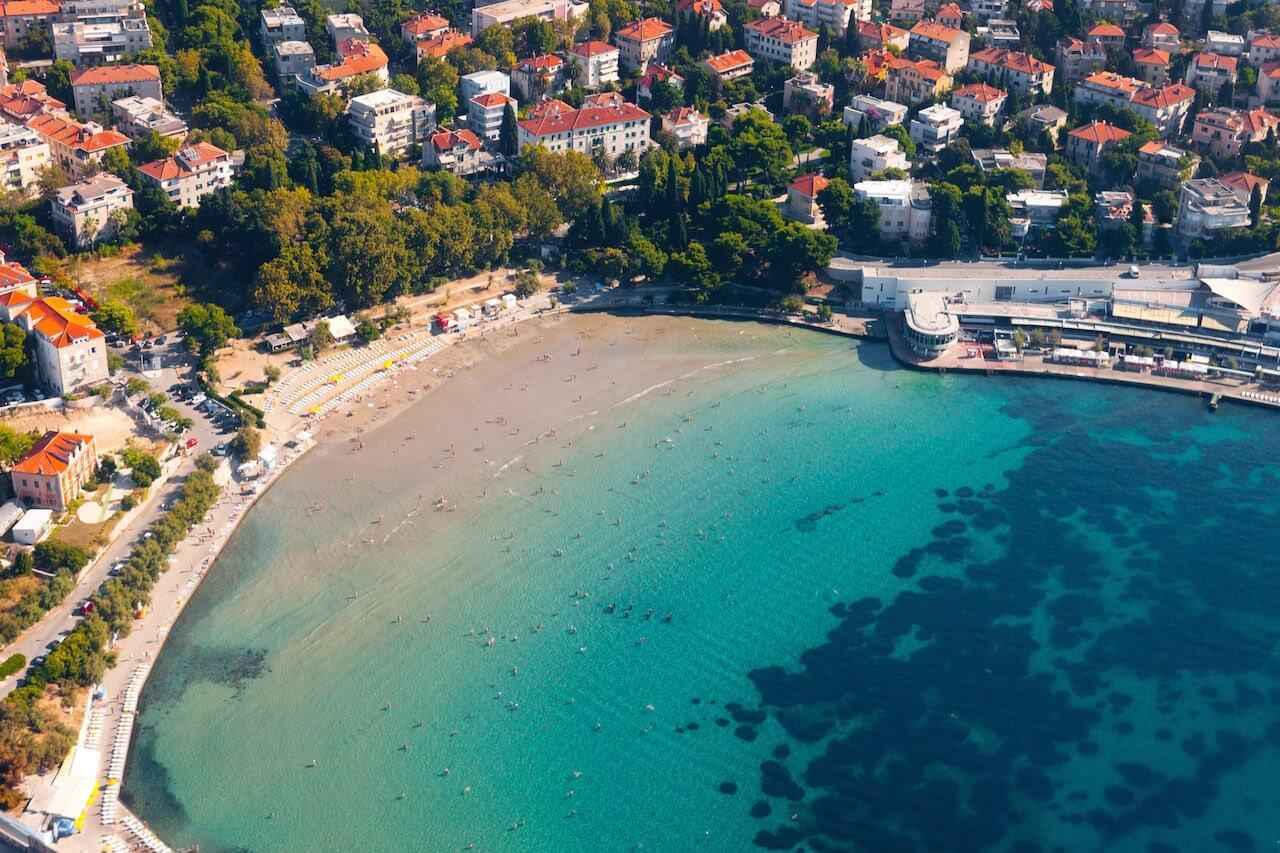 AND JUST BEYOND SPLIT…
Kastela Villages
Just outside Split lies Kastela.  In administrative terms Kastela is seen as one city of around 40,000 inhabitants but in fact it's an interesting collection of seven little harbour towns dotted along 17 kms of coast toward the town of Trogir.
Each of these towns were built around their own castle (hence the name).  Nearest to Split is Kastel Sucurac, followed by Kastel Gomilica, Kastel Kambelovac, Kastel Luksic, Kastel Stari, Kastel Novi and finally Kastel Stafilic.
Perfect for beach hopping, there's also excellent marinas and plenty of places to eat plus a buzzing nightlife.
Fort Kastilac served as a set for Game of Thrones and fans can take a tour to learn more about how the location lent itself to the TV series.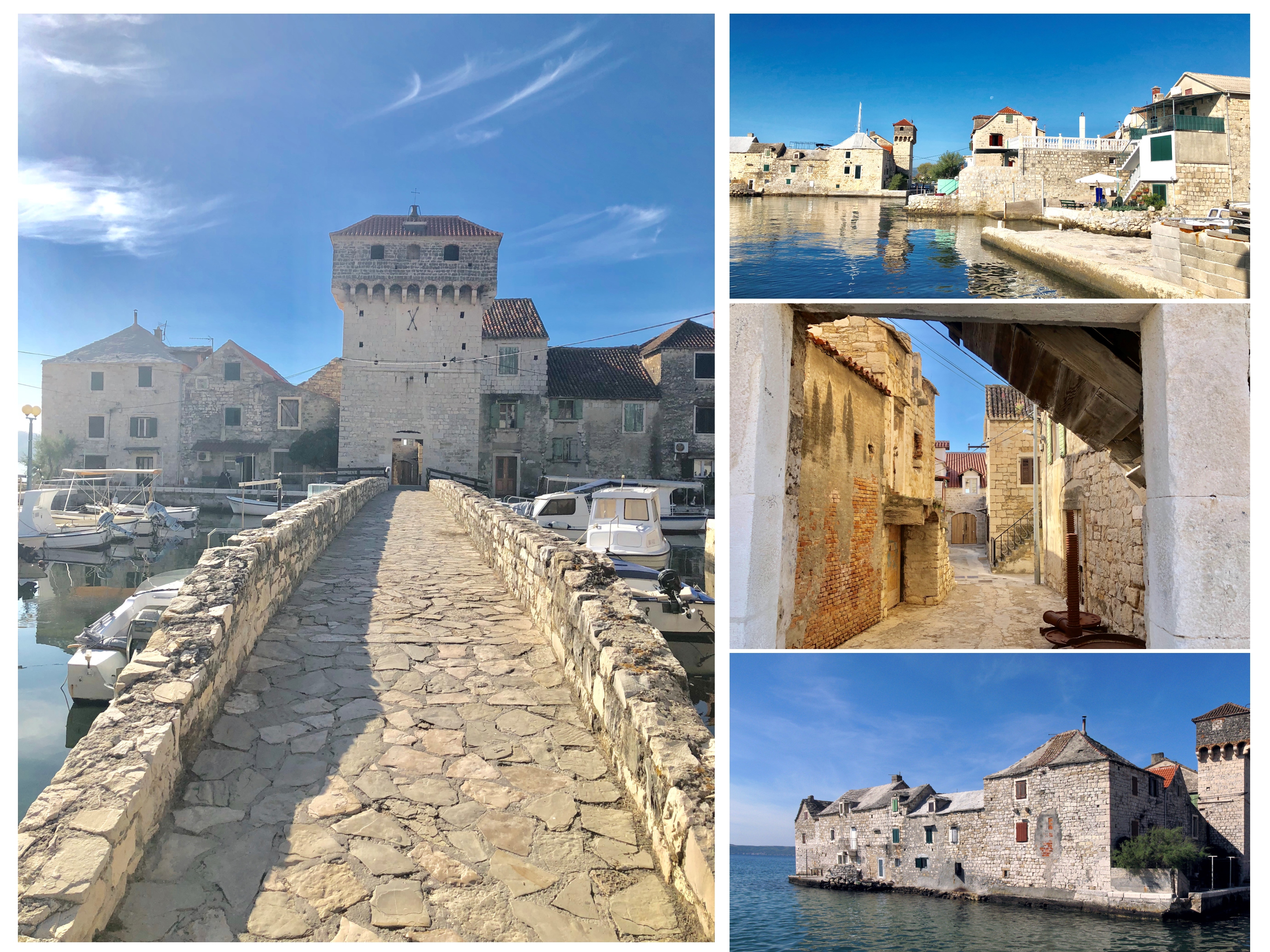 Rafting and Canyoning in Cetina
For those craving an adrenaline rush, take a drive (approximately an hour) from Split to Cetina River for canyoning and rafting.  This is a highly popular activity for locals and tourists alike.
After you've received a safety brief, experienced guides will take you abseiling down a cliff into the river.  The tour is not just about canyoning but offers a mix of cliff jumping, rope lowering, hiking and swimming.
For a change of pace you can jump in a raft and tear down the river.  The trip is three hours and combines calm and relaxing waters with third-grade rapids.
If you are looking for a Croatian villa that has activities on site or nearby take a look at these villas here.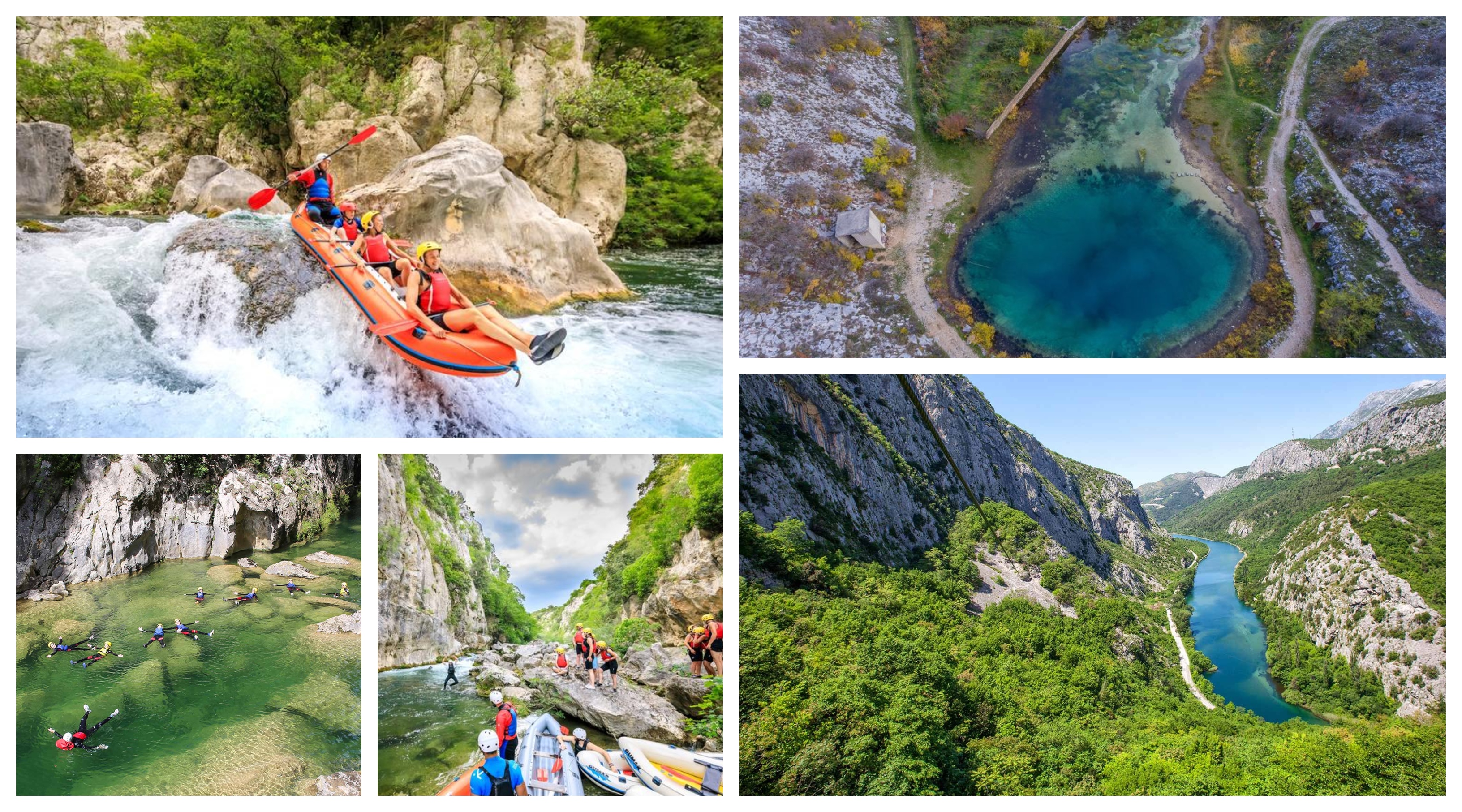 Trogir
Located less than 30km from Split, approximately 40 minutes drive, is the medieval town of Trogir.  The beautiful collection of Romanesque and Renaissance buildings earned the town UNESCO World Heritage status in1997.
The town is a real little gem and made for strolling around.  Must-see landmarks including the Cipiko Palace, while those who like heights can climb the 15th century Kamerlango fortress which offers great views over the town.  For a those with a bigger head for heights, try the view from the Trogir bell tower in the centre of town.
Trogir market opens early (7am).  The majority of the market sells fruits and vegetables but there's also  a variety of baked goods, cheese, olive oil, local wine, honey, jams, clothes and souvenirs.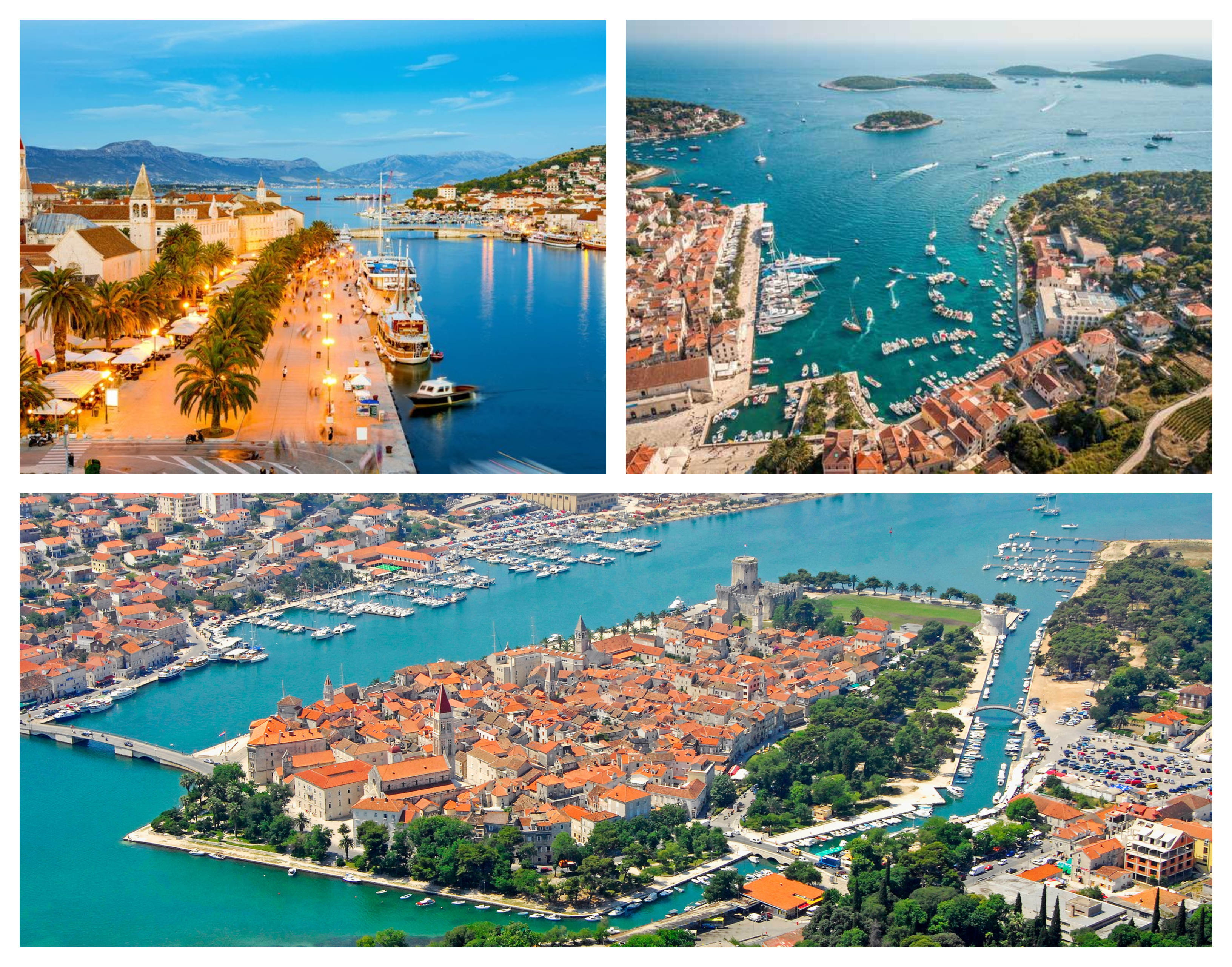 Split extra! Check out these bars and cafes…
Uje Oil Bar…the first dedicated Croatian olive oil bar
La Bodega… has an extensive list of great wines…
Luka ice cream… flavours include peach pie, lavender, fig and Ferrero Rocher!
Nostromo restaurant.. a haven for seafood lovers.
Luxor cafe…where a coffee come with a palatial backdrop..!
Vidilica Caffe…offers breathtaking views from the top of Marjan Hill…
---