THE AMAZING MAKARSKA RIVIERA

The amazing Makarska Riviera in the Central Dalmatia Region, Croatia
Croatians often remark that if you like long sweeping beaches, then the Makarska Riviera is the place to come. It's true, there are arc shaped beaches mainly with small pebbles fringed by pine trees and with the awesome Biokovo mountains behind. Here and there the occasional smaller cove and even a little sand can be found.
The Riviera is 38 miles long and runs from Brela in the north to Gradac in the south and Mount Biokovo is the highest point at 5770 ft. There are excellent hiking and biking trails into the Biokovo Nature Park for active types where unusual chamois goats and mouflon sheep are often spotted.
Some of the best white water rafting in Croatia is along the Cetina River from Omis, just 40 minutes drive north of Makarska. Watersports are great here and there are good boat trips and casual fish picnics which usually include stops on Hvar and on Brac.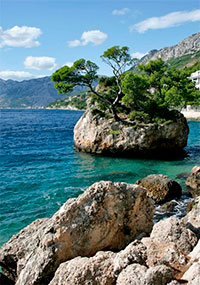 What makes Makarska Riviera resorts such as Makarska itself, Tucepi, Brela and Baska Voda stand out is that there is something of a real resort atmosphere going on ( think gentle entertainment, good bars and restaurants, not raves!). While some other places on the coast start to wind down in September, here everything stays alive through October.
The summers of the past two years have been exceptionally good with long sunny days and sea temperatures well into the 20's until late October. Often Makarska is the sunniest place on the Croatian coast!
This is a great location with transfers from Split airport in under two hours, if arriving from the island of Brac there is a direct ferry from Sumartin to Makarska that takes just 50 minutes and if you plan to add famous Dubrovnik to your holiday, then it's under a three hour drive along the glorious Adriatic coast road.
Taking a look at the four main places :
Makarska
In fact has two long, pine-fringed beaches, a pretty almost horseshow shaped harbour, pleasant wide pedestrianised promenade and a lovely walk along the seaside path to the St Peter lighthouse. Lovely central square with St Mark's church at the centre and an excellent fresh market including fish and meat. This is the one with the most buzz. Some good seaside bistros and a moored old boat in the centre selling fresh fish and chips and a glass of wine (taken on deck) for around £8.
Tucepi
Has a pretty pebble beach and a small marina with plenty of boat trips. You can actually walk along a marked path between Makarska and Tucepi (avoid during mid-day heat)
Brela
Has a laid back feel, some nice waterfront bars and the Punta Rata beach which is excellent for children as it is very shallow.
Baska Voda
Actually joins Brela and has some rather cool beach bars complete with hammocks and baldachin- wooden lounging areas. The Nikolana white pebble beach here is a Blue Flag beach.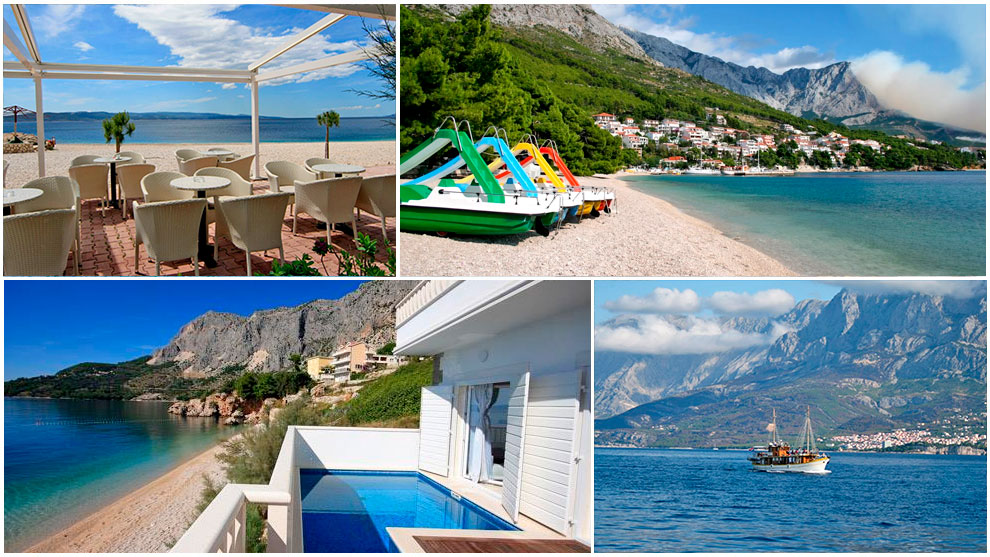 A few surprises:
Rugby is not a big deal in Croatia (this is a soccer nation) but the best rugby team hails from Makarska
Nugal Beach is three kilometres from Makarska and on a marked trail accessed near the hotel Osejava. A hidden spot that is famous for nude bathing and rocks streaked an amazing scarlet at sunset.
Restaurant Jeny just 10 kilometres from the centre of Makarska and Tucepi is one of Croatia's best fine dining restaurant and is a constant award winner. Try the five-course food and wine pairing menu. Booking is essential.
The hamlet of Kotisina just a few kilometres inland from Makarska has a small yet lovely botanical garden there.
Klapa – this is the famous a capella singing by groups of men. Originating in the Dalmatia region, this is one of the best places to see and hear it. Special concerts and often informal unannounced performances in local bars.
The oil painting with the Dalmatian dog is in the monastery at Zaostrog. Unsigned but dated 1724 and thought to be the work of one of the resident monks, the painting depicts the Last Supper with a spotted Dalmatian sitting at the feet of Jesus Christ.
---