CROATIA IN DECEMBER – ADVENT AND CHRISTMAS FAIRS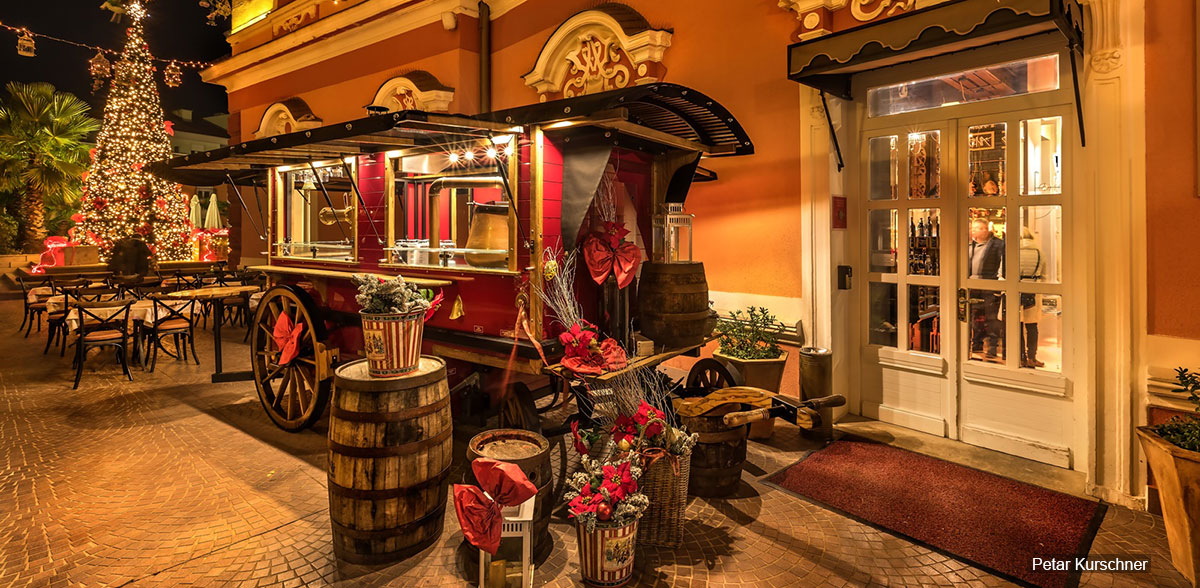 The glorious Croatian coast is world famous yet,
in recent years, there's been some new interesting activity taking place in the run-up to Christmas. Take a look:-
AWARD WINNING ZAGREB
The Croatian capital has been voted "Best Christmas Market" twice in a row, in 2015 and 2016. Zagreb was voted number 1 for the past two years by visitors in an online poll for European Best Destinations. Will Zagreb be a third time winner this festive season?
It's a massive challenge but Zagreb may just pull it off! Even five years ago, few would have thought of the Croatian capital as a place to spend Advent and, more specifically, with a Christmas Fair to rival those of longer established European cities.
Each year, more and more visitors choose Zagreb for a few days break in the run-up to Christmas and into the New Year; locals participate in their city's festivities too. The city centre is compact, easy to get around and there's something happening almost at every turn! It all starts on 1 December when the first Advent candle is lit on the main Ban Jelacic Square.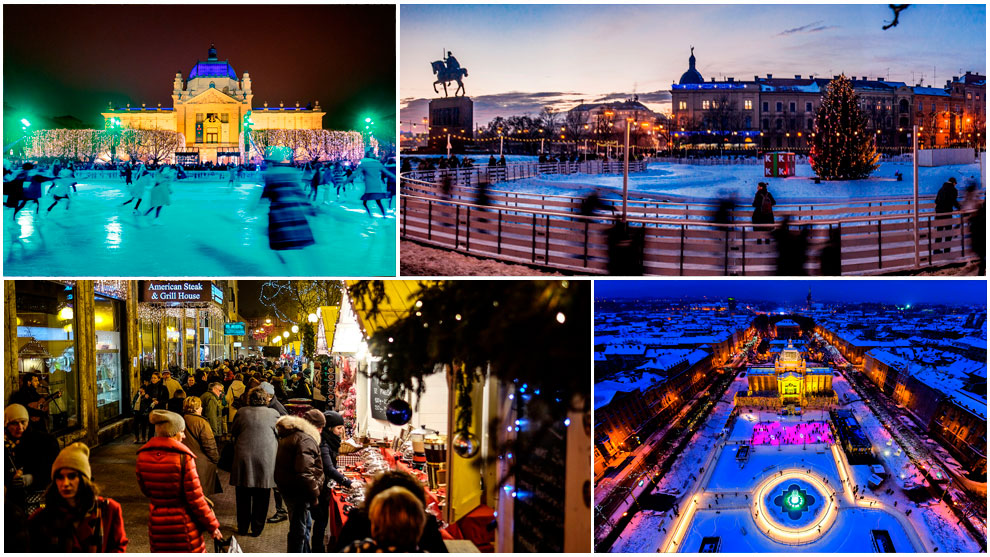 The winter wonderland continues with the city's famous Gric Tunnel as it becomes a deep silver fir forest, with 3D and endless special effects (including "snow") turning the place into a magical, seasonal corridor. Advent on European Square is in the very heart of the city with a Christmas decorations market, seasonal food and drinks, evening musical events including a choir singing after midnight mass – and even a short film festival. Advent on the main square boasts a huge open-air stage hosting music and art events including concerts for adults and children. The Advent House serving home-made food and drinks is open until 10 January at Ban Jelacic Square.
Advent on Zrinjevac, part of Zagreb's famous "green horseshoe" with its park of plane trees, is transformed into a classic Christmas scene. Magical lights illuminate fountains and the old music pavilion sparkles as the stage for live music every evening and during the day at weekends. Rich musical programmes include classical music and waltzes, and traditional seasonal food and drinks make this a continuing fairy tale! The Upper Town offers works from local artists and surprising Ice Sculptures. The Advent Path is a great way to explore Zagreb – using your smartphone, the ZagrebBeThere app offers a walking path covering all the highlights of Advent in Zagreb. You can also try 6 other paths: classic, space, new, arty, indie, hidden.
Fooling around is a funky, innovative gastronomic event this year in Tomiceva & Kurelceva Streets near the funicular.
(fly direct to Zagreb)
OPATIJA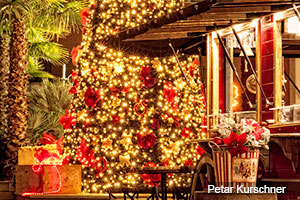 Just an easy two hour drive from Zagreb, Opatija started out as winter holiday resort so there is often more going on here in winter than elsewhere on the coast. Advent and Christmas Fairs start on 1 December with special street decorations, an outdoor ice rink located by Angiolina Park, special concerts and the famous Chocolate Festival from 1-3 December featuring chocolate creations perfect for the Festive season (amazing, edible chocolate Christmas trees of varying sizes), including tastings. Mulled wine and seasonal foods are available from wooden huts. Opatija also holds a New Year's Eve concert and fireworks at midnight.
(fly direct to Trieste- 1.5 hours transfer, Zagreb and Ljubljana direct – around 2 hours transfer)
DUBROVNIK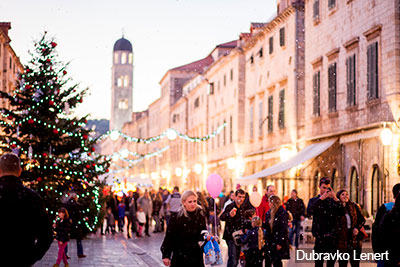 Advent in the walled city starts when the first Advent Candle is lit on 2 December and the Dubrovnik Winter Festival runs until 8 January. Christmas Fair lights up on the famous Stradun street, where you can find an open air ice rink, carol concerts and festive stalls. Gibonni performs live in concert on 2 December and there's a special performance of Dubrovnik Symphony Orchestra on 22 December. New Year's Eve fireworks can be seen over the old city. New Year's Eve is party time on Stradun with famous performers including Dino Merlin and Songkillers. On New Year's Day, locals and visitors get moving on the traditional 10 kilometre run.
SPLIT
The fabulous wide Riva (seafront) is filled with twinkling lights from early December and wooden stalls sell Christmas decorations, gifts (many hand crafted) and seasonal food and drink. With a nod to it's "big city by the sea" status, there are big open stages and some great live bands playing every evening. The main square takes on a frosted hue with more stalls and more traditional musical events. New Year's Eve fireworks on the shoreline and concert.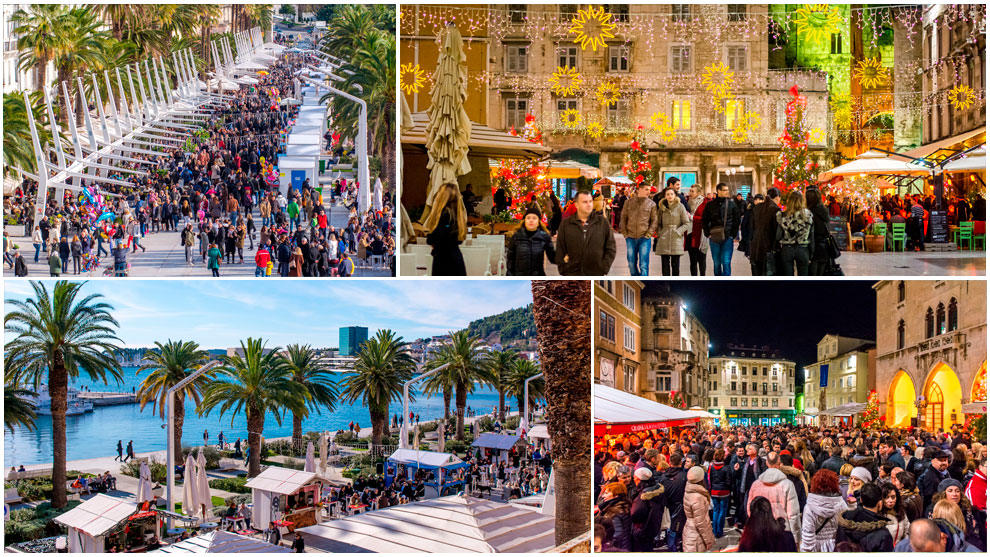 Tourist Board of Split
(fly to Split via Zagreb)
TROGIR
December 2017 is first time out for Advent for Trogir. Just 30 minutes north of Split, the pretty walled city will sparkle among dazzling white fairy lights on the squares and towers. Cathedral square will have seasonal gifts (again many hand crafted), Carol songs and an extensive gastronomic offering is promised featuring local foods and drink with a festive twist, and a New Year's Eve concert at midnight completes Christmas in Trogir.
(fly to Split via Zagreb)
ZADAR


The famous defense walls (which gained UNESCO heritage status in July 2017) will light up from 2 December and the Christmas spirit will spread across five venues including main Petar Zoranic Square where there will be an open air ice rinks, festival wooden stalls and concerts. Bars in Zadar are promising some special "festive happy hours" featuring seasonal drinks.
(fly to Zadar via Zagreb)
Last year there were many days of winter sun on the coast and Zagreb had a light flutter of snow just in time for a gentle White Christmas. See a different side of Croatia this December.
---