Driving to Croatia from Mainland Europe – Navigational Tips

Travelling to Croatia from other European mainland countries such as Slovenia, Czech Republic, Hungary, Italy, Slovakia, Serbia, Romania, Belgium, France, Netherlands, Switzerland, Austria, Poland and Ukraine in your own car is one of the main transportation choices for guests arriving into the country for a holiday. In recent years the motorway system has been seriously upgraded and Croatian motorways are well maintained with all the services you would expect from an EU country. There is a pay toll system in place and charges are slightly lower than in other parts of Mediterranean Europe.The three main motorways that bring visitors to the coast and islands from the borders are:
A1 – Zagreb – Vrgorac
The longest motorway in Croatia running from Zagreb, the capital to Vrgorac near Ploce. Vrgorac is located south of Makarska from where it is another some 130 kilometres to Dubrovnik along the scenic coastal road. Work is in progress to complete the section as far as Dubrovnik, further developments are expected in the next few years. It is possible to reach Split in around four hours from Zagreb (depending on season and traffic) where visitors can continue their journey to the stunning resorts and islands of Dalmatia.
A6 – Zagreb – Rijeka
The motorway from Zagreb to Rijeka and the Kvarner coast is the closest part of the Adriatic to the capital. If you're short of time and want to experience both Zagreb and the seaside, consider Opatija which can sometimes be reached in under two hours outside of peak season. Krk island is also a close seaside location to Zagreb and visitors heading here simply turn off across the road bridge which is located about 20 minutes drive after the last motorway toll.
A8 – Rijeka – Pula
Runs from Rijeka to Pula in the south western tip of the heart shaped peninsula of Istria. Locals refer to this as "ipsilon" or the Y motorway because of its shape. There are easy turn offs for all of the famous Istrian coastal spots including Novigrad, Porec, Rovinj, Vrsar, Rabac, Fazana. It doesn't matter where you stay in Istria as the A8 allows visitors to this region to get around very easily to visit the main areas of interest and the beaches.
Ferries
With a coastline as indented as Croatia's and over 1,000 islands, a country must have a good ferry system. Croatia has a strong maritime history and tradition; most International cruise ships employ either Croatian or Norwegian senior officers among the crew; probably on the grounds that if you can navigate these coastlines, you must be good! Croatia operates a ferry service similar to the one in Greece and it is easy to travel on ferries with your car. Some routes can be pre-booked on the internet. Others require ticket purchase at a booth close to the quay (or at local travel agencies if you happen to pass one a day or so earlier). The main ferry company is the nationally owned www.jadrolinija.hr. In summer there are regular departures and in high season many routes operate like a shuttle on demand (beyond the published timetable) so waiting is kept to a minimum. Ferries have plenty of seating and most have a cafe-bar and lounge even on short crossings. Views from the deck of a ferry are fabulous. One of the most popular routes is from Split to Supetar on the island of Brac which is reached in just 50 minutes. The farthest island away from the coast is Vis which is a couple of hours cruise from Split.
Ferry tip: When you arrive at the ferry terminal, park your car in the ferry queue for your chosen destination, then go and purchase your ferry tickets from the ticket booth/office. Don't do it the other way round i.e purchase the ferry tickets first and then park your car in the ferry queue. By parking your car in the queue you will assure your place in the line. If you arrive early at the ferry departure point, park your car in the ferry queue, purchase your ticket and go and have a wander/coffee until nearer to your ferry departure time. Boarding is around half an hour before departure so make sure you are back by then.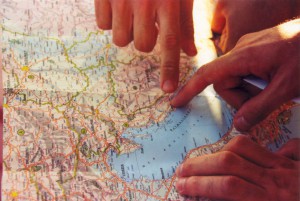 Off the beaten track
Even though you may choose one base for your holiday in Croatia, with a car you can explore some of the unusual places that you would never reach without one. On the island of Cres, the stunning hilltop village of Beli has just 26 or so permanent inhabitants and well worth a visit. Near the Neretva Delta a car makes a visit to the Roman ruins in Narona possible – this is one of the Roman sites often omitted from guide books and websites in favour of the better known ones such as Split, Zadar, Salona, Brijuni and Pula. In Istria, the award winning olive oil maker Chiavalon near Vodnjan and the "vampire" hamlet in Kringa are worth a stop and easily reached by car.
---