The beauty spot near famous Dubrovnik and a touch more laid back!
This incredibly lovely little waterfront spot is just 15 kilometres (9 miles) south of Dubrovnik and yet many visitors say that Cavtat feels like a different world. There's a pretty, long, arc-shaped seaside promenade lined with palm trees. Some people (including the journalist Martin Bell OBE) say that it reminds them of a mini Saint Tropez without the hype!
Founded in the 4th Century BC by the Greeks as Epidaurus, the Romans took it over in the 2th Century BC. Some historians claim that Dubrovnik would never have been founded had it not been for Cavtat.
Some of the highlights:

People watching
A wide choice of cafe-bars on the seafront means you can spend hours watching the comings and goings of passengers on board super yachts (and smaller craft too).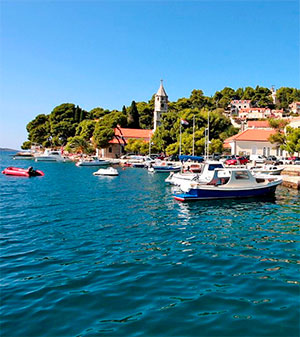 Connections to the Pearl of the Adriatic
Staying in or near Cavtat means an escape from the crowds in Dubrovnik and yet it is incredibly easy to reach. Take the regular bus for a journey that takes about 30 minutes. Much nicer though are the water-taxis that leave from the quayside (boards show departure times) with a journey time of approx 45 minutes across the blue Adriatic delivering you to the very centre of old town Dubrovnik.
Some boats also stop at Mlini with its old watermill and Srebreno – both have narrow yet lovely pebble beaches.
The House of Vlaho Bukovac
VB was one of Croatia's most famous modernist artists – he was born in Cavtat in 1855 and died there in 1922. An amazing bronze statue of him is on the waterfront close to Restaurant Leut and his house is now a little museum exhibiting his works.
Home of Tino Pattiera
Another famous person from Cavtat, TP was an opera singer, a tenor, whom many likened to the famous Caruso. Amazing to think that he was born in Cavtat in 1890 then part of Austro-Hungarian Empire and when he died there in 1966, Cavtat was then located in the SFR of Yugoslavia. His home is now the hotel Villa Pattiera on the seafront which has an excellent restaurant.
Our Lady of the Snow church and monastery
Founded in 1484, the church is attached to the Franciscan monastery and is full of the works of Renaissance painters. Locals are very protective and proud of this little church and might ask visitors to "dress properly" if they feel that they are under-clothed!
Racic Family Mausoleum
Built in 1921 in Dalmatian white stone, this is the work of Croatia's best loved sculptor Ivan Mestrovic who was an associate of Rodin. Take a stroll up to the mausoleum for a fabulous view.
Bars and paths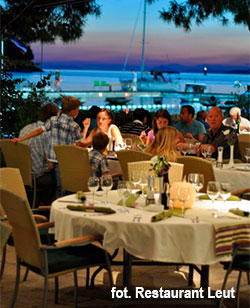 Lovely winding path which hugs the coast leads through small woods and up to the mausoleum. There's a great straw-hut bar on the way with superb cocktails. Most of the seafront bars are good too.
The essentials
Cavtat has a bakery, a post office, a chemist, a supermarket and a great fresh green market daily.
Some pretty little galleries in the tiny back streets selling works of arts and mirrors by local artists.
The most famous summer event..and into late October
Is the Cavtat Summer Festival which runs from mid June to late October when there are still warm, sunny days. For a small place this is an impressive festival featuring folkore, traditional Dalmatian a capella singing, Step 'n Jazz and even a performance of the opera "Aida" in the open air ( 30 July). A summer stage is the venue for most events.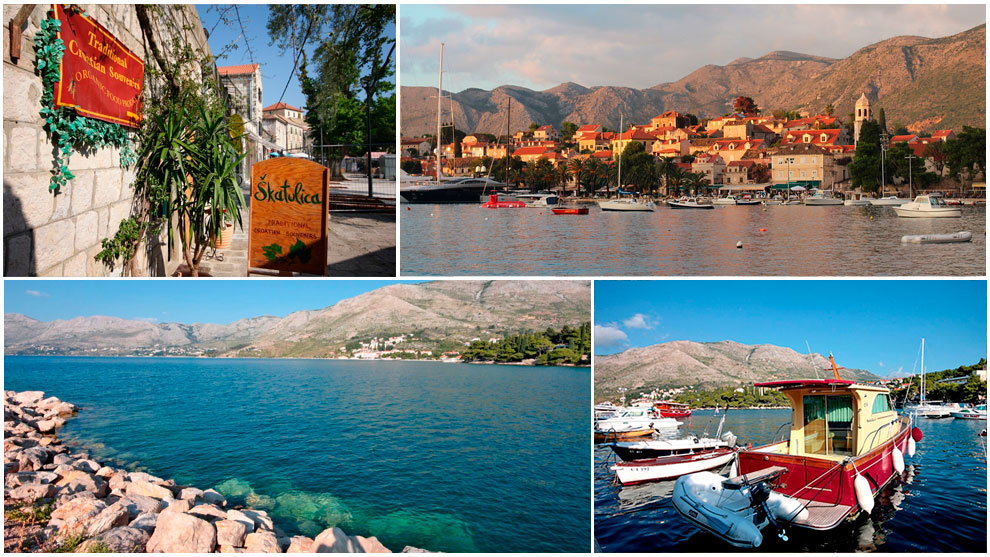 Kayaking, canoe tours and horse riding
Cavtat is a great place to experience the Adriatic from a canoe or kayak. Travel agencies advertise this and easy to do. Not far beyond Dubrovnik airport (around 10 minutes away) , a good riding stables offers horse riding on trails both inland and along the coast for some incredible sea vistas.
Supetar Island
Just a short ride by taxi boat (there are signs) from Cavtat seafront brings you to little Supetar island. The owner has provided a kind of "Robinson escape" experience by day with sunbeds on the grass and rocks and an excellent open lunch BBQ offer. This is a great place for swimming and snorkelling and there is a good collection of Roman amphorae on the seabed – quite shallow. Usually works from mid June to early September.
Konavle Valley
Is a stunning, fertile valley famous for traditional farming and heritage, plenty of fruit orchards, fish dishes from the river Lutija and even the reintroduction of the silk worm to maintain the rural silk making tradition.. You can take an excursion there and enjoy a traditional lunch or visit the small village of Cilipi on Sunday mornings to see traditional dancing, songs and music from Konavle.
And finally…. many locals talk about Cavtat during the attack on Dubrovnik in 1992. Cavtat was occupied for almost a year by the Serbian and Montenegrin forces and residents were under a curfew and yet it was not badly damaged (unlike Dubrovnik) – apart from ransacking of hotels. Rumours abound about the reasons. Was it a fluke? Was it a "deal". Yet another Balkan mystery.
Cavtat is a fabulous spot close to Dubrovnik and also to the border with Montenegro about 40 minutes' drive for a day "abroad".
---