The Istria region has always been famous for fabulous food and wine. Italians often make the short drive simply for a gourmet weekend break and the region has the highest number of award winning restaurants in Croatia. The country's first Michelin star restaurant is here in Rovinj. Monte won the award in Spring 2017 and if you are planning a visit, reserve in advance and it is fantastic.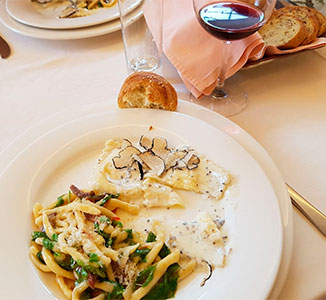 From Roman times, Istrian wine and olive oil were acclaimed. These also win awards. Decanter International's latest string of medals includes many Istrian wines (look out for Kozlovic, Cattunar Matosevic labels) and Flos Olei (the "Oscars of the olive oil world") has awarded many Istrian olive oils. One of our favourites is Chiavalon at Vodnjan near Fazana. The owner Sandy Chiavalon started making olive oil at the age of 15 in the family groves and the personalised tutored tastings here are well worth doing. Truffles add to the gourmet offering and both black and white ones are used in dishes and oils. Livade is the "truffle hub" with Zigante at the centre of it all. Giancarlo Zigante, with his dog Diana, found the biggest ever white truffle in the woods near Livade in November 1999 and is included in the Guinness Book of Records. From mid September till early November there is a whole festival in Buzet given over to the mighty truffle with workshops and events.
There's plenty of fine dining yet we love some of the simpler places too. Here's a selection of our favourites including both:
MENEGHETTI – STONE CHIC AND ROSEMARY SMOKE, BALE NEAR ROVINJ
A beautiful small hotel in local stone on what looks like a country estate. Meneghetti Restaurant attracts locals and visitors. Rustic chic inside and a beautiful terrace outdoors. Superb wines from their own vineyards and their own olive oil too. There are wine workshops and tutored tastings.
The menu uses local ingredients. Superb seafood pasta and an amazing steak treat crafted in rosemary smoke.


STARI GRAD – A LOCAL FAVOURITE IN PULA
Locals call this a "konoba" (simpler, usually family run restaurant) and yet the menu is long. Beamed interior, open fire and lovely canopied terrace. Superb pasta dishes and famous mussel and clam stew. The official name is Stari Grad 02.
MARTIN PESCADOR – WATERFRONT SECRET IN TRGET ON THE RASA BAY
Really off the beaten track, right on the waterfront by the fishing boats. Excellent fresh fish dishes and the perfect place to enjoy a lazy lunch. Their own Malvasia white wine is delicious.


ISTRIA'S GOURMET STORY
BATELINA – BLUE FISH ROYALTY, BANJOLE NEAR PULA-MEDULIN
Croatian restaurants tend to promote the prized white fish while the Skoko family (David is the chef and dad still goes fishing) think the "poorer" blue fish deserve attention. Using Adriatic Blue, mackerel, anchovy, sardine and more, the carpaccio starters and fish pate/mousses are incredibly good and the homemade pasta with crab or lobster will make you want to return. There is a menu but just go with the day's suggestions from the waiter. Cash only and reservations are essential. Really: if you arrive without one, you don't go in!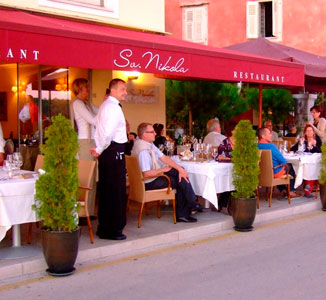 SVETI NIKOLA – A RATHER SPECIAL STARTER, IN POREC
Most people rave about the unusual fish panna cotta starter yet the extensive menu is excellent. The daily set menus are really good value, usually under £15 for three courses. Specialities include sole and seafood dishes. Named after the island that is just across the water. Outside terrace and inside dining.
MARKETS AND NIGHTS…….BEAR IN MIND TOO…
That all across Istria there are regular markets of Istrian produce for you to buy and enjoy. All along the coast there are regular "Fishermens Nights" parties on the waterfront where fresh local grilled fish including sardines and calamari are served on paper plates and great value. Usually lovely settings and live bands. Often on Friday evenings from June until September. Look out for local posters or check at the nearest tourist office.
Gourmet Istria has something for even the most demanding diner. World experts seem to agree.

---