Top things to do in Croatia's Gorgeous Northern Dalmatia Region
IS THIS ANOTHER OF CROATIA'S BEST-KEPT SECRETS?
With more flights from UK to Zadar, the North Dalmatia region around Zadar is beginning to welcome an increasing number of visitors from the UK. Less commercialised than further south, the coastline is pristine, there are some hidden treasures, Zadar itself gained UNESCO heritage status in 2017 (the ancient city walls) and four national parks are within easy reach – Plitvice, Paklenica and Krka by car and Kornati archipelago by boat. Let's take a look around: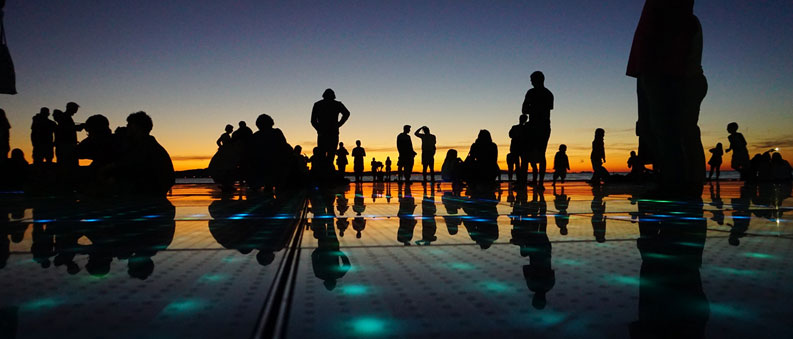 Zadar – Roman heritage and easy to explore on foot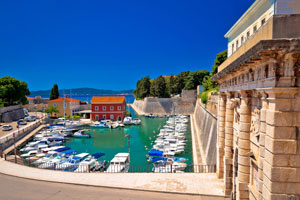 Historic ramparts, striking Kalelarga (main street) and Forum, testament to the Roman period together with contemporary installations Sea Organ and Greeting to the Sun (think sound and light – separately). During a short stay, film maker Alfred Hitchcock declared the sunsets of Zadar as some of the most beautiful in the world. Live concerts are often held during summer with some excellent jazz and blues gigs planned for 24-27 July. Two Zadar restaurants, Kaštel and Foša are commended and included in Michelin guide 2018.
Diklo is a part of Zadar with lovely pebble beaches, good sporting facilities and an easy coastal path walk.
Nin – unique location and mud!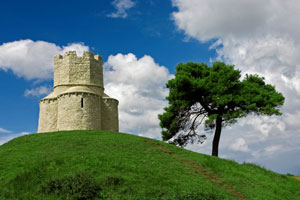 Just 20 minutes from Zadar, this is the oldest Croatian Royal town home to buildings with intricate stone carvings, two stone bridges and possibly the smallest cathedral in the world – St Nicholas. It's a unique place, a small island located in the middle of a shallow lagoon with the mostly sandy, famous three kilometre long Queens Beach, This distinct location creates Nin's other famous aspect: medicinal mud. Many people swear that an hour "resting" in this mud, later washed off by the Adriatic, results in improvement in joint, muscle and skin conditions. Salt too has been produced here for over 1,000 years and there's a festival to it, usually first Friday-Saturday in August each year.
Vir island – boats and concerts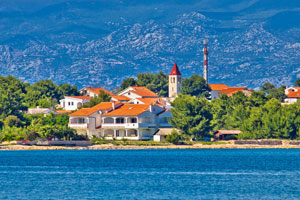 Around seven kilometres from Nin, "vir" means "whirlpool" in Croatian and the place has a strong sailing and boat crafting heritage. It actually is no longer an island as it has been connected by bridge to the mainland since 1976 (although locals still refer to it as an island). A wonderful series of casual, open-air concerts all summer until mid September under the banner "Virsko Ljeto" (Vir summer).
Privlaka – fish and sunsets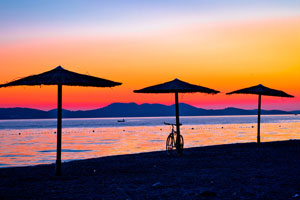 Situated on a flat peninsula surrounded by shallow sea on three sides, there's still an authentic fishing village atmosphere, with some excellent fish restaurants together with gourmet excursions arranged through local travel agencies. The beaches and sunsets are fabulous here too.
Kornati National Park – reefs and shepherds
An archipelago of over 120 tiny islands, reefs and rocks – very few of the islands are inhabited (sometimes resident sheep) with the occasional shepherd in attendance. Stark and with a haunting beauty, boat trips take you through this necklace of white rock and fragrant scrub. If you have the relevant maritime permit, you can hire a boat yourself for the day and visit. Don't be alarmed if you see people occasionally – a few cottages are rented out for visitors who want a true island escape experience.
Pag island – salt, birds and history
Croatia's fifth largest island and with the longest coastline, in recent years it has attracted Hollywood film location scouts. They've been attracted by the barren, moonlike landscape with deep, silver and black rock faces and cliffs, perfect to double as the Moon in movies! Lace making is an old tradition here originating from the time when men went to see for long periods and their women passed their time making lace items. Salt production here continues from way back and cheese and lamb here is prized for it's distinct slightly salty flavour. Try both at one of the island's best restaurants 'Na Tale' in Pag Town (also excellent fish). The best island wines are Gegic white and Burin red.

South West of Pag Town, Povljana is the place for bird lovers. There are over 120 species of wading birds in the marshes and although a protected area, there are excellent bicyle trails (bicycles can be hired in both Povljana and Pag Town). The town of Novalja is perhaps best known for the Hideout and Sonus music festivals (among others and strictly for the under 30's!) on Zrce Beach, yet there is a Roman aqueduct here known locally as the "Italian hole" and a cruise from Pag Bay brings you to caves and swimming spots near Caska, a spot now above the sunken Roman city of Cissa. Restaurant Boskinac, (a favourite of celebrity chef the late Anthony Bourdain) was commended and included in the Michelin guide 2018.
---