Rijeka – a new love affair

Written by Julia Berg
I fell in love with Croatia four years ago when a work conference took me to Split.  With a couple of colleagues we added on a week on the stunningly beautiful island of Brac where we rented a villa very close to the famous Zlatni Rat beach in Bol.
I'm a beach person rather than a pool one – as in a sand beach. To be honest, I was nervous that I wouldn't get on with the pebble and rock of Croatian beaches which were clearly mentioned on every website I consulted.
Fast forward eight holidays later and sand (and it getting everywhere) is truly a distant memory. Croatia is so very special for me that my partner and I take two holidays every year, usually in late May and mid September when the sea is gorgeous but the crowds are absent. Often we travel with friends and rent a stylish, spacious villa.
Over the years we've made some Croatian friends, mainly running restaurants and beach bars.
And so we ended up in the city of Rijeka in early October this year (2019). We had met Davor in his restaurant in Makarska, south of Split, and he told us about Croatia's third city far away in the Northern Adriatic, where he was born and where his parents still lived. I had never heard of it and really wasn't sure if I was interested in a city. Davor assured me that I would fall in love with the Kvarner Bay, her islands of Rab, Krk and Cres and the famous resort of Opatija. "Think South of France-lookalike" he boomed as we said our goodbyes in May.
Whether it is climate change, who knows, but we arrived in Rijeka on 8th October into glorious sunshine and a dazzling, sapphire blue Adriatic Sea. We opted for a villa for nine nights, just a few paces away from a former tiny fishing village called Volosko. We were three couples, all good friends who had enjoyed plenty of Croatian holidays.  Fabulous weather stayed with us for the whole holiday, only getting a little chilly in the evenings.
Our terrace and garden were huge, complete with a lovely pool, sun beds and a real gas barbeque.
Then I saw the ornate, iron gate down a few steps. Wow! This was our own private entrance to the famous lungomare promenade and a little pebble beach with nobody there. I was in heaven. I swam in the sea (which a local told me was still 21C and it was wonderful), I read endlessly and I took in the sun's rays.
Friends could not budge me for five days!
Just 15 minutes by bus from downtown Rijeka, it was finally time to visit Davor's city.
We did all Davor suggested and explored Trsat Castle, the National Theatre, the Art deco fish market and had lunch at Konoba Fiume right opposite the market.  The following evening we returned to hear some (excellent) live bands playing on Marina Botel, an old ferry that is now an informal hotel-restaurant-music venue moored in the port.  We saw posters everywhere proclaiming "Rijeka, 2020 European City of Culture" and I picked up a programme. It all sounded fabulous and the "ballet on the dock" caught my eye.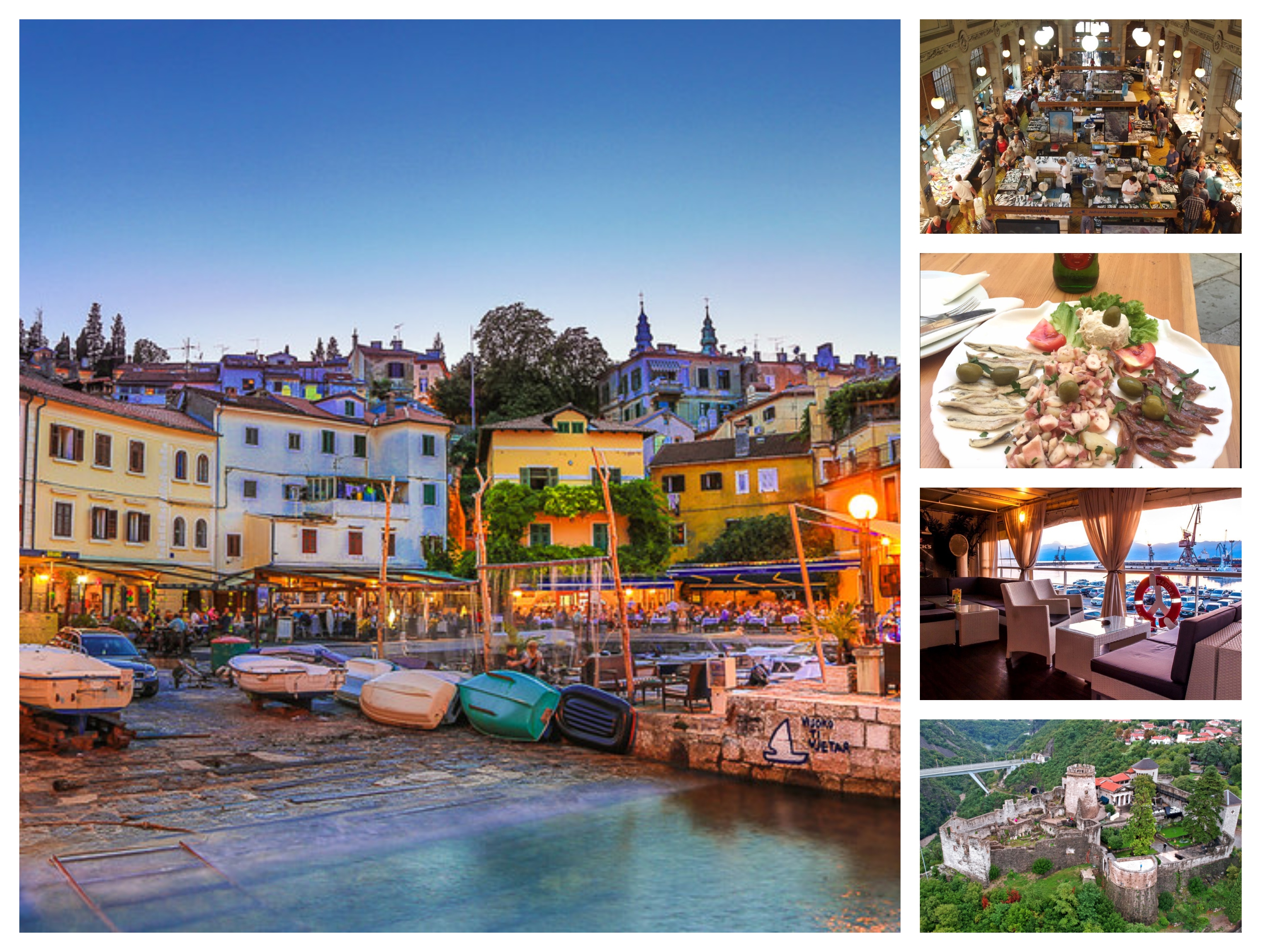 Over the next few days we visited Opatija and I confess it did indeed bear more than a passing resemblance to Nice, we had coffee and cake in the amazing cafes (a tradition brought by the Austrians), we ate delicious Kvarner bay scampi on the terrace of Najade Restaurant in Lovran and we took a day's boat trip around the islands.
The pretty little spot called Punat on the island of Krk really impressed and I'm already talking to my partner and the others about our 2020 holiday somewhere near there.
We had better make it June rather than because I want to see that dockside ballet performance and Krk is connected to the mainland by an awesome road bridge.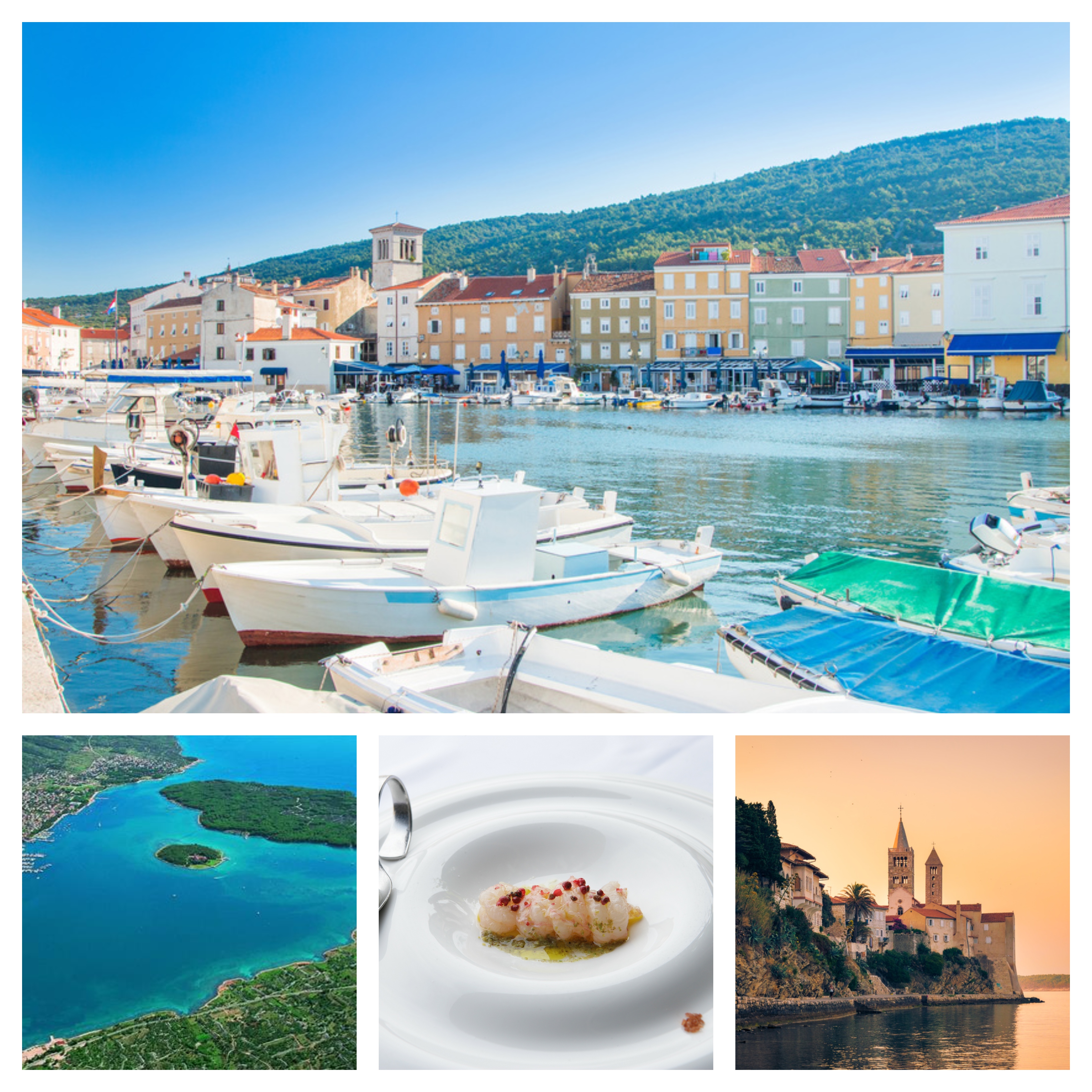 Rijeka was edgy, cool, historic and welcoming. 2020 should be fantastic and I found out that an opera ticket is just £15, so that is on the future "must-do" list too. When I tell Davor he will be delighted that we made it to his city!
Sometimes I think we should try somewhere else for holidays, but Croatia is so diverse that each holiday really feels different from the last.  It's a stunning, unspoilt country with a fantastic coastline, pristine sea and lovely inland hilltop villages. And the food and wine are great too!
Why interfere with the perfect love affair (happily, my partner and our friends seem to agree).
Special thanks to the Croatian National Tourist Board, Visit Brac and their photographers for consenting to the use of some of the images.
---