Secrets of the Kvarner Gulf, Croatia

SECRETS? …..DID YOU KNOW?
LONGEST LUNGOMARE IN CROATIA
Many places in Croatia have a lungomare (seaside promenade) and the one in Kvarner region is the longest. It is 12 kilometres from Volosko in the east to Lovran in the west, passing though Opatija, Ičići and Ika. Hugging the coast, passing pretty coves and stunning fin-de-siecle villas. Built in stages and started in 1889, completed in 1911. A fabulous walk. Not to be missed.
GOURMET KVARNER
It surprises many people that the Kvarner Region has some of the most acclaimed and award winning restaurants in Croatia (look out for Kvarner Gourmet or Kvarner Food plaques). Among the top fine dining restaurants are Kukuricu, Navis, Bevanda, Draga di Lovrana, Laurus, Plavi Podrum, Johnson, Štanger, Rivica on Krk, Barbat on Rab.
ISLANDS – SIZE MATTERS
Of Croatia's 1185 islands, the largest two are in the Kvarner Gulf: Krk and Cres and so is one of the smallest inhabited ones – Ilovik with around just 100 inhabitants with a circumference of around 15 kilometres and a surface area under 6 square kilometres.
A ROYAL WRONG TURN
During a stay in Opatija at famous Villa Amalia, The Romanian King Carol once became lost during his daily horse ride in the woods somewhere beneath Veprinac (probably in 1896, on his first stay in Opatija). He was furious and so, next morning he went to the district principal, Baron Arthur von Schmidt-Zabierow, and asked why the paths were not better maintained and marked. Zabierow confidentially (and cleverly) explained that there just wasn't money. Carol then gallantly produced a lot of money. It was well spent, the construction of the path was completed in 1901 and named "Carmen Sylva", the pseudonym his wife, Romanian Queen Elisabeth used when writing poetry. Visitors still walk it today.
RIJEKA 2020
The region's largest city, best known for it's Opera House, Trsat Castle, huge port and it's very own "leaning tower" is the European City of Culture 2020 status. Did you know that it also has a jazz café carved out of vaulted stone dug into an old wall (Caffe Jazz Tunel) and Croatia's first floating hotel..the Botel, once the ferry 'Marina' that plied between the islands and is now moored at the city wharf (excellent live bands most weekends and great deck for cocktails).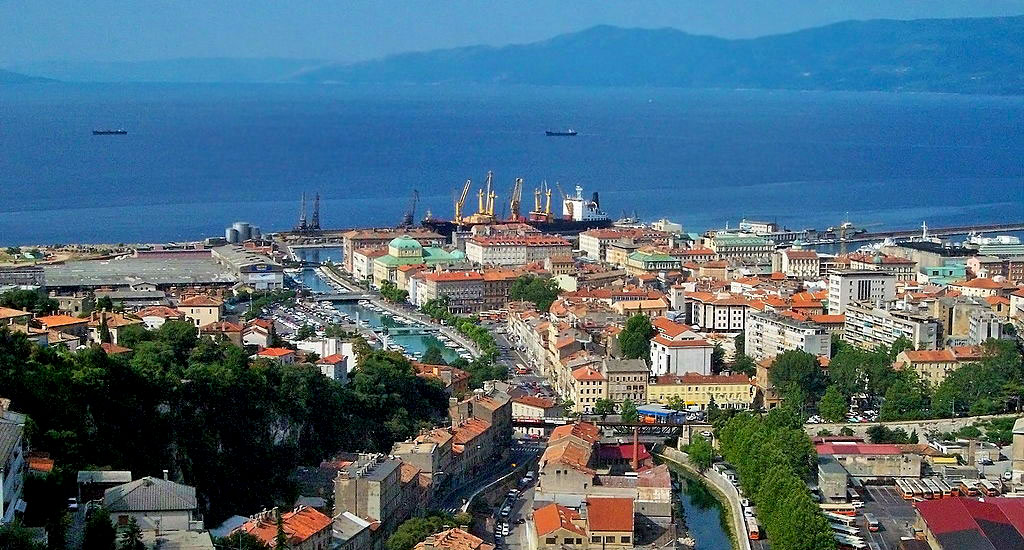 THE GREEK CONNECTION ON MALI LOSINJ
In 1999, a bronze statue of Greek athlete Apoxiomen was found on the seabed near Mali Lošinj. Completely restored, he returned "home" (after appearing in several exhibitions across Europe) to take pride of place in the new Apoxiomen museum which opened in Mali Lošinj in 2016. Housed in a historic maritime building on the waterfront, the story of the island's rich seafaring and marine history is also told alongside the famous Greek now resident in Kvarner.
SINGING THE BLUES
The most famous Blues festival in Croatia takes place in Kastav, up on the hill behind and between Opatija and Rijeka. Created in memory of "Philadelphia" Jerry Ricks, an American guru of traditional Country Blues, he chose Kastav as his final resting place. The 2017 10th Kastav Blues Festival runs from 5-7 August, opening with Big Steam from London. Rijeka also has cool Blues scene and both Brsec and Mošćenička Draga hold Blues Festivals in July, with concerts right on the waterfront.
BEAR WATCHING
There are few remaining places in Europe where this is possible. Up in the foothills of the majestic Gorski Kotar mountains, within the Risnjak National Park, visitors can watch for European brown bears which usually appear from early June (with cubs in tow). You need to be able to sit quietly for hours in a proper observation hut… and wait. A stay at the lodge at the National Park's base also provides numerous opportunities for walks and hikes among untouched Nature.
MISLETOE BRANDY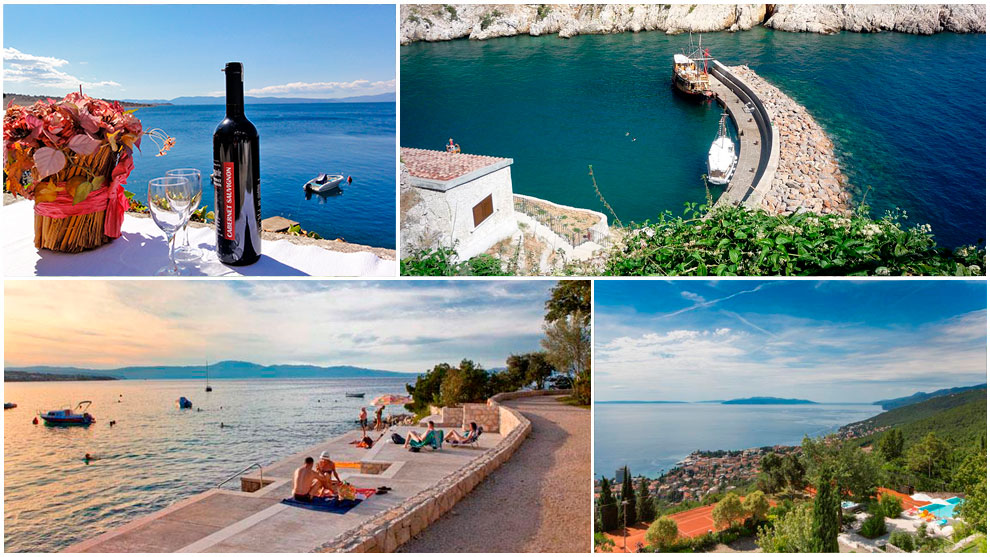 https://www.croatianvillas.com/wp-content/A great dinner party conversation stopper! In the hills of Kvarner region, many places make "biska" a distinct brandy or "grappa" made from mistletoe leaves (it is the berries that will kill you).
DOGS WELCOME!
Kvarner has many dog beaches which welcome dogs where they can enjoy swimming time with their owners or other dogs. Usually with fresh water supplies and showers for dogs, in 2016, Croatia's first doggy beach bar opened in Crikvenica. "Monty's Beach Bar" offers special canine relaxation areas, a doggy "beer" made of chicken and vegetables and "ice cream" made of soya milk and banana.
SPORTING HAVEN
From hiking, biking and horse riding in the hillside to diving, fishing, water sports, tennis, football, boat hire, there are activities and sports to suit everyone.
SEA CHAMPAGNE
This is made on the island of Krk from the crisp white Žlahtina from vast vineyards near Vrbnik. Local producers started making "champagne" from the sea in 2006 by lowering filled champagne bottles to a depth of 30 metres in steel chests. The semi-darkness, the peace and quiet and the higher pressure resulted in a superb sparkling wine named "Valomet". An added bonus is the beautiful coral and shell encrusted bottles as a result of months under the sea. For very special occasions!
"Croatia's best kept secret ?". Now you know of some of the secrets within the secret! So, did you know?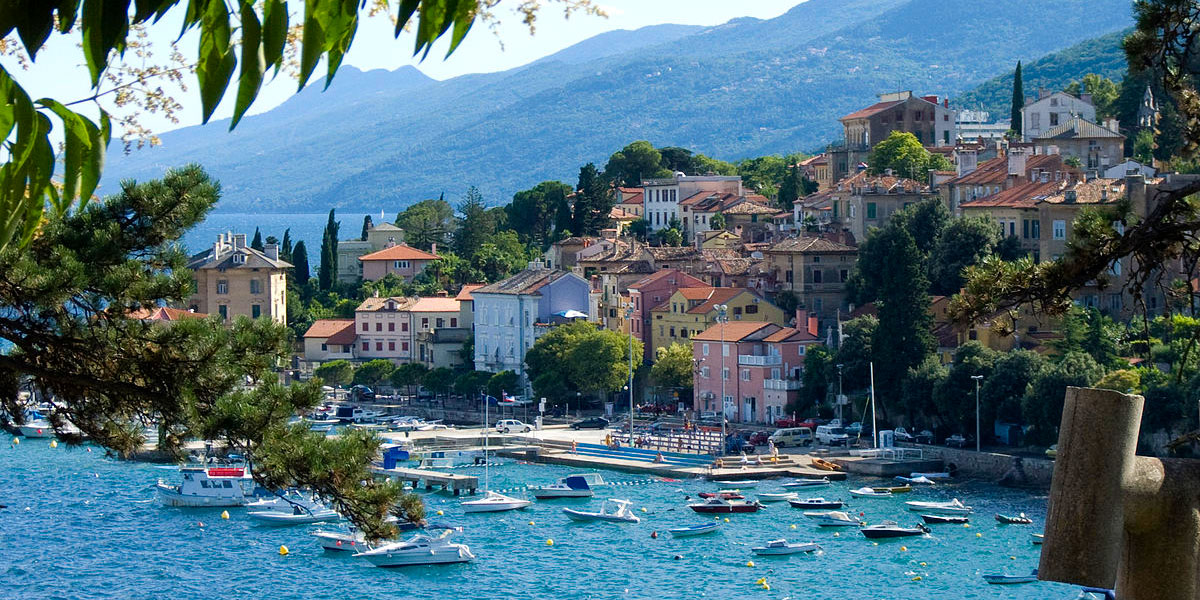 ---