CROATIA – WARM SUMMER NIGHTS AND ENTERTAINMENT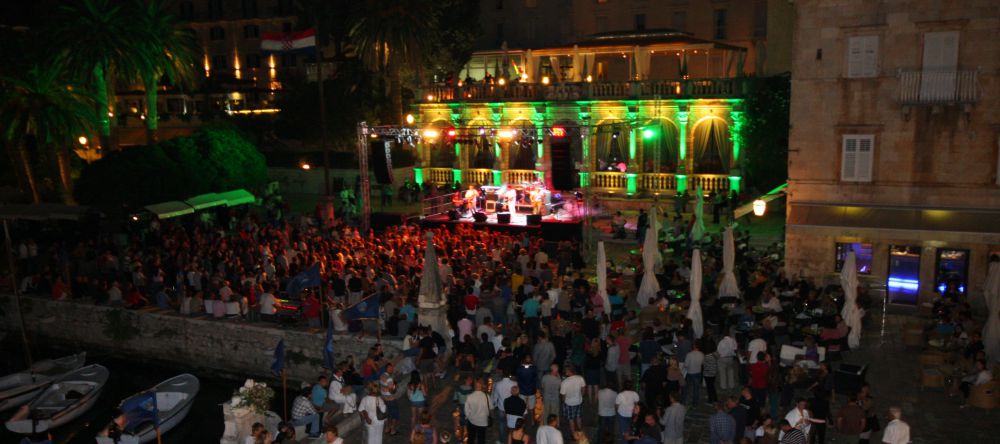 Croatia is a Mediterranean country with many traditions and festivals. Some may appear similar to those in other Mediterranean countries. Evening entertainment in Croatia is somewhat low key with emphasis on music of various genres. If you like wall to wall party bars and nightclubs then Croatia is possibly not the best place for you and there are few nightclubs with appeal to the over 35's.
There are exceptions of course and in Croatia, these are: Hvar Town on the island of Hvar where the Carpe Diem bar is legendary. Here cocktails and cool vibes transfer over to a small island (the bar's own boat) to the Carpe Diem club scene that continues until dawn – usually July and August. Over on the mainland, Split (Croatia's second city) has a good nightlife scene from mid June until late September including some huge outdoor music festivals for the under 30's. Further north on the unspoilt island of Pag, Zrce Beach is the place for three days of beach raves in late June. Elsewhere it's a different story. Take a look:
Salsa in Rovinj
A huge salsa extravaganza with performers, classes, workshops and top level teachers from all over the world. Usually late June/early July. Evening events include salsa beach parties and shows.
Jazz and Classics in Opatija
The Liburnia Jazz Festival happens over the first weekend in July every year. The fantastic outdoor theatre (surrounded by local stone and pine trees) hosts international and Croatian jazz musicians for evening concerts and there are Jazz breakfasts at several hotels, open to non residents. Opatija is also home to Festival Kvarner, a series of classical concerts with a twist featuring the revered "Purpur in Jeans" (classical musicians wearing jeans…this group has links to the Vienna Philharmonic orchestra). In 2017 dates are 18 September (featuring Imperial College London Symphony Orchestra), 22 September (P in jeans), 14 October and the sensational "Chocolate Concert" on 4 December when guests are given a box of hand made Austrian Zotter chocolates to complement the musical pieces.
Baroque Musical Festival on Korcula
From 3-17 September 2017 and featuring international and Croatian baroque ensembles, baroque guitar soloists with a special performance of Moreska, the local sword dance. This year, special guests from Great Britain are "Red Priest" who will be performing Handel in the Wind on 17 September.
Porec party time
From June until early September the new Porec Street Life Festival brings theatre, dance, street actors and music from Latin American to disco to classical…onto the very streets of Porec using some interesting spaces. The brand new Club Palazzo and casino opened on 1 July 2017 at the Grand Hotel Palazzo in Porec and will feature top live bands from the region.
Makarska bar scene
Without doubt, one of the busiest places on the coast with plenty of cocktail bars featuring top DJ's. Whatever your age, venture to "Deep" a unique bar built into an original sea cave.
The Blues in Kastav
This is the biggest blues festival in Croatia and takes place in the gorgeous hilltop village of Kastav above Opatija. The festival started in honour of the legendary country Blues "Philadelphia" Jerry Ricks who chose Kastav as his home until he passed away a few years ago. There are blues workshops and concerts at the fortress, in the town loggia and elsewhere.
BIG (Baska International Guitar) Festival on the island of Krk
Organised by Damir Halilic one of Croatia's most famous guitarists, there are performers from England, Scotland, Italy, Scandinavia as well as from Croatia. Guitar workshops during the day and performances in the evening both in Baska Town and in Jurandor.
Dubrovnik Late Summer Festival
From 28 August – 22 September in 2017, the Dubrovnik Symphony Orchestra has a series of concerts featuring the music of the world's greatest composers, in the stunning setting of the open air Rector's Palace.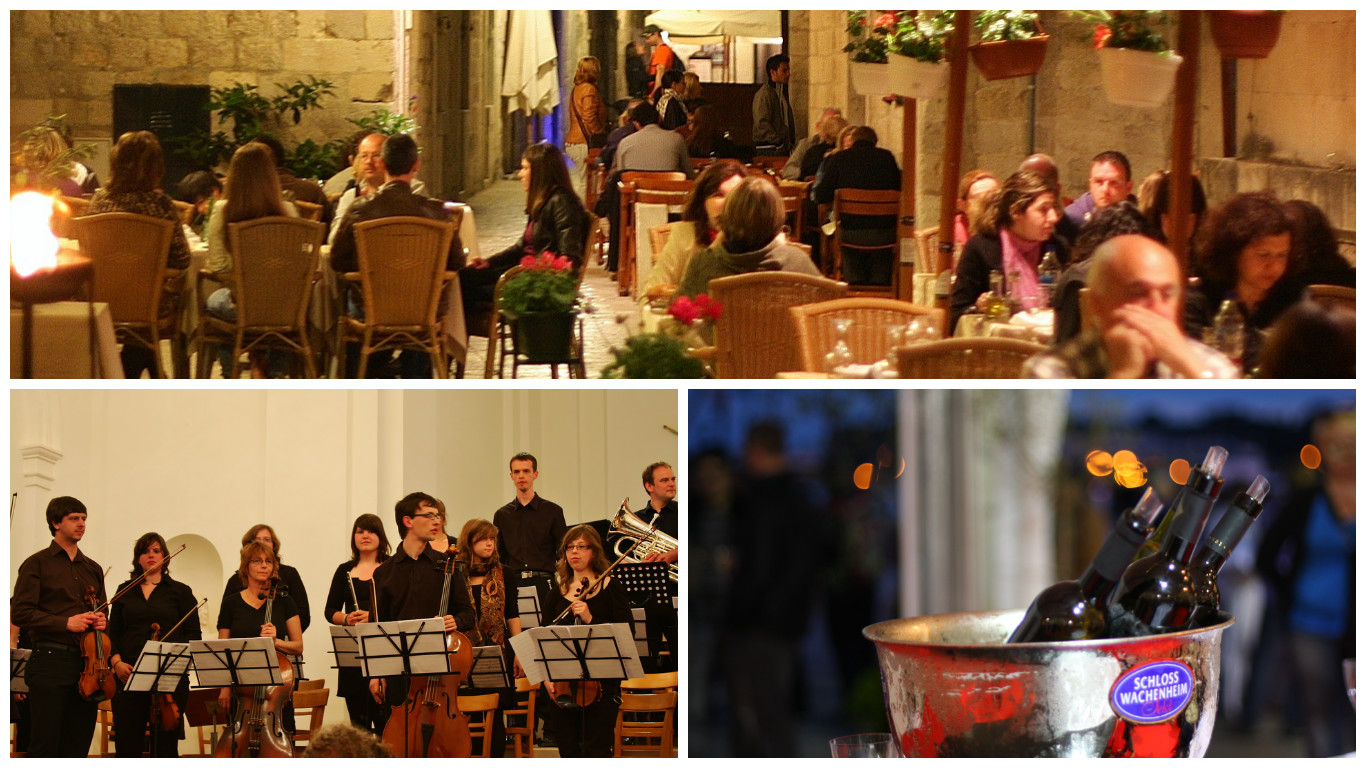 And….Fishermens Nights!
Almost every seaside village, town and resort has one of these. Traditionally they were fun gatherings for locals with a focus on the fish cooked by fishermen and served from little stalls plus local music. Now, they have developed and there is a wider choice of food stalls and usually some good local live bands playing everything from international hit covers to rock and jazz. Particularly good ones are in Tucepi, Moscenicka Draga, Lovran and on the island of Brac. Usually Friday nights in July and August.
---