Croatian islands uncovered!
A VINEYARD THAT WAS ONCE AN AIRFIELD… THE ORIGINS OF FINGERPRINTING…
A BEACH THAT CHANGES SHAPE… AND MORE
The islands of Vis, Hvar, Brac and Solta in the Dalmatia region of Croatia may all share the things that make a wonderful holiday – pretty coves and beaches, crystal clear sea, pine covered walking paths, wonderful seafood and excellent wine – and yet each island has a distinct personality with some quirky aspects too! Read on for things that the guide books may not mention…..
VIS ISLAND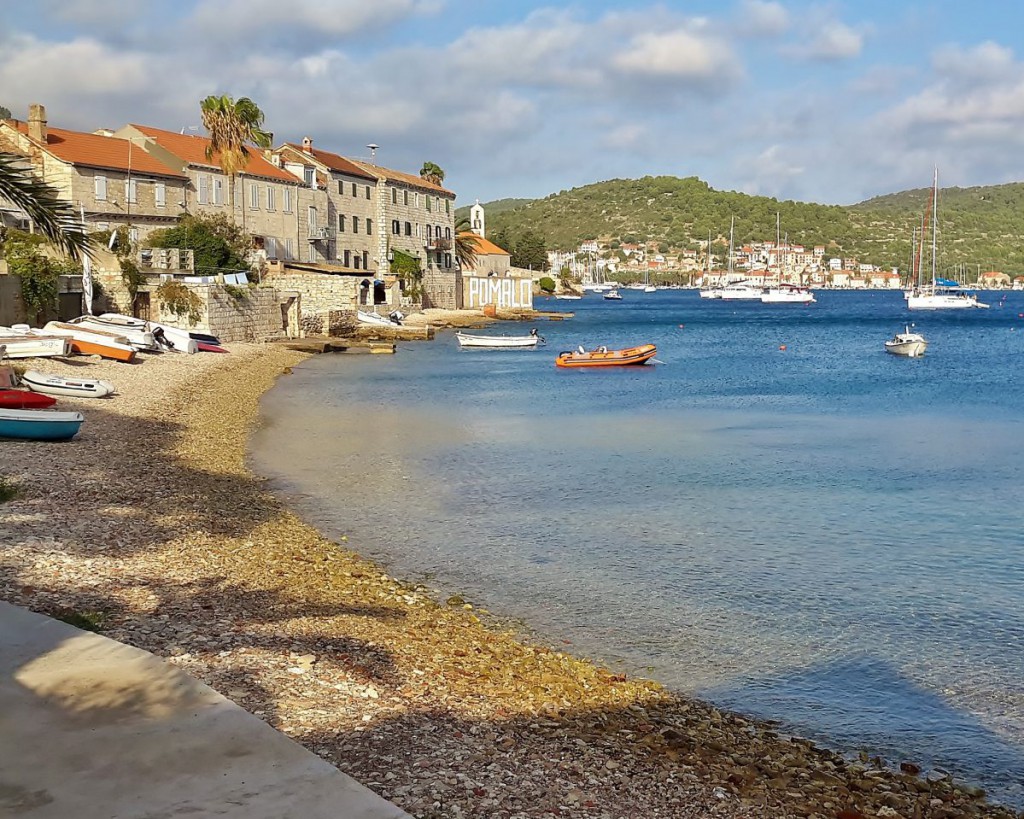 The island of Vis has a special place in the heart of many Croatians from across the country as well as holidaymakers who have enjoyed a stay here. Despite Croatia having become a top holiday spot in recent years, Vis really has managed to remain unspoiled and pristine. Some marine experts say that the Croatian Adriatic waters are the cleanest here. Once remote, tourism has reached Vis without taking over – it is the farthest island from mainland Croatia. Natives speak a curious dialect which is a Croatian-Venetian hybrid – don't worry as most people working in tourism speak English! The two busiest places are the town of Vis itself and Komiza. Komiza retains a distinctly Bohemian feel whilst Vis Town features an endless sea front promenade lined with boutiques, cafes, restaurants and over water wine bars. At night the whole front glitters from the lights of moored boats, starry skies and if you are lucky, a local firework display.
Vis was closed to foreigners until 1989 due to the presence of a Yugoslav naval base. Tito directed his famous partisan campaigns from his cave here. An airfield created by the British towards the end of World War 2 is now a vineyard. Leave your holiday villa or the beach for a day to do the fascinating military tour of Vis which usually includes Fort George, a submarine pen completed in 1982, underground coastal bunkers , old barracks, Tito's cave and some amazing views from Mount Hum. Fast forward and you can rent a RIB, go diving and snorkelling and visit the famous Blue Grotto by boat where you can run your hands through 'silver water'. Do stop by to see pretty Stoncica Bay which sits just outside Vis town and features a sandy beach, Tikki bar and beach volleyball. End your day with a chilled glass of the excellent local white Vugava wine!
HVAR ISLAND
Known worldwide as the island of the rich and famous who often arrive into Hvar Town (the capital) on their super yachts. There is actually a much more interesting side to this island than the ultra-stylish bars of Hvar Town full of bronzed people where vanilla candles glow. Off shore you can visit the Pakleni Otoci which translates as "Hells Islands", yet this is about as far from hell as you will ever get! A great day out involves taking a picnic and a short hop by water taxi to one of those "hell's islands" for sunbathing, swimming with a return pick-up time agreed with the taxi boat captain. Wonderful. Just a 25 minute drive away on the north coast is Hvar Town's alter ego, Stari Grad, the island's former capital. Wander around the waterfront and through the backstreets where you will find quaint shops, artistic door fronts, vintage dining establishments and tea houses. Pop along to the summer retreat of 16-century poet Petar Hektorovic, an exquisite villa with tumbling gardens, inscriptions and a fishpond with fish swimming in direct from the sea.
The best beaches on the island can be found at the Southern end of the island accessed through 'The Tunnel'- a single lane road, 1km long, which passes through the rock of Hvar Island's highest mountain. The journey is certainly adventurous, with the reward at the end being the most spectacular view of the sea and islands in front as you exit high up on the mountain. Your descent down the other side takes you to the often overlooked towns of Zavala, Ivan Dolac, Sveta Nedilja, family friendly quiet spots with a few local fish restaurants nestled amongst the pine trees.
Explore the lavender heaths where visitors can sometimes help with the harvest, usually mid June-early July depending on weather conditions. And yes, the science of fingerprinting originated on Hvar in 1858 by Ivan Vucetic. Check it out.

BRAC ISLAND
Pronounced "bratch", this Dalmatian island is just a 50 minute ferry ride from Split, and has the highest peak in the Croatian Adriatic at 778 metres above sea level – the views to Hvar are breath-taking. Most famous for the white stone quarry on the North coast (this stone was used to build Diocletian's Palace in Split), the island is dotted with pretty harbour towns such as Milna, Postira, Pucisca, Sutivan and Sumartin where visitors can enjoy traditional family run restaurants and waterfront café bars. Old shepherds' trails are now walking paths, letting you explore inland where lambs graze on the wild herbs used for the delicious 'Peka' dishes (meat or vegetables cooked under a bell in a wood fired oven). Enjoy an evening out from your holiday villa tasting this local speciality at one of the many Konoba's (similar to a taverna) which can be found on the island.
Several abandoned villages are now enjoying rejuvenation as the grandchildren of those who left the island in the 50's for the "New World" are returning back to the family homes. Amazing! The fabulous V shaped beach at Bol changes shape regularly according to the wind and has a fabulous choice of water sports in summer. One of Croatia's few sandy beaches exists on Brac at Lovrecina on the North coast. Forget white powder sand Caribbean style….this is golden and a touch grainy and mixed with pebbles, yet a fabulous spot where an excellent beach bistro works June-early September, best accessed by water taxi. There is a proper airport (hard runway) near Bol with a twice weekly direct flight from Zagreb in summer (flight time around 55 minutes) – perfect for a holiday combining Croatia's northern regions with this stunning Dalmatian island.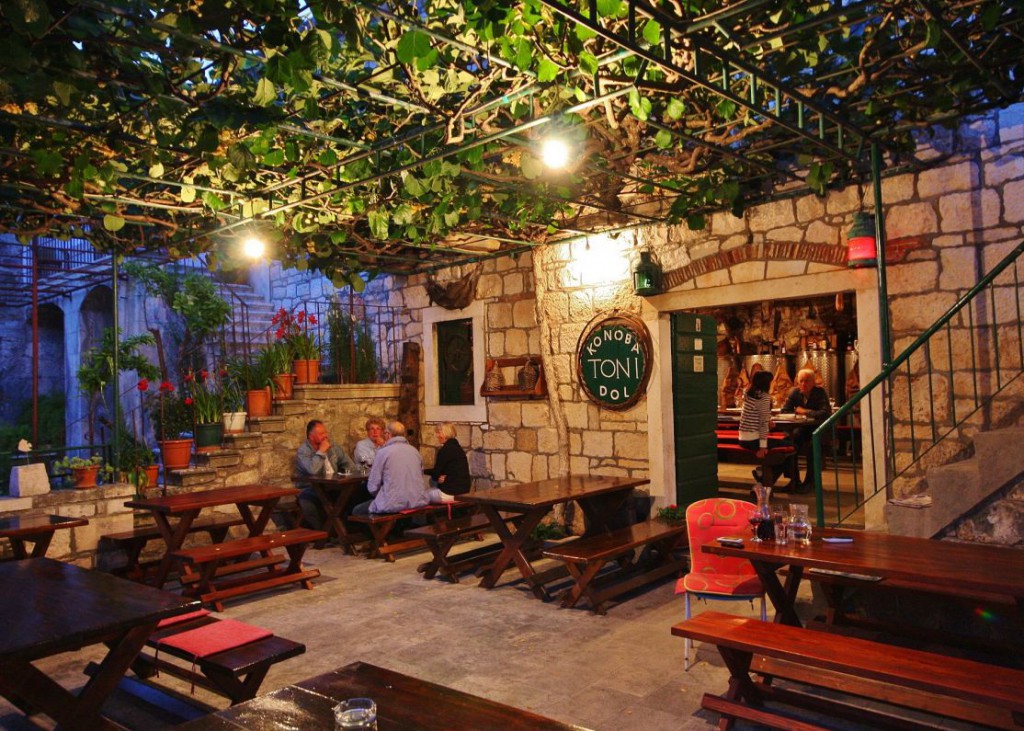 THE ISLAND OF SOLTA
Pronounced "sholl-ter" – no other way! Just a short hop from Split by regular and frequent ferry, there are some dramatic steep cliffs and a rather lovely beach at Maslinica (with a cool beach bar). A kind of time-warp place yet so close to Split which is Croatia's second biggest city. Some wonderful diving and snorkelling around the island. Just off shore is the beautiful Krknjasi Bay, an absolute dream of a sheltered lagoon with a white sandy bottom where you can't help but dive in.
DAY TRIPS
If you are staying on any of these stunning Dalmatian islands, one way or another you will be able to visit a neighbouring island. The fast catamaran means that a day trip to Hvar is possible from Vis and vice versa, while Brac and Solta are easily reached from Split. During the summer other services do pop up such as the party boat departing from Vis Town to Hvar Town late evening, returning in the early hours. The fabulous seaplane service by ECA which started in 2015 now connects Split to Jelsa on Hvar (25 minutes from Hvar Town) in less than 15 minutes! We can also arrange private boat excursions. Just ask us.
---