Southern Dalmatia Explorer – Peljesac / Korcula and Dubrovnik Region (MC003)
---
Arrival:

Fly into and depart from Dubrovnik airport. Pick up a rental car to begin your holiday.
Highlights: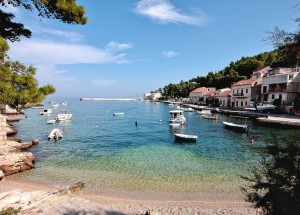 Peljesac/Korcula: Take the 2 hour scenic drive to Peljesac where along the way you will pass by the fortified town of Ston with its impressive 7km stone wall. Work up an appetite by walking parts of the wall before sitting down to a shellfish lunch of oysters and mussels which this area is famous for.
Proceed on through the Peninsula's stunning wine country to the towns around Orebic such as Viganj, popular with windsurfers and where you will also find beautiful beaches.
Korcula Island is reached by hopping on a short car ferry crossing (20-25 minutes) from Orebic to Korcula island. Korcula is considered one of the greenest islands in Croatia and offers guests Venetian towns lined with beautiful beaches lapped by crystal clear waters.

Dubrovnik Region: At the end of your Korcula/Peljesac stay, drive back to the Dubrovnik region and stay at one of our recommended properties. You can choose either one of the popular cities of Cavtat or Dubrovnik and live amongst the locals in historic city centres, or stay outside at one of our cottages/villas located in the smaller villages where you can enjoy a stroll to the beaches or local Konoba (Croatian taverna).
 
Suggestions, Recommendations, Variations
Make sure one of the journeys either 2 or from Peljesac/Korcula is made during the so you don't miss the wonderful scenic journey.
If you choose to stay in a Dubrovnik or Cavtat city property, parking may not be possible near your apartment, you may have to park your car in a public car park usually around 5-15 minutes' walk away. One option to consider is keeping the car for a limited period while you finish your car based excursions and then returning it a little earlier whilst you enjoy exploring the area by foot or local excursions. Please speak with one of our consultants for further advice and assistance.
Day trips available from Dubrovnik by car worth considering:
Visit to the Arboretum at Trsteno

Day trip to visit the fascinating city of Mostar in Bosnia (around 2 – 2 ½ hours by car) with its' famous Ottoman bridge, reconstructed in 2004, visitors can explore the Ottoman Old Town on both ends of the Stari Most (Old Bridge) browsing the many boutiques, market stalls selling Turkish carpets and brass ornaments and cafes lining the Neretva river.

Day trip to neighbouring Montenegro.
| | |
| --- | --- |
| | Did you know? |
A Konoba was originally an old-fashioned pantry or room where food was stored, and usually a hearth where hot coals fire a heavy iron pot roasting meat and potatoes.
Peljesac / Korcula accommodation suggestions:
PJ016 – Stone Studio Cottage near Seaside, sleeps 2-3
PJ014 2 bedroom sea side cottage. Sleeps 4-5
KC009 3 bedroom sea side cottage. Sleeps 6-8
PJ005 2 bedroom cottage with shared pool. Sleeps 4

Dubrovnik region accommodation suggestions:
DU143 – 2 Bedroom Villa in Cavtat near the seaside, sleeps 4-5
DU083A 2 bedroom villa with shared pool. Sleeps 4
DU099 2 bedroom waterfront cottage. Sleeps 4-6
DU127 – 2 Bedroom Countryside Villa with Pool, sleeps 5
DU098 2 bedroom Dubrovnik city apartment. Sleeps 5

Larger property suggestions for bigger group sizes available on request.
Please click here to view all multi centre self-drive Croatia holidays
Route Map